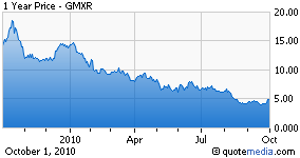 Let's get the easy part out of the way first. GMX Resources (GMXR) traded in July '08 at $85, up from $30 just a few months before. The reason for the meteoric rise was simple, it was one of the most unhedged, small-cap natural gas producers, and commodity gas was cruising to $14.50. Then the recession hit and gas crumbled to under $3 with an average price deck expected for 2010 of around $4.50. Based on this type of matrix, GMXR share prices hit the skids.
GMXR is a pure-play Haynesville shale company with some exposure to the Cotton Sands formation. A recent new-comer to the Haynesville, GMXR has one of the larger holdings with net 42,000 acres. The company also controls 62,000 acres in the Cotton Sands.
Overall development of the Haynesville is relatively recent, starting in earnest in 2008, and there are an estimated 100 rigs currently drilling areawide. GMXR is operating two of the rigs full time. The company has completed 22 wells, with an additional 273 drilling sites identified. There is a bit of a controversy concerning fracing, or the process to extract gas and oil from hard shale. The federal government has announced a 2-yr study of the environmental impact of fracing and the state of NY has a moratorium on further fracing until a similar state-funded study is completed. The increased attention from these gov't investigations has added a bit of uncertainty to all shale players.
Production is growing as the company completes more wells, with 2011 production guidance at 28 to 30Bcfe and 2012 production at 32 to 34Bcfe. GMXR is expected to produce 17 to 19Bcfe this year, up from 14Bcfe last year. Like many small natural gas developers, current low commodity prices have reduced operating cash flow, making GMXR's capital expenditure program a struggle. While management had established 2011 and 2012 hedges at a hair over $6.00, it will take consistent spot market prices in the $5 range and higher for GMXR to prosper.
The company is expected to be operating cash flow positive at $2.50 a share this year and $3.00 - $4.25 a share next. The problem is the cap ex budget to operate the two rig program is $6.25 a share, or $173 million. Management has been funding this shortfall with higher debt levels, which currently stands at $218 million. The company appears to have sufficient liquidity and credit facilities ($104 million in unused borrowing base) to fund continuation of the two rig program. The next bank re-determination is scheduled for this month. However, higher natural gas pricing is a critical factor in the equation.
On the positive side, well costs have been coming down. The original Haynesville horizontal wells were costing $11 million, with newer projects coming in around $8.2 million. Production of the last few wells was around 8.2MMcfe/d after 30 days with levels dropping to around 5.7MMcfe/d after 60 days. This equates to first year cumulative total production of 4.6 to 5.0Bcfe per well and is a bit on the low side for the "average" Haynesville well. Management's goal is to generate first year cumulative production of 5.6Bcfe per well, with half of their initial 11 wells (producing 90 days or longer) meeting or barely exceeding this goal, as of the end of the second qtr 2010.
Unlike 2008, when management had few hedges, GMXR has a rolling, three-year hedging program. Management has hedged more than 70% of remaining production for 2010. They also have hedged 52% of anticipated 2011 production and 51% of anticipated 2012 production at an average price of $6.14 and $6.08, respectively.
GMXR has a preferred share issue, GMXR.PR. Buyers of preferred issues are usually income seekers and the yield they demand is commensurate with the perceived risks. It is interesting that both the common and the preferred shares declined substantially during the financial crisis as a direct result of overall financial uncertainly.
However, the preferred shares have held their value much better during the current swoon in the common share price. This could signal that historically conservative investors feel more comfortable with GMXR's short- and medium-term future than its common share investors. If, and when, the preferred shares begin to retreat in earnest, it could signal a loss of confidence by the conservative crowd. Keep an eye on pricing for the preferred shares over the next year.
There is a larger-than-normal short position on GMXR with 27% of the 28 million shares outstanding shorted. While this may indicate a large group of investor are betting on the downside for the company, share prices seems to have formed a double bottom around $4 in late Aug and again last week.
GMX Resources is a speculative small cap company that is in the sweet spot of horizontal drilling. However, for GMXR to exceed, natural gas prices have to get out of the cellar. With the onslaught of winter just around the corner, seasonality becomes a positive factor, and natural gas producers usually strengthen, along with commodity pricing, as colder weather takes hold. (You can review the latest investor presentation dated Aug 22 here.)
With an improvement in the economy to drive demand higher and a strengthening commodity price, GMXR share prices could double. Without the above, share prices could languish or worse. If you are bullish on natural gas and specifically shale gas, take a long, hard look at GMXR.
Disclosure: Author long GMXR