Las Vegas Sands Corp. (NYSE:LVS) is a developer of destination properties (integrated resorts) that feature accommodations, gaming, entertainment and retail, convention and exhibition facilities, celebrity chef restaurants and other amenities. The company owns and operates integrated resorts in Asia and the United States.
Las Vegas Sands Corp. owns and operates the Venetian Casino Resort, the Sands Expo and Convention Center and the Palazzo Resort Hotel in Las Vegas, as well as the Venetian Macao Resort Hotel, Sands Macao Casino and Four Seasons Macao in Macau, China.
The company's principal operating and developmental activities occur in three geographic areas: Macao, Singapore and the United States.
Controversy abounds on the outlook for LVS, let's see if we can bring some clarification to the situation that surrounds both the company and its shares.. First, a bit of price history is in order...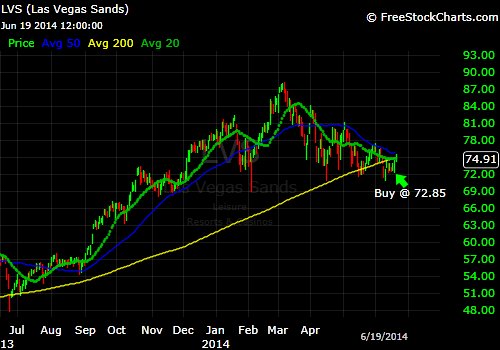 The shares "broke out" of a basing pattern that began in late 2010 this past October and vaulted to new highs in March of this year when they topped out at $87. Since that high, the shares are off some 20% as they dropped to the $71-72 level.
The share increase to the new highs this year came as the result of strong year end operating results that LVS reported on January 29th, 2014. 2013 was a year which saw the company's revenue increase by over 23% to a record $13.77B. Net income rose 51.3% to reach $2.31 billion or $2.79 per diluted share. During that same timeframe the company paid dividends of $1.40 per share and repurchased $570.5 million of stock under its $2.0 billion stock repurchase program.
The execution of its global growth strategy continued with the latest operating results for Q1 '14, posted on April 24th. Quarterly revenue increased to a record $4.01B, adjusted EPS climbed to a record $0.97 per diluted share. The stock repurchase program continued and the company paid a recurring quarterly dividend of $0.50 per common share during the quarter, an increase of 42.9% compared to the first quarter of 2013.
More good news, but, as indicated by the chart presented, the shares slumped from those highs to the $70 per share level.
The reasons for the decline are many, first, simple profit taking from those highs accounted for a portion of the weakness. However, more importantly, numerous crosscurrents and opinions abound as the growth prospects in Macau have come into question.
Macau authorities issued guidelines to restrict the use of Union Pay Bank cards, potentially reducing the amount of money coming into Macau from mainland China.
The analysts and brokerage firms at UBS and Wells Fargo weighed in with lowered forecasts and stock downgrades.
A typical "knee jerk", "jump on the bandwagon" reaction to what I believe is a "pause" in the extraordinary growth, and does not portend to be the end of this story. As such, I initiated a position on June 16th at $72.85 as shown on the accompanying daily stock chart.
Already we have seen that quick initial "overreaction" fade as Wells Fargo, who initially questioned the growth story, now reveals the long term picture for the casino stocks is still intact. Morgan Stanley weighed in on June 19th, by reiterating my thesis that this is a temporary "soft patch," and growth will re-accelerate back to double digit levels.
That opinion is further bolstered by the Macau Business daily's report, that Macau will in fact be Asia's fastest growing economy through 2015 and that should bode well for the "Integrated" casino theme that LVS offers.
Analysts seemingly have also forgotten that construction is progressing on the latest LVS project called the "Parisian Macao" -another "integrated resort" with mall capacity entertainment, etc. - and is scheduled to be completed in the latter part of 2015. So for investors that have a longer term view of events and their investments, this project once completed will add to the corporate bottom line.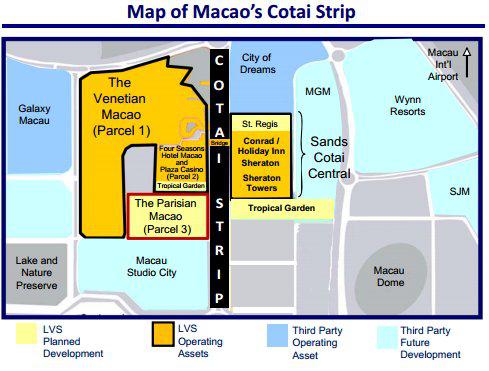 Map of Macao Cotai Source: LVS 1Q'14 earnings call Presentation 4/24/14
Yet, there is another potential positive catalyst that hasn't received much attention amidst all of the negative commentary surrounding the casino industry.
Sheldon Adelson, LVS chairman and CEO has visited Japan to offer his views and push his ideas on the upcoming legislation there that would bring gaming to that country. This is a huge opportunity as gaming revenue in Japan could top $40B and LVS would have the advantage of being the first player in that region.
Regardless of that outcome, I see LVS poised to continue on its path to solidify its leadership position in the still booming casino market in Macau, China.
The shares are now off approximately 20% from their recent highs, sport a recently increased dividend payment, which provides an investor with a 2.7% yield.
The technical picture has firmed up as the $70 support level was tested once again and for the moment has held. Shares are selling at a market multiple that is a slight premium to the overall market, while offering above average growth.
The company's strong balance sheet and cash flow (FCF yield is 5.5%) add financial flexibility, making the shares even more attractive.
I believe the positive catalysts and the continued solid execution being displayed by the management team at LVS far outweigh the negative issues that have been raised, and see the current share price as an opportunity .
Best of Luck to all!
Disclosure: The author is long LVS. The author wrote this article themselves, and it expresses their own opinions. The author is not receiving compensation for it (other than from Seeking Alpha). The author has no business relationship with any company whose stock is mentioned in this article.
Additional disclosure: I am long numerous equity positions - all of which can be seen here on my SA Instablog. It is my intention to present an introduction to this security and state my intent and position. It should be used as a 'Starting Point' to conduct your own Due Diligence before making any investment decision.