Mondelez (NASDAQ:MDLZ) is one of the world's largest snack companies. The company's name is derived from the Latin word for 'world', Mundus and a slang variant of delicious, 'delez'. Together, the companies name literally means delicious world. The company owns 9 brands with over $1 billion per year in sales:
Cadbury
Cadbury Dairy Milk
Milka Chocolate
Jacob's Coffee
LU
Nabisco
Oreo
Tang
Trident Gum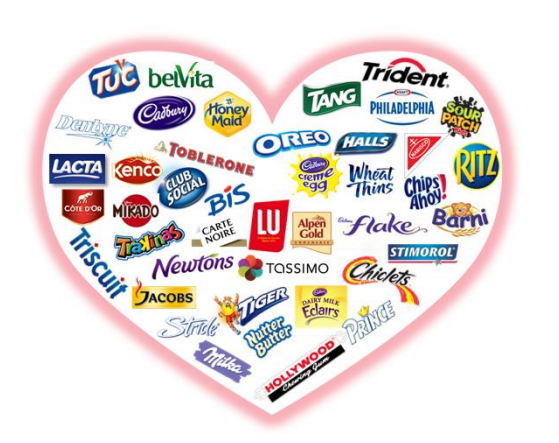 Source: Mondelez 2014 Fact Sheet
Current Events
Mondelez is off to a solid start in 2014. First quarter organic revenue grew 2.8% versus the first quarter of 2013. The overall snack market growth has slowed recently after several years of strong growth.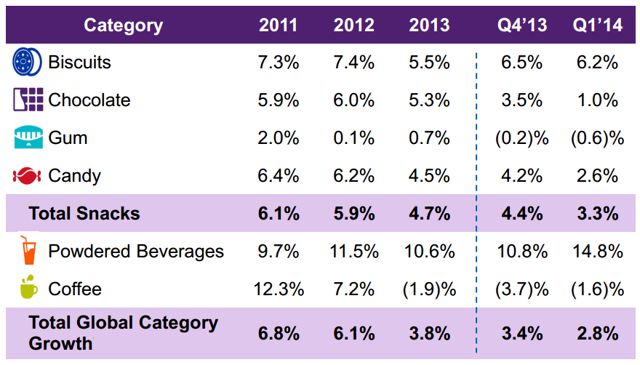 Source: Mondelez Barclay's Presentation
The company can grow revenues faster than global snack industry growth by investing profits into the fast growing powdered beverage industry and by gaining market share over competitors. Mondelez owns Tang, the preeminent powdered orange drink mix. Growth in powdered drinks will continue to grow revenues for Mondelez. Over the past several years, Mondelez has managed to grow market share across its business.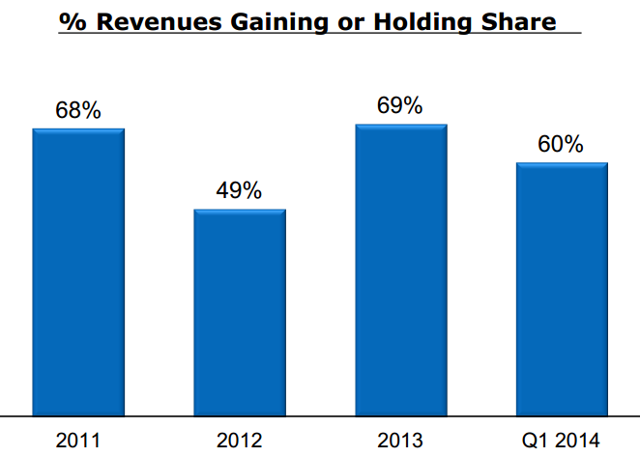 Source: Mondelez Barclay's Presentation
Mondelez is focusing on growing earnings per share over the next several years through a restructuring and cost-cutting plan. The $3.5 billion restructuring plan is expected to save the company about $1.5 billion per year, each year, starting in 2018. If the restructuring plan works as management plans, it will be an excellent use of cash for the company.
The company recently announced it will combine its coffee division with D.E. Master Blenders to form a new coffee business. Mondelez will have 49% ownership in the new business. The new company will have revenues of over $7 billion per year and an EBITDA margin in the high teens, making it the largest pure-play coffee business in the world.
Source: Mondelez Press Release
Mondelez will receive $5 billion in cash in the deal. The company has stated they will use the bulk of this cash for share repurchases, returning the money to shareholders. Mondelez projects the deal will be accretive to earnings by 2015.
Shareholder Return
Shareholders of Mondelez can expect to receive a compound annual growth rate of between 5% and 8.5% from share repurchases (1.5% to 3%), dividends (1.5%), and organic revenue growth (2% to 4%).
Mondelez is committed to maintaining a payout ratio of around 30%, and returning $1 billion to $2 billion per year to shareholders through share repurchases. The company's cost cutting campaign will likely see short-term earnings growth be higher than the company's long-term revenue growth of 2% to 4%.
Consecutive Years of Dividend Increases
Mondelez was spun off from Kraft in 2012. It has increased its dividend each year since the spin off. Further, Kraft company did not reduce its dividend since its spin-off from Altria in 2007. If you trace Mondelez's history through its parent companies, it has a very impressive 39 year record of dividend payments without a reduction.
Why it matters: The Dividend Aristocrats (stocks with 25-plus years of rising dividends) have outperformed the S&P 500 over the last 10 years by 2.88 percentage points per year.
Source: S&P 500 Dividend Aristocrats Factsheet, February 28 2014, page 2
Dividend Yield
Mondelez has a dividend yield of 1.49%, ranking it at 100 out of 119 businesses with 25+ years of dividend payments without a reduction. The company's policy of keeping its payout ratio at 30% means dividends will likely grow at the same pace as the overall company going forward.
Why it Matters: Stocks with higher dividend yields have historically outperformed stocks with lower dividend yields. The highest-yielding quintile of stocks outperformed the lowest-yielding quintile by 1.76 percentage points per year from 1928 to 2013.
Source: Dividends: A Review of Historical Returns
Payout Ratio
Mondelez' current payout ratio of just 27% compares favorably to other businesses with 25+ years of dividend payments without a reduction. In spite of the company's low payout ratio, dividends will likely not grow faster than overall company growth unless the company changes its dividend policy and increases its target payout ratio.
Why it Matters: High-yield, low-payout ratio stocks outperformed high-yield, high-payout ratio stocks by 8.2 percentage points per year from 1990 to 2006.
Source: High Yield, Low Payout by Barefoot, Patel, & Yao, page 3
Long-Term Growth Rate
Mondelez' spin-off in 2012 makes long-term historical growth rates difficult to calculate. Moving forward, the company will likely grow revenue per share around 5% per year. At this rate, Mondelez ranks at 59 out of 119 businesses with 25+ years of dividend payments without a reduction.
Why it Matters: Growing dividend stocks have outperformed stocks with unchanging dividends by 2.4 percentage points per year from 1972 to 2013.
Source: Rising Dividends Fund, Oppenheimer, page 4
Long-Term Volatility
Mondelez has a low long-term standard deviation of only 20.15%. The company ranks at 17 out of 119 businesses with 25+ years of dividend payments without a reduction based on this metric.
Why it Matters: The S&P Low Volatility index outperformed the S&P 500 by 2 percentage points per year for the 20-year period ending September 30th, 2011.
Source: Low & Slow Could Win the Race, page 3
Conclusion
Mondelez is a Top 25 stock based on the 8 Rules of Dividend Investing. The company's low payout ratio and standard deviation are its bright spots. Mondelez future growth rate will likely be higher than the past several years as the company rolls out its cost-saving plan and new coffee business.
Disclosure: The author has no positions in any stocks mentioned, and no plans to initiate any positions within the next 72 hours. The author wrote this article themselves, and it expresses their own opinions. The author is not receiving compensation for it (other than from Seeking Alpha). The author has no business relationship with any company whose stock is mentioned in this article.