What Is The DIY Dividend Investors Club?
As fellow do-it-yourself investors, we appreciate the power of collective thought. In fact, the primary reason we love contributing articles on Seeking Alpha is the privilege of discussing and analyzing the market with like-minded individuals. To achieve long-term success, investors must keep an open mind and continuously educate themselves and there is a wealth of knowledge to be gained from fellow contributors, commentors and readers on Seeking Alpha.
The DIY Dividend Investors Club series is dedicated to the open discussion and analysis of building and managing a long-term dividend portfolio.
There's really no right or wrong answer when it comes to stock picking methodology. For those of you that are interested, you can read about our investment philosophy here. That said, to help facilitate the stock picking process we are going to build our portfolio "watchlist" by sector (based on the 9 major sectors in the S&P 500 as well as alternative sectors like MLPs, REITs and BDCs). We'll also highlight our "Buy Zones" for each stock. Below is a tentative schedule of the entire series.
Please make sure to "follow" us so that you will be notified when each new article is published and PLEASE participate as much as you can in the comment section below. Often times just as much value is derived from the comments section as the article itself.
Part 4: Healthcare
Part 5: Utilities/Telecom
Part 6: Consumer Discretionary
Part 7: Financials
Part 8: Technology
Part 9: Industrials
Part 10: Materials
Part 11: Energy
Part 12: Master Limited Partnerships ("MLP")
Part 13: Real Estate Investment Trusts ("REIT")
Part 14: Business Development Companies ("BDC")
Part 15: Unveiling the Portfolio
Healthcare Sector
The Healthcare sector shares two key attributes with its "defensive" brethren (Consumer Staples and Utilities): low beta and low volatility. Of the nine sectors in the S&P 500, the Healthcare sector has the third lowest average beta (0.70) and the second lowest maximum drawdown during the past recession (-39.2%). As a matter of fact, the three "defensive" sectors are the only three sectors with a beta under 1.0.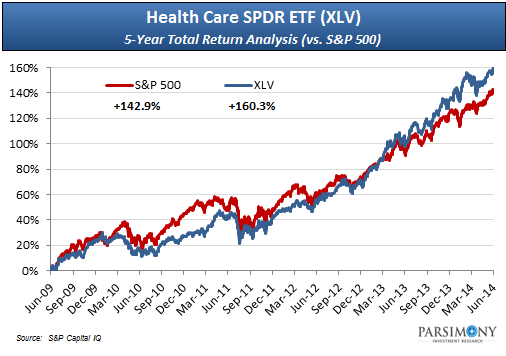 As you can see in the chart above, the Healthcare sector has outperformed the broader market over the past 5 years (especially the past 12 months) and it has done so with lower downside volatility. Higher total return and lower downside volatility is the exact recipe that you should try to cook up in your DIY Dividend Portfolio and adding some high-quality stocks from the Healthcare sector should help you achieve this.
Given the characteristics above (higher relative yield and lower relative beta), the Healthcare sector is another sector that we suggest an "overweight" allocation in (10%-12% of total portfolio).
Stocks We Are Watching In The Sector
Below are 5 Healthcare stocks that we are watching very closely for a pullback.
Bristol-Myers Squibb (NYSE:BMY)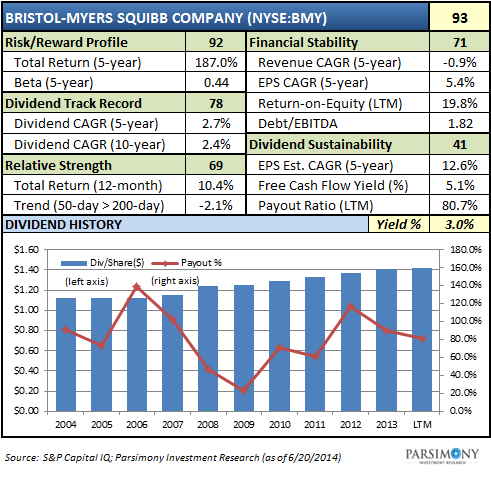 While Bristol-Myer's dividend growth rate has been relatively modest over the past 5 years (2.7%), the company has delivered shareholders a total return of 187% over that time period. In addition, BMY has a decent dividend yield (~3.0%) and we think that it is a great long-term hold for DIY dividend investors.
Johnson & Johnson (NYSE:JNJ)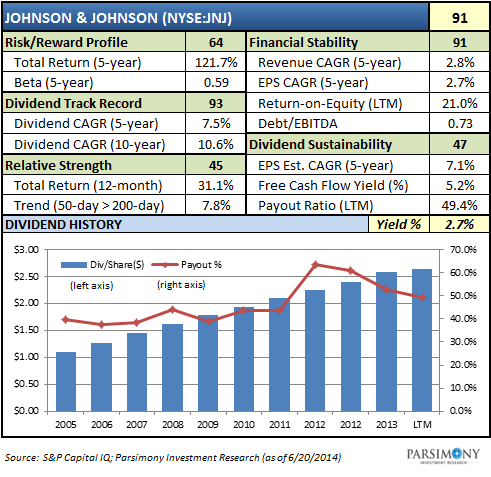 Johnson & Johnson has a decent dividend yield of 2.7% and it has grown its dividend for 50 consecutive years, including a compound annual growth rate of 10.6% over the past 10 years. In addition, the company has a strong balance sheet with very little debt as illustrated by its high Financial Stability rating (91).
Merck & Co. (NYSE:MRK)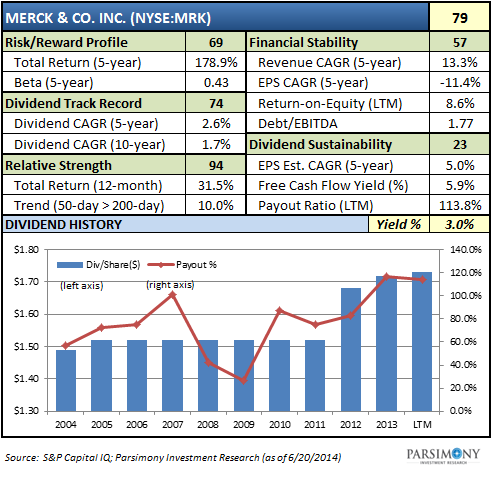 After holding its dividend steady for 6 straight years, Merck finally increased its dividend payment in 2012 (+10.5%) and 2013 (+2.4%). While we don't expect the company to grow its dividend by double digits going forward, it seems that management has realized the importance of consistent annual dividend increases for shareholders and investors should expect Merck's dividend growth to keep pace with the rate of inflation (2%-4%).
Baxter International (NYSE:BAX)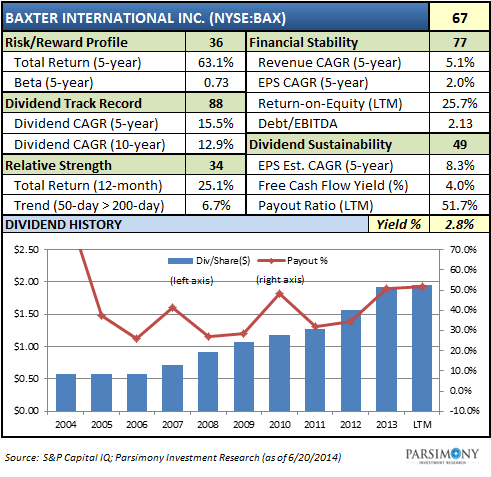 Baxter has an above average Financial Stability rating (77) and it has a strong track record of returning significant value to shareholders in the form of dividends and share repurchases. BAX has increased its dividend at a compound annual rate of 12.9% over the past 10 years and has returned over $12 billion cumulatively to shareholders through dividends and share repurchases.
Owens & Minor (NYSE:OMI)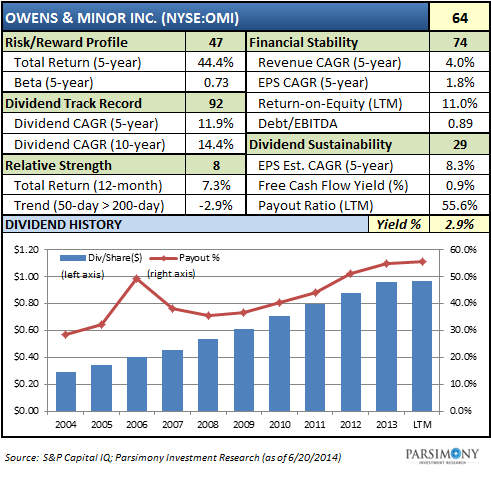 Owens & Minor may not be on your radar, but it should be. As shown in the graph above, the company has consistently increased its dividend at a compound annual rate of 14.4% over the past 10 years. This kind of chart is exactly what you want to see from your dividend stock. In addition, OMI has a decent rating for Financial Stability (74) and we expect this dividend trend to continue.
What's In The "Buy Zone"?
Of the stocks mentioned above, BMY and OMI are the closest to their respective "Buy Zones". Meanwhile, like many high-quality stocks, MRK, JNJ, and BAX are all hovering around 52-week highs and could use a good pullback.
As we did with the Consumer Staple watch list stocks in Part 3 (GIS, PEP, MO, KMB, CLX), we'll publish a separate article for each of these Healthcare stocks over the next few days that will include a "Buy Zone" and valuation analysis for each (see links above). Please make sure to "follow" us so that you will be notified real-time when each new article is published.
Summary
Any DIY Dividend Portfolio should include several stocks from the Healthcare sector. Stocks in this sector tend to be stable dividend payors with low relative betas, which will help dampen overall portfolio volatility.
FEEDBACK REQUEST: Which Healthcare stocks are currently on your watch list? Which would you buy today? Please comment below!
Disclosure: The author is long OMI, BAX, JNJ. The author wrote this article themselves, and it expresses their own opinions. The author is not receiving compensation for it (other than from Seeking Alpha). The author has no business relationship with any company whose stock is mentioned in this article.