A few weeks ago while attending the annual ReCon (shopping center conference) I decided to visit the Grand Canal Shoppes. The 875,000 square foot upscale shopping mall is located inside the The Venetian Hotel and The Palazzo along the Las Vegas Strip.
The Grand Canal Shoppes is anchored by an 85,000-square-foot Barneys New York and the high-end Italian-themed property features over 160 signature stores with dozens of the world's premier luxury brands, including Christian Louboutin, Tory Burch, Jimmy Choo, Burberry, Fendi, Diane von Furstenberg and Salvatore Ferragamo, as well as iconic brands such as kate spade new york, Michael Kors, Sephora, Swarovski, Banana Republic, bebe and Coach. (source: GGP website).
General Growth Properties (NYSE:GGP) acquired The Grand Canal Shoppes from Las Vegas Sands (NYSE:LVS) in 2004 for $776 million (it opened in 1999) and in 2005 the property was expanded (added 50 shops). On May 16, 2013 GGP sold half its interest in the Grand Canal Shoppes, including the Shoppes at the Palazzo, in Las Vegas for net proceeds of $410 million as part of a joint venture with TIAA-CREF. GGP continues to manage and lease the center which has sales of $1,000 per square foot.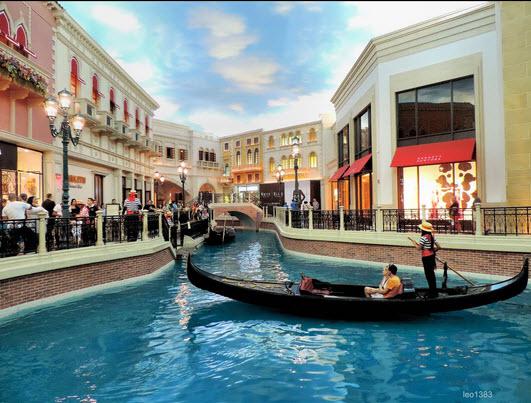 General Growth - A New Model of Repeatability
As I strolled through The Grand Canal Shoppes I could not help to think about the experience that customers have when they engage with "brick and mortar", that is, the interaction with unique and well-run merchants. It's clear that e-commerce is another valuable channel for consumers; however, the best operators are focused on creating positive, exciting, and interactive experiences that leverage a physical presence and technology.
Today e-commerce sales comprise less than 9% of total retail sales and over 95% of all retail sales are generated by "brick and mortar" retailers. As I analyze Retail REITs today, I pay special attention to the companies that demonstrate the best forms of differentiation or as Chris Zook (and co-author, James Allen) explain in Repeatability: Build Enduring Businesses for a World of Constant Change:
Differentiation is the essence of strategy, the prime source if competitive advantage. You earn money not just by performing a valuable task but by being different from your competitors in a manner that lets you serve your core customers better and more profitably.
Upon closer investigation one can see that General Growth has not always enjoyed a powerful model of repeatability. On April 16, 2009, GGP and certain of its domestic subsidiaries filed voluntary petitions for relief under Chapter 11 of Title 11 of the United States Code. The emergence from bankruptcy by GGP and the substantial equity investment and restructuring constitutes a new beginning for the mall REIT. At the peak, GGP owned around $32.37 billion in assets and paid out a dividend of $1.90; however, in 2009 the dividend fell to $.19 per share.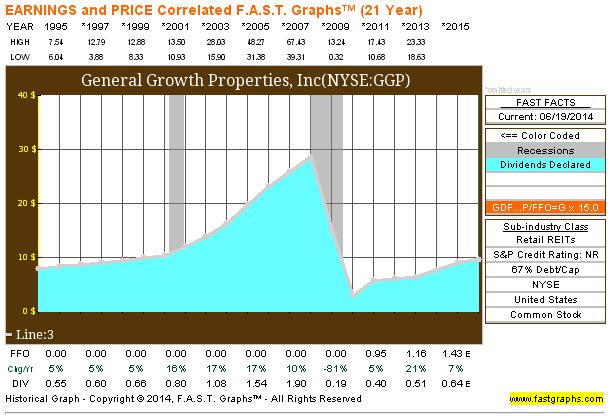 At the peak, GGP owned around $32.37 billion in assets and since the bankruptcy, restructuring the company has reduced its asset base to $25.5 billion (as of Q1-14). GGP is the 2nd largest retail property REIT with approximately $39 billion total enterprise value and a market capitalization of $21.1 billion.

GGP's portfolio includes ownership interests in more than 120 million total square feet of regional mall space and hybrid mixed-use properties located in 40 states. Class A and B+ malls comprise around 87% of GGP's Net Operating Income (or NOI).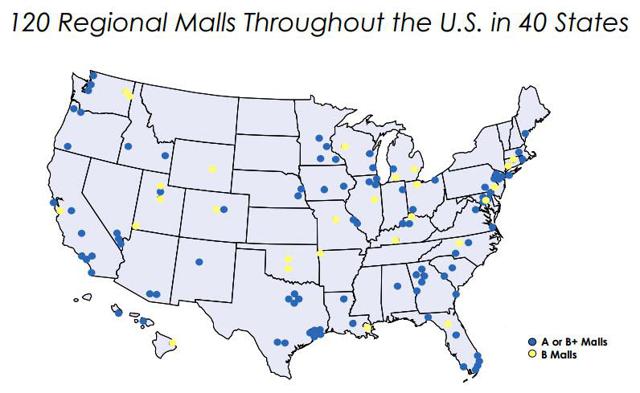 According to GGP's investor presentation, there are over 1,100 shopping malls in the US and around 425 of these malls are Class B+ or better. As illustrated above, 94 of the malls (22% of 425) are considered B+ or higher. Due to negligible new supply, Class B+ or higher malls enjoy very high occupancy rates of 95% or higher.
As part of GGP's strategic post-bankruptcy plan, the company completed the spin-off of a 30-property portfolio (now owned by Rouse), disposed of numerous non-core assets and decreases outstanding debt. The company also sold its interests in non-core assets including an office portfolio, 3 office properties, 11 strip centers/other retail, and 7 regional malls.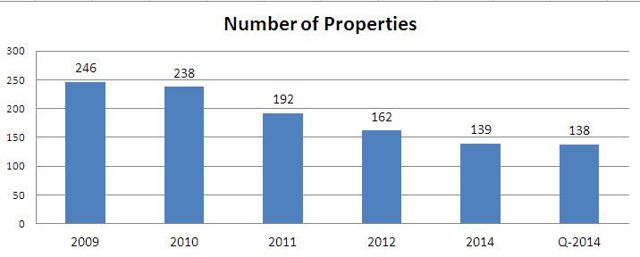 Is the Balance Sheet a Strong Source of Differentiation?
As part of the strategic bankruptcy, GGP also reduced its total debt from $24.76 billion in 2008 to around $16.22 billion (as of Q1-14). That equates to around 354% in total debt reduction.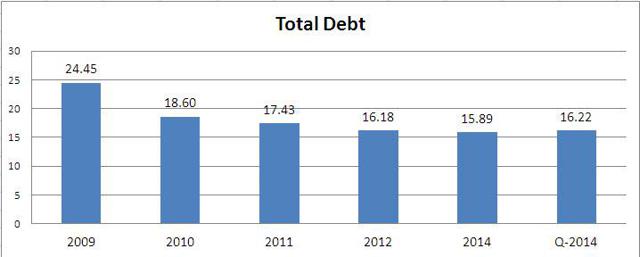 Total debt-to-total investments is now around 71.89% (from 94.32% in 2009):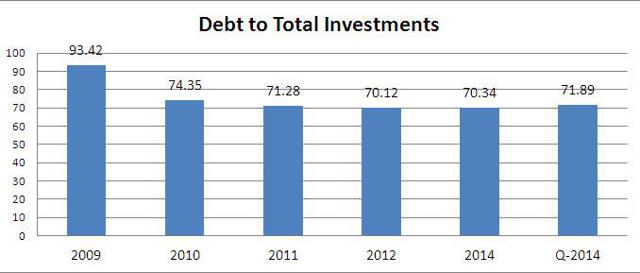 Total debt to total capitalization is now 44.77% (from 55.5% in 2010):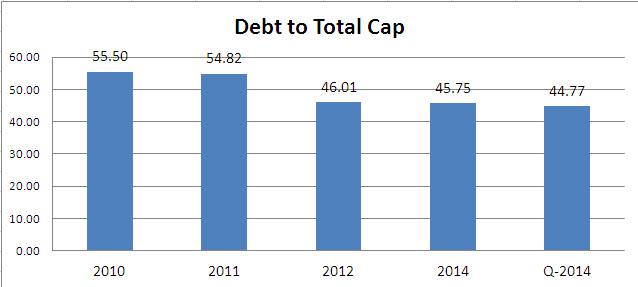 This debt metric (debt to total cap) is in line with the peer group: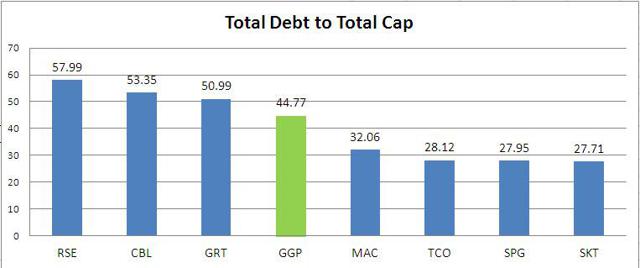 GGP utilizes considerable secured debt financing and during the latest quarter the company closed 3 deals, refinancing $530 million of maturing debt and then generating an additional $160 million of proceeds. The weighted average rate on the loans went from 4.7% to 4.4%. GGP has 2 deals in Q2-14 that is expected to generate about a $110 million in net proceeds and additional deals in the year that are expected to generate around $480 million in net proceeds.

GGP's capital structure consists of 50% debt, 1% preferred securities, and 49% of common stock and OP units. By utilizing secured debt, GGP is able to minimize corporate recourse and cross-collateralization. The company's current debt metrics include EBITDA-to-interest coverage of 2.3x, average interest rate of 4.32%, and around 89% fixed rate debt.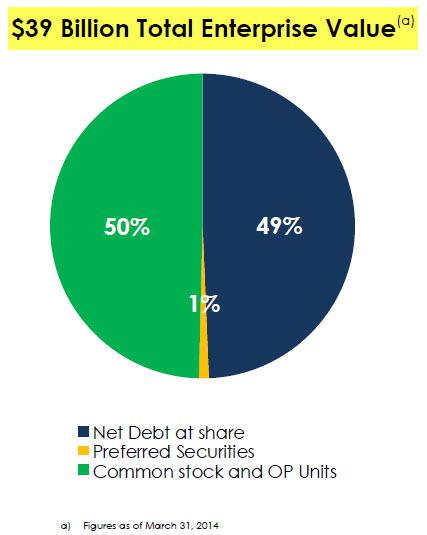 GGP's debt maturities are well-laddered with no refinancing in 2014.

GGP's has a robust development strategy and the company is set to deliver a 9% to 11% return on $2.2 billion of invested capital, of which $300 million has opened and over $1 billion is under construction. The "open" projects consist of Northridge Fashion Center, Fashion Show, Oakwood Center, Glendale Galleria, The Mall in Columbia, and Oakbrook Center, Projects under construction ($1.1 billion total cost) include The Woodlands Mall, Mayfair Mall, Ridgedale Center, Southwest Plaza and Ala Moana Center. In addition, GGP's "pipeline" projects ($814 million) include Baybrook Mall, Staten Island Mall, and others.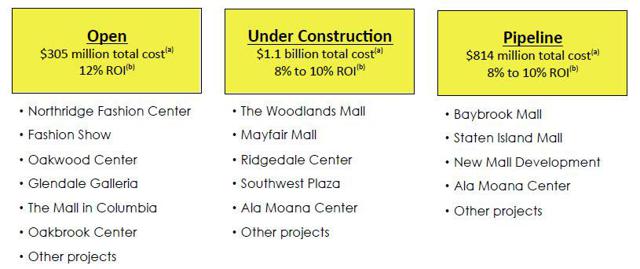 Will GGP Become a New Model of Dividend Repeatability?
GGP's operating metrics as of Q1-14 were solid. The mall portfolio was over 96% leased and over 94% occupied. Permanent occupancy increased to 90.4%, almost 2% higher than 1 year ago. The increase in permanent occupancy represents approximately 1 million square feet of space now leased on a long-term basis. GGP set a target of 93% permanent occupancy by year end 2014, and the company has already leased 90% of the space required to achieve that target.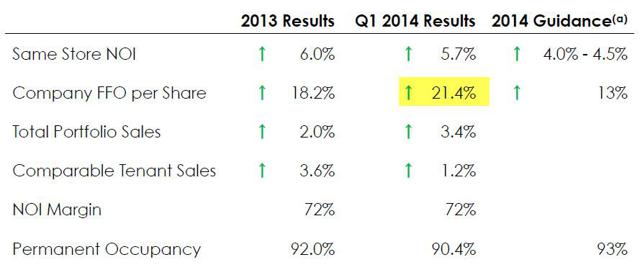 During the latest quarter (Q1-14) GGP's Funds from Operations (or FFO) per share increased 21.4% to $0.31 from $0.25 in the prior quarter. Earnings growth was driven primarily from property operations, as evidenced by the 5.7% increase in the same-store mall NOI. As Sandeep Lakhmi Mathrani, CEO of GGP, explained (on the latest earnings call):
Our company's consistent earnings growth is the product of our disciplined focus on our business plan and strategy we established over 3 years ago, which is to be the pure-play owner of high-quality retail properties in the United States. We have executed to this plan and will continue to do so, never losing focus on the 3 drivers of long-term organic growth: increasing permanent occupancy, achieving positive rental rate spreads and generating income from our development and expansion activities.
GGP expects FFO in the range of $275 million to $295 million or $0.29 to $0.31 FFO per share, representing approximately 12% growth at the midpoint. Here is a snapshot of 2014 earnings guidance: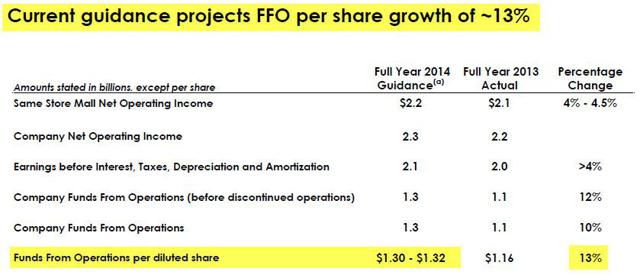 Here is a snapshot of GGP's FFO per share growth (from 2010-2014):

As noted above, GGP cut its dividend considerably in 2009; however, since that time (and with a totally new management team), GGP has begun to steadily claw back its dividend.

GGP's diverse tenant portfolio should also mitigate the risk of a dividend cut. As evidenced below, GGP has no one tenant that accounts for more than 3.5% of rents.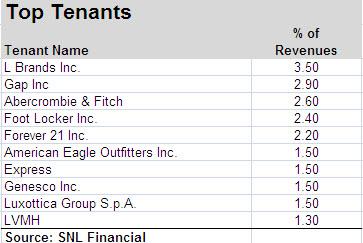 On May 12th GGP announced a second-quarter common stock dividend of $0.15 per share payable on July 31, 2014, to stockholders of record on July 15, 2014. This represents a current yield of 2.51%, the lowest in the peer group:

However, over the last 3-year period (including 2014 estimates) GGP has the highest dividend growth - 18% average growth over 3 years (excluding Rouse).

In addition, GGP's 2-year average dividend growth was around 19%.

Here's a snapshot of the peer group (dividends paid):

GGP Is Moving the Needle
In the first quarter (2014) GGP turned in the best operating performance in the regional mall sector. The outlook for the company remains healthy and the recycling strategy over the last few years is now paying off. The company is much better positioned to weather store closings by retailers as the higher quality assets mute the threat of weaker tenants.
In my last article (on GGP) I recommended an Entry Price of $19.92; however, since that time GGP shares have increased by 21.4% to $23.90. I have already included GGP in my SALSA portfolio (for newsletter subscribers) and I am raising my target to $22.00.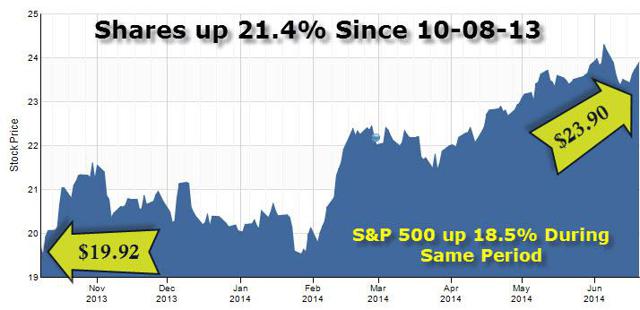 Here is a 6-year FAST Graph of GGP and as you can see, the company has begun to generate steady and increasing cash flow.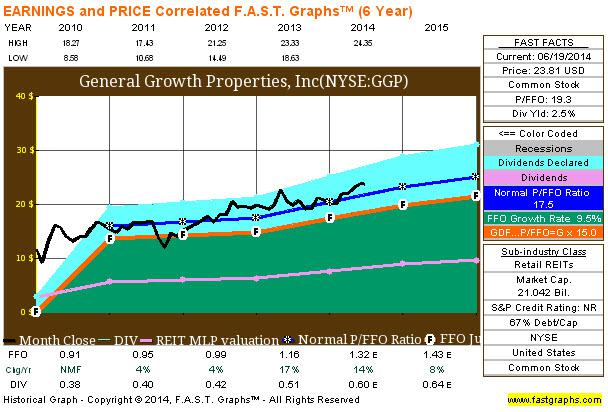 Here is a snapshot of the peer P/FFO valuations and, as you can see, GGP is trading at 18.1x (higher than the peer average of 17.0x - I excluded CBL from the peer average).

As you know, my SALSA portfolio includes REITs that pay steady dividends but also produce above average capital appreciation. I think GGP fits squarely into my SALSA definition as evidenced by the 1-year Total Return chart below:

GGP crushed the 2-Year Total Return performance for the peer group: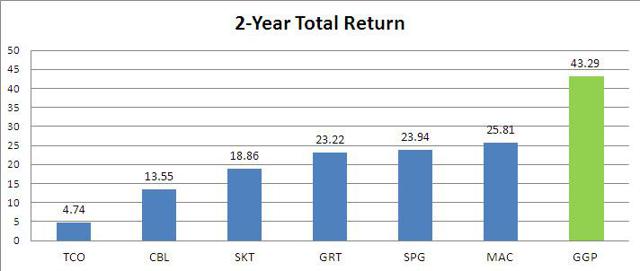 As the Regional Mall industry continues to consolidate, the strongest players will be the companies with the healthiest sources of differentiation. Conversely, the most successful REITs must be able to benefit from scale, access capital, and enjoy strong tenant relationships. Although the company was on the verge of collapse, GGP has been transformed into a more lasting model of differentiation. GGP Has Plenty of SALSA and I'm increasing my target price to $22.00.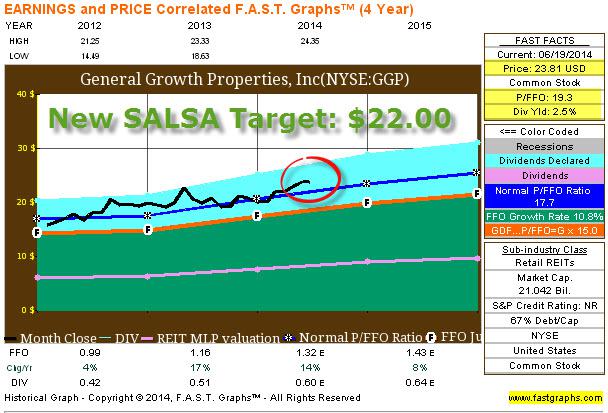 For more information on my REIT portfolio, check out my monthly REIT newsletter HERE.
Sources: SNL Financia, FAST Graphs, and GGP Investor Presentation.
REITs mentioned: (NYSE:RSE), (GRT), (NYSE:SPG), (NYSE:SKT), (NYSE:MAC), and (NYSE:TCO).
Disclaimer: This article is intended to provide information to interested parties. As I have no knowledge of individual investor circumstances, goals, and/or portfolio concentration or diversification, readers are expected to complete their own due diligence before purchasing any stocks mentioned or recommended.
Disclosure: The author is long O, DLR, VTR, HTA, STAG, UMH, CSG, GPT, ARCP, ROIC, HCN, OHI, LXP, KIM, WPC, DOC, UDF. The author wrote this article themselves, and it expresses their own opinions. The author is not receiving compensation for it (other than from Seeking Alpha). The author has no business relationship with any company whose stock is mentioned in this article.