VeriFone Systems, Inc. (PAY; $37.10) - SELL Recommendation: $25 Price Target
THESIS: Despite a recent rebound in revenue trends, current elevated expectations, expanded valuation and potential disintermediation skew the risk/reward to the downside. Fundamental improvement is largely priced in at these levels given the 130% forward P/E multiple expansion over the last year. Current valuation is near ten-year highs and does not seem to appropriately discount the substantial longer-term uncertainty around the company's core business.
PAY operates what essentially is a commodity-type business with questionable economics that also carries significant longer-term disintermediation risk. The company's 20% historical operating margins have been cut in half in recent years and it is not clear that they will not remain at such levels going forward, despite substantial cost cutting efforts by the company. Increasingly disruptive competition, shortening technology cycles and mix-shift toward faster-growing but lower-margin geographies will increasingly pressure profitability.
Upcoming EMV-chip upgrade catalyst is not likely to be a substantial boost to earnings. Nevertheless, its potential benefits, along with the company's well-telegraphed fundamental improvement strategy, are both now largely priced into the stock. The recently expanded valuation (at high-end of historical range) and bullish consensus expectations (at or above high-end of guidance) both reflect these near-term bullish catalysts. They do not, however, seem to appropriately discount certain longer-term risks. Furthermore, this rapid valuation expansion largely removes any margin of safety or valuation-based arguments that could warrant a bullish view. At these levels, the company would need to execute close to perfection for the stock to work. However, both the inherent volatility around demand for its products, and the longer-term competitive threats to its business, would make such a high bar challenging to achieve.
Perhaps the most significant concern is the massive uncertainty regarding the company's ultimate revenue growth potential and earnings power given the disintermediation risk posed by the new low-cost, easily accessible and multi-functional electronic payment solutions that are now emerging in the marketplace. These are truly disruptive technologies that, while perhaps not yet fully substitutable for PAY's core customers, will likely only improve and gain further market acceptance over time.
In addition to all this, the company uses certain non-GAAP earnings measures, which meaningfully distort the true economic profitability of its business, in my view. This is discussed in more detail below. Finally, there is also the troublesome lack of significant insider ownership.
Despite the above points, it is difficult to have a high conviction Sell thesis here due to the lack of obvious negative near-term catalysts, some upcoming positive tailwinds, (and frankly, the sheer complexity of the payment processor ecosystem -- one that requires much more time and deeper analysis to fully understand). Therefore, while I am comfortable recommending a Sell given the work I have done so far, I would want to do further research, including conversations with management and industry experts, in order to gain a fuller understanding of this company's market opportunity, competitive positioning, longer-term business model and prospects.
5-year Price Chart:

Bull Case:
Top Market Share / Incumbency - Along with its top competitor, Ingenico, VeriFone controls ~50% of the global market for Point of Sale (POS) payment processing transactions.
Growth Opportunities in Emerging Markets - Electronic payments are still substantially underpenetrated globally. Asia, Eastern Europe and Latin American markets are quickly growing their consumer economies and thus provide a strong opportunity for PAY, as it also has relatively low penetrations in these markets.

Asia-Pacific alone is expected to account for ~50% of all POS shipments by 2015 and PAY has its lowest penetration in this geography (at just 8%).

Turnaround Story. Poor execution (largely due to product certification problems in certain markets) over the past few years has resulted in (5-6% of global) market share loss and missed earnings estimates in 2012/13. A new management team has been put in place and seems to be regaining some of this lost business. More broadly, they are executing on a wider turnaround strategy that includes:

A stronger client focus (e.g., establishing relationship managers for largest customers), consolidation of redundant product lines (from 1,000 SKUs to ~500), streamlining the business for efficiency, and perhaps most importantly, transitioning the business towards a more recurring (and stickier) Payment-as-a-Service revenue model

Revenue and earnings growth reacceleration. Coming off a tough (negative-growth) fiscal 2013, revenue and earnings have accelerated in recent quarters and this is expected to continue in the near term.
EMV ("Chip card") Upgrade Cycle - Currently, 80% of merchants in the US are not EMV-compliant (versus the rest of the world that is largely upgraded). October 2015 is the regulatory deadline for merchants to upgrade their POS terminals to this EMV technology or risk incurring incremental liability for card fraud. This is seen as a positive catalyst for PAY, as it may accelerate the replacement cycle for its terminals

To quantify the impact of this, we used Morgan Stanley research as a guide. According to MS research, there are ~8m POS terminals in the U.S., 80% of which are not yet upgraded. Current replacement cycle is ~4.8 years. Running quick math takes us to a run-rate addressable replacement market of 1.6m terminals. Assuming 30% of these upgrade over the next 18 months, and applying PAY's 60% market share, implies ~1.4m terminals upgrade in a "normal" year. Each additional 5% is ~240k units, which at an ASP of $250, represent approximately $40m accretion to revenues and $0.04 boost to EPS. Conclusion: This catalyst has only a modest potential impact to numbers.
Bear Case:
Commodity Product. Basic POS terminals have largely become commoditized with little if any differentiation in functionality between providers. Low-cost suppliers have gained share (particularly in Asia, where most of the growth is), and price seems to be the primary decision factor for many small and mid-sized merchants.
Poor Earnings Quality / Questionable EPS Recognition. The company uses Non-GAAP earnings measures when reporting its performance. While certain such adjustments are reasonable, an overly large portion is attributable to stock-based compensation (SBC) expense (which should be treated as a real expense, in my view), as well as Amortization of Purchased Intangible Assets (APIA) expense (which, while non-cash, is also a real expense that has been not only recurring, but also growing dramatically over the last few years)

To illustrate this difference in treatment, F2014 EPS changes from a GAAP loss of $0.44 to a non-GAAP profit of $1.33 (using the company's and Consensus' earnings definition). In my numbers, I allow for the adjustment for APIA, but add back SBC expense, which takes my EPS estimate down to $0.94 (a not an insignificant 29% difference from the Street's and company's definition).

Turnaround largely priced in. P/E multiple has expanded over 130% over last 12 months.
EMV Upgrade may not pull demand forward meaningfully. Merchants are aware that technology is changing quickly and seem to be waiting to see what the ultimate standard will be (e.g., whether mPOS gains greater traction or EMV cards gains wider penetration)
Lack of Insider Ownership. Management should have more skin in the game. They own just 0.46% of shares
Lack of visibility on fundamentals. It is difficult to gain comfort around revenue and profitability potential of this business longer-term, as emerging technologies may be quite disruptive.
Unclear competitive positioning longer-term. Is the industry moving toward a mobile-wallet / cloud-based payment solution? Assuming security becomes comparable with today's POS terminals, what would become of VeriFone's value proposition? Would it get squeezed out of the market? Why would a separate payment processor be needed, when the merchant's bank (for example) could service the entire transaction through a payment app?
THE BUSINESS:
VeriFone Systems (NYSE:PAY) is a leading supplier of Point-of-Sale (POS) terminals. It's the #1 player in the U.S. (60% market share) and #2 globally (21% share), behind Ingenico (OTCPK:INGIY), a France-based company and the closest competitor. The company generates revenue in two broad segments: System Solutions (60% of F2014 revenue) and Services (40% of F2014 revenues) and over 70% of its revenues come from outside the U.S.
Systems Solutions: This segment primarily consists of POS electronic payment devices, that run on PAY's proprietary software platform and increasingly incorporate multiple technologies and methods of payment (e.g., signature and PIN-based cards, credit cards, RFID, NFC, mobile wallet, etc..)
Services: This segment has been a growing part of the business mix and has become a core focus of growth for the company. The Payment-as-a-Service model is a particular focus for the company and can be twice as profitable (and more predictable) than the legacy terminal (hardware) business.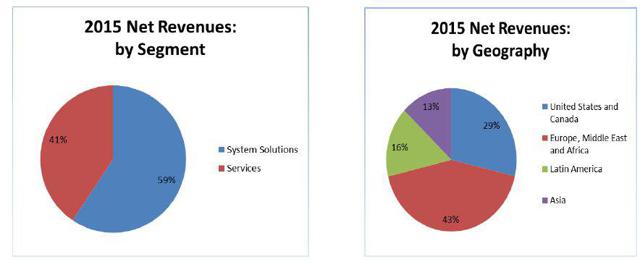 As more global transactions are conducted electronically (i.e. less cash-based), there is a strong secular growth component for the payment processing industry. However, the POS terminal business is also characterized by volatile order volumes (often back-end loaded in each quarter). The demand for new terminals is impacted by the timing of releases of regulatory and industry standards, as well as merchant customer technology refresh and capex cycles.
New technologies are enabling a growing array of mobile and portable products that offer an increasingly robust, and secure, suite of payment processing solutions. While PAY's products offer compatibility with, and utilize many of these technologies, it is not clear if the company would be able to retain its legacy "gatekeeper" status, particularly if payment processing becomes just another "app" that merchants can easily download. If this is the new model, there would be few barriers to entry. The primary risk is that as this technology becomes more accepted, secure, robust and integrated, the necessity for a separate payment processing entity (i.e. one that is outside the merchant's primary banking institution) comes into question.

Profitability: Gross and Operating Margins - Margins have declined substantially in recent years. The general trend in price points is downward (albeit at a slower rate than most other hardware products). While recent restructuring / product rationalization efforts should boost profitability, new competition and faster growth in lower-priced emerging markets, will likely keep margins under pressure for the foreseeable future.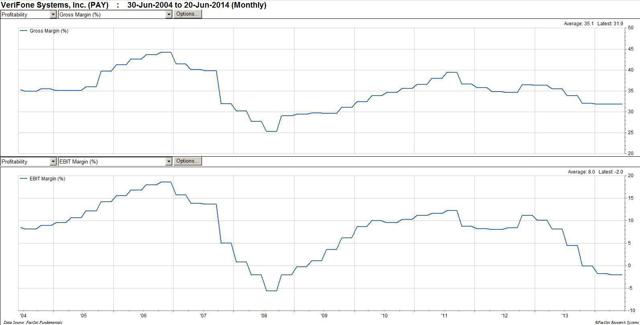 Growth: Revenues and Operating Profit - Growth in revenues and profits has been negative last fiscal year, but since returned to positive territory over the past several quarters. This is expected to continue near-term.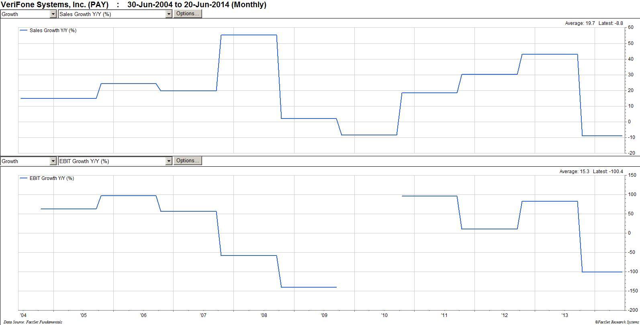 Valuation:
NTM Price Target of $25 (32% downside), based on 20x my (POST-SBC) 2015 EPS estimate of $1.22 (75% weight) and DCF-derived valuation of $28.40 (25% weight).
Bull Case target is: $42 (14% upside), based on 21.5x 2015 Consensus (PRE-SBC) 2015 EPS estimate of $1.96.
P/E - The NTM P/E multiple has expanded by over 130% over the last twelve months, moving PAY toward the high end of its 10-year historical range.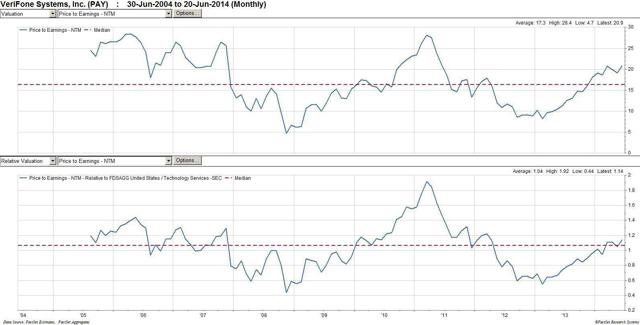 EV / EBITDA - This multiple has also expanded tremendously (by over 350%) in the last year.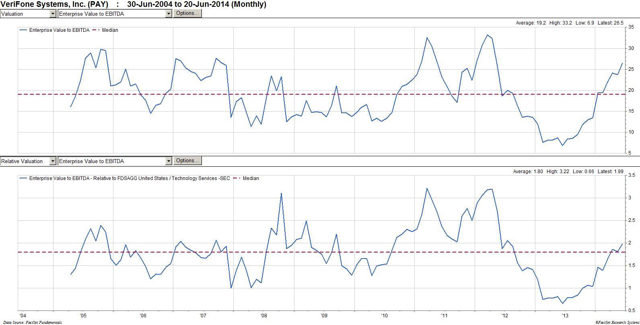 APPENDIX:
Risks (to Bear thesis):
The company returns to double-digit top-line growth and legacy (~20% EBIT margin) profitability
Technological disintermediation threats are better understood and mitigated
Transition to a more-Services oriented model is faster and more successful than current expectations
Key questions/follow-up:
New Tech Threats: better understand the current capabilities and potential market demand for the competing mPOS technology solution - e.g., What incremental benefits does it ultimately offer in its most robust form? Will it eventually become compelling for larger retailers? What are price point differences, etc.?
Top-Line: better understand clients' core demand drivers and pressure points. What do PAY's customers most care about? What is their true appetite for this Payment-as-a-Service product that the company is attempting to transition toward?

How competitive is the customer acquisition process? What is churn like and what drives it? How price-sensitive is the typical customer and what are take rates for incremental services?

Margins: better understand the margin structure for each segment / geography and what the key pressure points are. Is this permanently a low-teen margin business now, or can it get back to the 20%-range?
Capex: what will trends be like in 3-5 years?
Taxes: What is their long-term tax liability? Current effective rate (14%) seems unsustainably low.
Cash Flow: better understand amortization / capex trends for 2015 and beyond
Cap Structure: get more color around optimal cap. structure / leverage; potential M&A strategy
Street Sentiment: Balanced - About half of street analysts have a BUY rating with the other half at HOLD.

Earnings Performance (Surprises): The company has had more positive earnings surprises than negative, most of these typically followed by positive price reactions. Each of the last 4 quarters resulted in a positive earnings surprise, and three of the four were followed by a positive stock reaction.

Key Holders: Most top holders are large, long-only mutual funds (likely long-term holders).

Comps - Capitalization: The company is significantly more levered than its peers. Its coverage ratios are all meaningfully worse, and its Altman Z-Score (which evaluates various ratios and metrics to determine the likelihood of bankruptcy) is the lowest in the peer group. Realizing that it's only one measure, we should nevertheless note that an Altman Z-score of less than 1.8 typically implies an above-average likelihood of bankruptcy.

Comps - Valuation: Using forward P/E and EV/EBITDA multiple valuation, we note that VeriFone is priced at a 25-50% premium to its peers. We pay particularly close attention to its valuation relative to Ingenico, who is the company's closest competitor and best comparable.

Comps - Growth: VeriFone has been underperforming its industry as the only company in the group with negative Sales, EBIT and EPS growth. This has largely reversed this year, as the company returned to growing top-line and earnings.

Comps - Margins: PAY's profitability is below industry average (by 300-500bps). Margins may be depressed, and potentially have upside. As we compare PAY to its closest peer ING, we note the main delta is ~300bp underperformance in gross margin. We need to understand what is driving this and whether it's a temporary or permanent (structural) difference.

Revenue Breakdown and Estimate Comparison:
Below, we breakdown VeriFone's revenues by geography and service type as well as compare our forward estimates to those of the Street and management's guidance.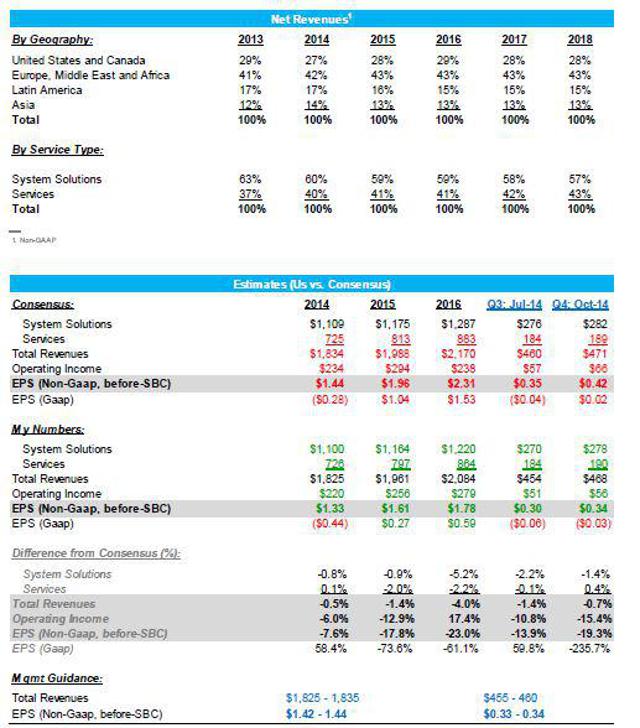 MODEL SUMMARY: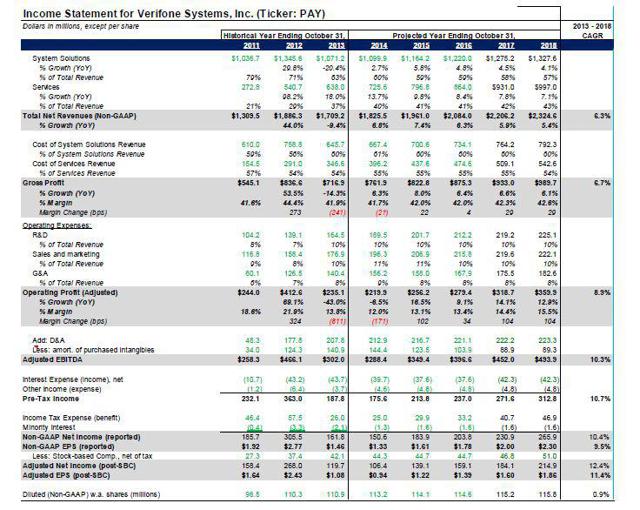 Disclosure: The author has no positions in any stocks mentioned, and no plans to initiate any positions within the next 72 hours. The author wrote this article themselves, and it expresses their own opinions. The author is not receiving compensation for it (other than from Seeking Alpha). The author has no business relationship with any company whose stock is mentioned in this article.