Ford Motor's (NYSE:F) shares have caused a lot of happiness for shareholders: Over the last two years, shares marched 63% higher and increased 14% over the last twelve months alone. Despite difficult circumstances for car manufacturers in 2014 and worsening investor sentiment due to a steady stream of negative recall news, Ford Motor's shares are also up 8% since the beginning of the year.
Things are going great for Ford Motor and I believe investors retain reasonable upside potential for the remainder of the year. What is the reason for my optimism? First, Ford Motor is so busy and successful in selling its cars, I wouldn't be surprised if analysts revised their earnings forecasts for 2014 and 2015 upward. I have previously argued, that Ford Motor's China and U.S. performance is outstanding. For instance, Ford Motor reported at the beginning of June, that it achieved monthly sales records for its Fusion and Escape models. Ford's Explorer model actually achieved the highest monthly sales in nine years.
At the same time, Ford Motor's China performance has been literally on fire. While some investors might argue, that China is too small yet in order to move the needle for Ford Motor in terms of operating profit contributions, the company indeed is aggressively pushing for market penetration in the most promising car market in the world: Three weeks ago, Ford Motor reported a 32% y-o-y jump in wholesales and a 35% y-o-y increase in passenger car sales.
Besides the domestic car market and the strategic growth market in China, Ford Motor also presented encouraging news from another geography last week: Europe.
Ford Motor reported on June 17, 2014:
COLOGNE, Germany, June 17, 2014 - Ford Motor Company's said sales in Europe rose 7.7 percent in the first five months of this year - outpacing the industrywide recovery - thanks to strong demand for Ford's newest vehicles.

Ford sold 98,600 vehicles in its European 20** markets in May and 496,400 vehicles year to date, a year-over-year increase of 35,500 units or 7.7 percent. Ford's market share through May equaled 7.9 percent, up 0.1 percentage points from a year ago.

Ford's commercial vehicle sales rose 12.8 percent in May and 8.1 percent year-to-date, boosting the company's CV market share to 10.5 percent in May and 10.2 percent year-to-date, the highest level in 16 years. The Transit remains the best-selling nameplate in the combined one- and two-tonne commercial vehicle segment in Europe.*
This monthly sales update is remarkable for three reasons: 1. Ford continues to outperform industry growth. As a remainder, Ford's European sales increased 6.6% y-o-y in April vs. industry growth of 4.2%. 2. Ford's market share in Europe is stabilizing at the 8% level. 3. Ford Europe should be well on its way to return to positive operating margins in 2014 and I am looking forward to some positive surprises in the earnings releases in the coming quarter with respect to Ford's European operations.
Ford Motor should release another set of monthly sales updates in about two weeks for the U.S. and, a little later, for China and I continue to expect strong sales performance across all geographies.
Taking advantage of GM's missteps?
Another reason to be bullish on Ford Motor is, that the company, at least for the time being, has managed to largely avoid the recall fiasco of other car players: General Motors (NYSE:GM), for instance, had to recall millions and millions of vehicles for reasons ranging from faulty ignition switches to power steering issues. Those recalls are not only costly, but also create a public relations nightmare for General Motors and will almost certainly affect the purchase decisions of prospective auto buyers. What other large, domestic car manufacturer could benefit from this development you ask? Ford Motor, of course.
Chart situation
Ford Motor's share price pulled back about 1% on Friday. I generally consider a pullback to be a good thing, because the stock was slightly overbought in the short-term according to the Relative Strength Index.
A short-term correction certainly could push Ford Motor back to the $16 level, at which I think investors should start loading up on Ford Motor.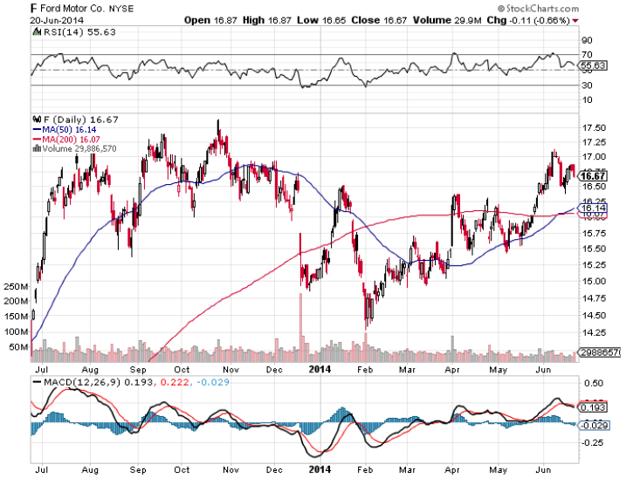 (Source: StockCharts.com)
Final assessment
I think investors will see further sales momentum in Ford Motor's auto markets at home and abroad this year. If Ford Europe has another two or three strong quarters in 2014, Ford Motor's European operations could indeed rebound to positive pre-tax earnings which would be a major catalyst for Ford Motor's shares.
With good news from all geographies and Ford's outperformance of industry growth in Europe, there is no reason why Ford Motor couldn't trade at $25 in 2015.
Ford Motor is one of the largest car manufacturers in the world, yet trades at less than nine times earnings while offering investors a 3% dividend yield. The current consensus earnings estimate for Ford Motor stands at $1.91 for fiscal year 2015. Applying a realistic earnings multiple of only 13, would yield a share price of approximately $25 (not accounting for EPS upward revisions which I think will happen this year).
Mr. Market materially errs in his valuation of Ford Motor. With further sales momentum, market share gains, a solidifying rebound in Europe and an extremely low valuation for a leading car manufacturer, it won't take much for the shares to trade meaningfully higher in 2014 and beyond.
Disclosure: The author is long F. The author wrote this article themselves, and it expresses their own opinions. The author is not receiving compensation for it (other than from Seeking Alpha). The author has no business relationship with any company whose stock is mentioned in this article.