Kodiak Oil & Gas (NYSE:KOG) is an E&P company that currently has 171,000 net acres in the prolific Bakken Shale field. Unfortunately in the process of acquiring this acreage KOG also acquired a lot of debt ($2.25B). This is a lot for a company that has a market cap of $3.87B. Some even speculate that KOG cannot drill enough new wells to keep KOG's production the same much less growing without outspending its current cash flow.
How bad is this problem? Currently the cost of one of KOG's Bakken wells is about $8.5-$9 million. KOG has shown consistent production growth each year, although in percentage terms that seems to be slowing (see chart below).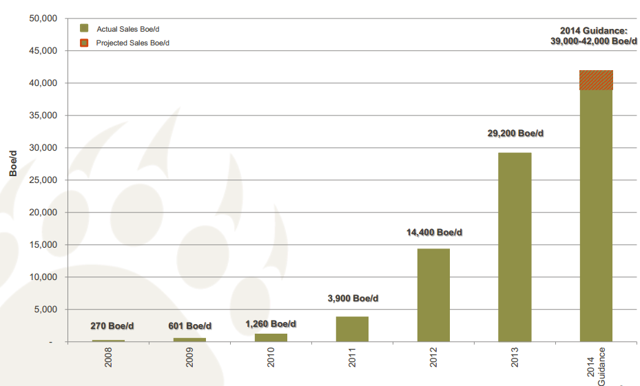 Unfortunately the capital expenditures needed to fund that growth have also been going up quickly (see charts below).

As investors can see, KOG has been trimming its CapEx budget on a per-well basis every year. Yes well costs have gone down; but it is questionable that they have gone down enough to allow KOG to grow production by 11,700 Boe/d (using the midpoint of current FY2014 guidance). Some might say this was a no-brainer after it grew production by 14,800 Boe/d in FY2013 for just a little more money. However, those who think this are forgetting that the decay curve for horizontal oil wells is very steep in the first two years. One decay curve for the Bakken from J. David Hughes shows well production declining 69% in the first year and 39% in the second year (see graph below).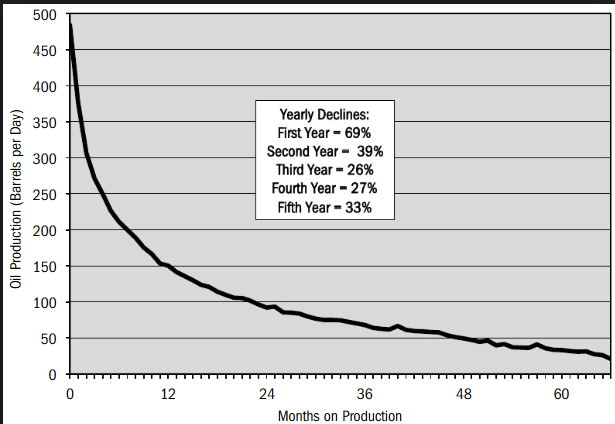 The production growth chart of KOG shows that it added 10,500 Boe/d in 2012 and 14,800 Boe/d in 2013. 39% of 69% of 10,500 Boe/d and 69% of 14,800 Boe/d amount to about 13,038 Boe/d of new production that have to be drilled in 2014 just to keep production approximately at the same level as 2013. You can see the problem previous fast growth can cause. To grow the production further to a guidance midpoint of 40,500 Boe/d in 2014, KOG would actually have to drill for further production of approximately 11,300 Boe/d. This would mean an approximate total of 24,338 Boe/d of added production. Plus it has to do this for a CapEx that will be less than the CapEx of FY2013. Further KOG says it plans to drill the same number of wells (100) in 2014 as in 2013. This means that the wells have to be that much higher producing.
Is 24-25 Mboe/d of new production doable? It seems on the edge of being nearly impossible given KOG's CapEx limits. Since KOG has already lowered its production guidance in 2014 from 42 to 44 Mboe/d to 39 to 42 Mboe/d, it would seem that KOG management is already starting to have doubts. However, persistently higher oil prices might make KOG's goal not only realizable, but beatable. Higher oil prices might mean that KOG could raise its CapEx a bit.
How much of a difference could the higher oil prices make? KOG has about 26,150 barrels of oil per day hedged for the rest of 2014. In the conference call May 21, 2014, the company said it was currently at 38,000 to 40,000 Boe/d. This sounds like KOG is going to make its new production guidance. Still keep in mind that it has to average that over 2014; and it only averaged about 34.0 Mboe/d in Q1 2014. This means KOG should average at least 44,000 Boe/d in 2H 2014. Approximately 87.43% of production was oil in Q1 2014. I will use that as the percentage for 2H 2014. At 87.43% oil, 44,000 Boe/d will yield 38,469 barrels of oil per day of production. Subtracting the hedged oil of 26,150 bopd, you get 12,319 bopd that are unhedged.
Oil is spiking probably in large part due to geopolitical problems in Ukraine, Iraq, and Libya. If you want to read more about these problems, a good discussion is in the article in this link. For the purposes of this article I will take as a given that problems will likely persist for a significant period of time; and they may worsen significantly. Brent crude ended June 20, 2014 at $114.68; WTI crude ended the same day at $106.83. Generally these prices are up several percent due to the recent Iraqi problems. Many expect them to go higher. A lot are expecting a rise of 20% or more. If KOG can earn roughly $20/barrel more on its unhedged oil in 2H 2014, it will earn 12,319 bopd * $20 * 183 = $45.1 million more in revenues in 2H 2014. If KOG added this amount to its CapEx of $940 million ($890 million for drilling and completion), it would not only easily meet its production growth goals; it would likely beat them by a fair ways. In other words, it could mean a beat and raise for KOG in both Q3 and Q4 2014. That would drive the price of the stock upward.
KOG already has a Next 5 years EPS Growth Estimate per annum of 43.85%. It has its disbelievers with a short interest of 9.50% of the float; but that can just help its stock price go up on good news. The higher oil prices do look like good news. KOG has a PE of 25.91 and an FPE of 14.37. The 5-year EPS growth estimate per annum of 43.85% makes these multiples seem cheap in the face of good news. KOG is a long-term buy with the good oil price news to tip the scales. The higher production by the end of the year will tend to support further growth better too. The higher oil prices will help KOG bridge a worrisome period for it and investors. The higher prices should take the fear out of investing in KOG. KOG is a buy. CAPS rates it even higher with five stars (a strong buy).
The two-year chart of KOG provides some technical direction for a trade.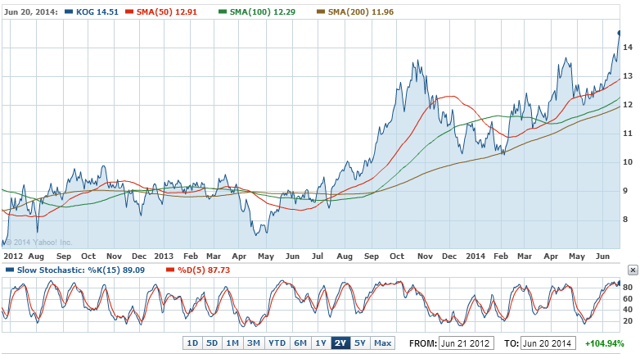 The slow stochastic sub chart shows that KOG is overbought. The main chart shows that KOG is trending strongly upward. The stock price was understandably negatively affected by the negative drilling problems in Q1 2014; but it seems to have more than recovered as the higher price of oil has solidified KOG's outlook for FY2014. KOG is a buy. Admittedly it is a bit overextended in the near term. However, under the current circumstances it could easily become more overextended. A good strategy for KOG might be to average in. That way you wouldn't miss a big move up entirely; and you would avoid a retracement of the over extension, if there is one.
NOTE: Some of the fundamental fiscal data above is from Yahoo Finance.
Good Luck Trading.
Disclosure: The author has no positions in any stocks mentioned, but may initiate a long position in KOG over the next 72 hours. The author wrote this article themselves, and it expresses their own opinions. The author is not receiving compensation for it (other than from Seeking Alpha). The author has no business relationship with any company whose stock is mentioned in this article.