It's been a wild (but wonderful) ride for Apple (NASDAQ:AAPL) investors over the past 5 years. The Company has delivered shareholders a total return of almost 400%, but investors had to sustain over a 40% correction to get there (see chart below).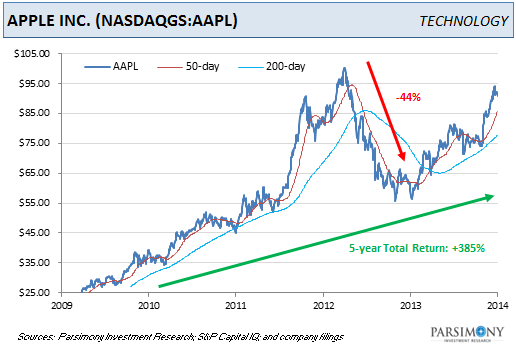 The stock rallied nicely (over 20%) after the 7-for-1 split was announced in late April, but shares failed to break out to a new high once the split became effective a few weeks ago.
We honestly thought that the momentum from the split would have pushed shares back above $100, but it didn't happen. In fact, the broader market has continued to tick higher over the past few weeks, but Apple has bucked the trend and has traded lower.
All that said, now that the momentum has faded, the stock is probably a bit ahead of itself and we are likely to see a little pullback here.
Fundamentals Are Still Sound
The core of our investment philosophy is to buy great dividend stocks at reasonable prices and we use a combination of fundamental and technical analysis to determine which stocks to buy and when to buy them.
The table below highlights some of the data points that we look at to determine our rating.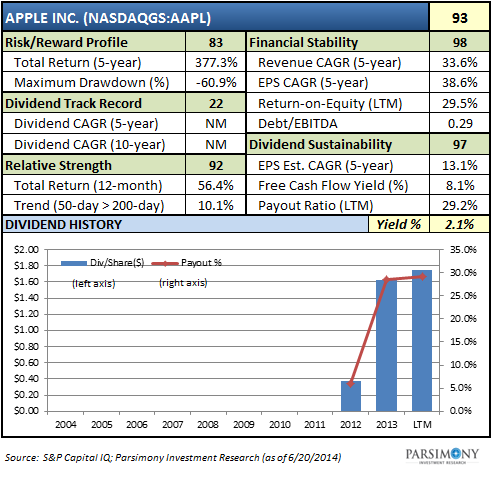 Apple is one of only a handful of stocks in our entire universe with both a Financial Stability rating (98) and a Dividend Sustainability rating (97) over 95.
Yes, earnings growth is expected to slow down over the next 5 years, but the company is a cash generating machine and we expect the company to continue to create significant value for shareholders in the years to come. In fact, Apple recently announced that it expects to utilize a total of over $130 billion of cash under its capital return program by the end of calendar 2015.
Shares Are Overvalued, But Not Grossly Overvalued
As shown in the valuation analysis below, the stock is currently trading over 15.0x trailing twelve month earnings, which is a 13.8% premium to its 3-year average multiple.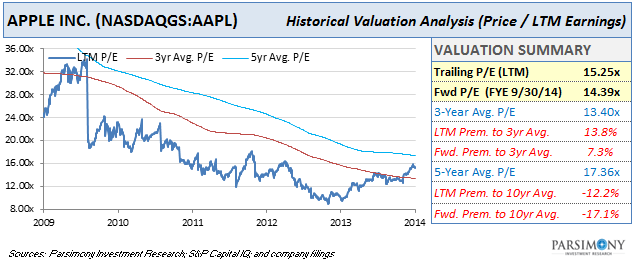 That said, based on consensus estimates for FYE 9/30/14, AAPL is currently trading at 14.4x forward earnings, which represents only a 7.3% premium to its 3-year average.
A Safe Entry Point To Add To Your Position?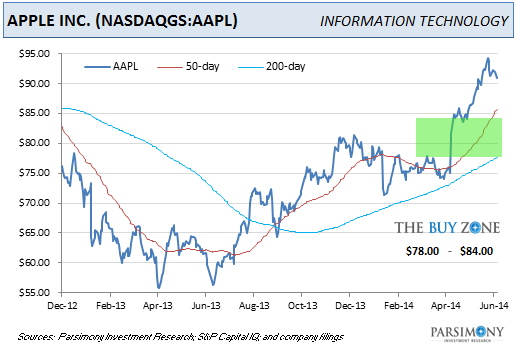 Apple currently trades 8.2% above the top range of our "Buy Zone." Ideally, we would like to purchase AAPL under $84.00 (which would equate to a forward P/E ratio around 13.5x and a forward yield around 2.25%).
Conclusion
We bought the dip in Apple back in mid-2013 as we felt that shares were undervalued at less than 10.0x trailing earnings (and in hindsight the stock turned out to be significantly undervalued). As long as the company can keep profit growth steady, we don't think shares will trade below 12.0x-13.0x earnings again in the near future. As such, we are holding our long position and plan to add more shares when/if the stock dips into our "Buy Zone."
Disclosure: The author is long AAPL. The author wrote this article themselves, and it expresses their own opinions. The author is not receiving compensation for it (other than from Seeking Alpha). The author has no business relationship with any company whose stock is mentioned in this article.