PRAA: The Numbers Simply Don't Add Up
Portfolio Recovery Associates, Inc. (NASDAQ:PRAA) is a full-service provider of outsourced receivables management. Incorporated in 1996, PRAA went public in 2002, and has become a major player in the outsourced accounts receivable collection market. PRAA purchases, manages, and collects defaulted consumer receivables from credit originators, such as banks, credit unions, auto finance companies, retail merchants, and other service providers. The defaulted consumer receivables it collects are either purchased from a credit originator (owned receivables) or are collected on behalf of clients on a commission (contingency) basis. Below is a table listing PRAA's entire portfolio.
PRAA is currently valued at a market capitalization of $2.95 Billion. It seems this number is a gross misrepresentation and overestimation of the true value of the company.
Table 1.2 gives strong evidence that PRAA is overvalued. It is essentially a balance sheet listing all of PRAA's operating assets. When valuing PRAA, we must take into account what its expected future earnings are. According to the Portfolio Recovery Associates' website, the estimated total value of remaining collections is $2.68 B. This is expected to be collected over a number of years. There are a few important variables to discuss when evaluating PRAA's expected future performance. First, that PRAA collects 80% of the collectable debt purchased in a given year within roughly 4-5 years of purchase. Second, that PRAA estimates that administrative costs are 37 cents on every dollar of income from realized finance receivables. Third, that PRAA's profit margin on collection to purchase price shows a heavily negative trend line, indicating that debt is now more expensive (Table 1.1). More expensive debt means more leveraging and less earnings.
Table 1.1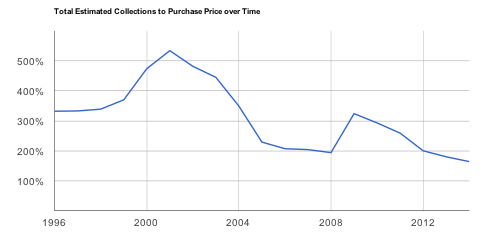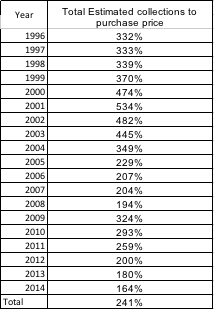 In the company's most recent quarter it estimated that collections would be only 164% of purchase price, while in 2009 that number was 324% and in 2001 it was 534%. The total price of purchased debt in Q1 2014 is 144,889,000. The estimated total collections is 238,052,000 and thus administrative expenses are estimated at .37 x 238,052,000 = 88,079,240. This leaves the expected profit from Q1 2014 purchases at 238,052,000 - 88,079,240 - 144,889,000 = 5,083,760 (only 2% return on investment!). At the current price of debt, profit seems to be almost unattainable. However, this issue is not reflected in PRAA's current earnings because they are still collecting a majority of their income from the cheaper debt purchased in 2009-2011. As the economy improves, PRAA will likely find itself unable to operate with such a diminishing profit margin, as most other firms in the industry have already experienced. A decline in future earnings is practically guaranteed with the purchase of expensive debt in the past two years. With this in mind, PRAA's value is principally determined from its assets below, the cash receivables that they already own. The total estimated remaining collections from PRAA's portfolio after collection expense is .63*2,680,285,000 = 1,688,579,550. Without discounting, that is, if all of this money were to be collected today, PRAA's accounts would be matured and shareholders would be paid the $1.7 billion (this figure also ignores the company's liabilities). PRAA's current Market Cap is $2.95 billion while their portfolio is worth at most $1.7 billion. In the case of finance receivables the numbers should add up because the assets are strictly cash. To reach a full (and lenient) valuation of the company, take the undiscounted $1.7 billion, subtract its $730 million in liabilities, and add the $191 million that the company has in cash. This takes us to $1.16 billion. With 50.06 million shares outstanding, this brings us to roughly $23.17 per share. The stock currently trades at $59, an unjustified price.
Of course, valuing a company is never as simple as calculating their current portfolio of receivables. There are many intangible assets that might also be considered. We might consider valuing the future debt purchases of the company. However, with the tight margins any new debt purchased would be highly unlikely to overcome even a reasonable discount rate on their total collections each year. Some experts point out that as the economy improves, reclamation rates should also improve thus widening PRAA's profit margins on debt purchases. As true as this may be, the higher reclamation rates are already factored into the ratio of estimated collections to purchase price, which, as shown, has a heavily negative trend line in recent years.
To summarize, PRAA is overvalued for these reasons:
-The debt it is purchasing is becoming more expensive and squeezing its profit margins
-The economy is improving and debt will become even more expensive
-The current earnings do not reflect the more expensive debt because the majority of the earnings are from prior years purchases (much like oil companies developing more expensive replacement reserves)
-Decline in earnings in future years is guaranteed by the expensive debt they have already purchased
-Without discount the expected net realization of their portfolio is $1.6 billion
-The company is trading at a $2.95 billion market capitalization
-Total undiscounted expected earnings - debt + cash = $1.06 billion, placing share value at around $23.7
We recommend: SELL.
Find PRAA full Q1 2014 earnings report here.
Table 1.2- Summary Portfolio Data at March 31, 2014, Entire Domestic Portfolio

($ in thousands)

 
 
 
 
 
 
 
 
 

Actual Cash

 
 
 
 

Total

Net Finance

Collections

Estimated

Total Estimated

Purchase

Purchase

Estimated

Receivables

Including Cash

Remaining

Collections to

Period

Price

Collections

Balance

Sales

Collections

Purchase Price

1996

$ 3,080

$ 10,227

$ --

$ 10,211

$ 16

332%

1997

7,685

25,600

--

25,521

79

333%

1998

11,089

37,581

--

37,384

197

339%

1999

18,898

69,836

--

69,433

403

370%

2000

25,020

118,678

--

116,918

1,760

474%

2001

33,481

178,936

--

176,364

2,572

534%

2002

42,325

203,979

--

199,228

4,751

482%

2003

61,447

273,719

--

266,348

7,371

445%

2004

59,176

206,294

--

199,213

7,081

349%

2005

143,167

328,076

5,725

313,029

15,047

229%

2006

107,667

222,758

5,878

210,205

12,553

207%

2007

258,367

526,977

19,091

484,621

42,356

204%

2008

275,121

533,621

24,564

480,864

52,757

194%

2009

281,333

912,530

22,742

776,617

135,913

324%

2010

357,810

1,048,010

68,117

786,876

261,134

293%

2011

392,929

1,018,831

142,431

606,679

412,152

259%

2012

508,683

1,018,297

299,429

419,298

598,999

200%

2013

627,917

1,133,180

508,564

235,921

897,259

180%

2014

144,899

238,052

138,336

10,167

227,885

164%

Total

$ 3,360,094

$ 8,105,182

$ 1,234,877

$ 5,424,897

$ 2,680,285

241%
Disclosure: The author is short PRAA. The author wrote this article themselves, and it expresses their own opinions. The author is not receiving compensation for it. The author has no business relationship with any company whose stock is mentioned in this article.