It is much harder to find bargains in the market after equities have rallied more than 40% over the last year and a half, including dividends. My regular readers know that my overall take on the market is sanguine at the moment. However, as Chuck Prince once infamously said "One has to dance while the music is playing". Probably a better acknowledgement is Jim Cramer's byline "There is always a bull market somewhere".
With the S&P 500 and Dow Jones Industrial Average at all-time highs, I am looking towards the small cap arena. The Russell 2000 has rallied lately after almost 10% swoon that commenced in early March. Currently I am looking towards a couple of small cap stocks that are still significantly below their highs earlier in the year and look poised to rebound. Both have had nice rallies recently and are going for around $7 a share.
I haven't wrote about or thought much about Himax Technologies (NASDAQ:HIMX) recently. This is a small cap tech concern that I highlighted back at $2 a share in October 2012. I booked huge profits on the stock - and left significantly gains on the table - last year. The shares eventually cleared $16 a share earlier this year on the hype around being used by Google Glass before crashing to $6 a share in the small cap sell-off and rumors that Google may no longer use Himax despite its over six percent stake in the firm.
The stock has been on the rise since bottoming around $6 a share and seems attractively valued here. The shares pay almost a four percent dividend yield (3.9%) which should keep a nice floor below the stock and I would be surprised if the stock broke below the $6 a share it recently tested.
The company has no net debt after subtracting cash on the balance sheet. Earnings are projected to go up 15% to 20% on annual basis for both FY2014 & FY2015. The stock has a five year projected PEG of significantly under 1 (.38). HIMX goes for ~12.5 times FY2015 projected EPS.
My position in Regado Biosciences (RGDO) has increased nicely in June after cratering from over $13 a share in the small biotech pullback starting in March. At its recent lows of ~$5 a share, the stock was selling for where it came public at last year in August. The stock is now moving quickly past $7 a share and significant upside seems ahead.
The company's lead product is the Revolixys Kit which is currently in the midst of an FDA Phase III trial. This product is a two-component system designed to better treat patients undergoing coronary revascularization procedures.
One of the things that stand out to me is the faith of insiders and beneficial owners over the last year. There have myriad multi-million dollar purchases by these players with in depth knowledge on the company and its prospects. The company has some $30mm in net cash on its balance sheet which should get it easily through phase III trials and represents more than 10% of its current market capitalization of ~$250 million. Finally, the six analysts that cover the stock have price targets ranging from $10 to $14 a share on RGDO; all significantly above the current stock price.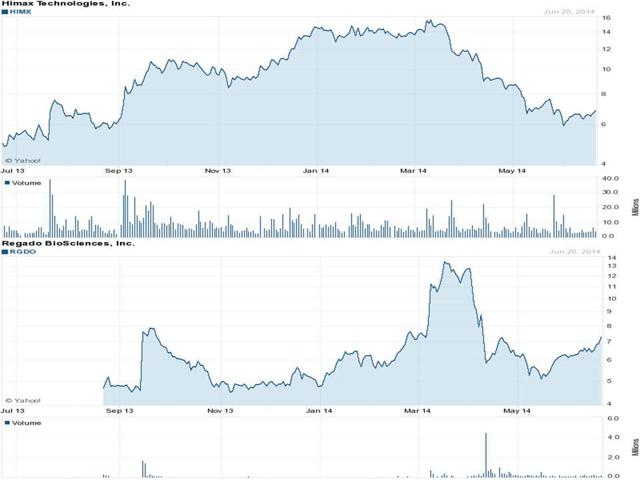 Disclosure: The author is long HIMX, RGDO. The author wrote this article themselves, and it expresses their own opinions. The author is not receiving compensation for it (other than from Seeking Alpha). The author has no business relationship with any company whose stock is mentioned in this article.