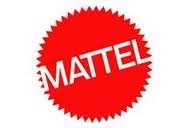 Just over three months back, toy manufacturer Mattel Inc. (NASDAQ:MAT) was receiving a lot of positive investor attention especially after the release of Toy Story and the company was having a positive outlook amid good sales figures but things have changed phenomenally in the recent past. First Mattel Inc. was accused by rival MGA Entertainment Inc of spying on rival toy companies for at least 15 years and if that was not bad enough Fisher-Price, a unit of Mattel, announced its intention to recall almost 10 million toys and other items in the United States and Canada due to the potential for serious injuries.
The Consumer Product Safety Commission has expressed serious concerns over the company made tricycles and high chairs that are being directly blamed for children's injuries. According to
Associated Press
, the trikes, some of which feature popular characters like Dora the Explorer and Barbie have a protruding plastic ignition key near the seat that children can strike, sit on or fall on, leading to injuries that the commission said can include genital bleeding.
The CPSC Chairman has criticized the toy maker by saying that it needs to do more to build safety into their products before they reach the stores but has praised Fisher-Price for agreeing to recall the products and offering consumers free repairs or replacement.

The markets however have not been that kind as the companies shares were down 0.39 %. The recall could not been more badly timed as most experts and analysts had increased their 2010 earnings estimates for Mattel last month after the company's year over year net sales grew 13%.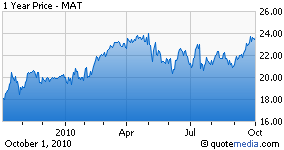 It has been a good year for the toy industry so far as not only have Mattel's profits doubled from $21.5 million in the second quarter of 2009 to $51.6 million in the second quarter of this year, Mattel's biggest competitor, Hasbro (NASDAQ:HAS), has also enjoyed an explosive first half of 2010 with shares shooting up by 51% over the past year.

Experts feel that although toy recall is not a new phenomenon and a lot of toy manufacturers have faced recalls in the past including RC2 (NASDAQ:RCRC) whose wooden vehicles and set components had led contaminated paints but the sheer volume of recalls is a difficult sentiment for the market to digest. Most investors still have very clear memories of Mattel's large-scale 2007 recall of toys contaminated with lead that had a huge impact as it spread to other products as well.

Mattel 2007 Recall: While 2007 product recalls initiated a breakdown of sorts in Mattel's supply chain and product testing procedures mainly due to the use of inferior materials by third-party manufacturers, the current recall is more about faulty design and minor security issues which can be handled without causing long term damage.

The stock however dipped more than 1.5% in early afternoon NASDAQ trading on Thursday to US$23.18.


Future Outlook: Buying Opportunity?

Even as most investors are wondering what to do with Mattel (MAT) after the recall news, some experts are of the view that since Mattel has what it takes to stay in the game, the current noise around Mattel's recall could very well be a perfect buying opportunity. Mattel has always been a good pick for most analysts mainly due to its high dividend and low valuations. Toy industry on the other hand are also having a good year overall with the 2010 holiday season shaping up nicely for all major toy manufacturers and retailers like Wal-Mart (NYSE:WMT), Target (NYSE:TGT) and Toys R Us (TOYS) . So while the recall should definitely have an impact on the company in the short tern, its impact is going to be limited unlike the 2007 recall and should not derail the company's end-of-year prospects.




Disclosure: No Positions