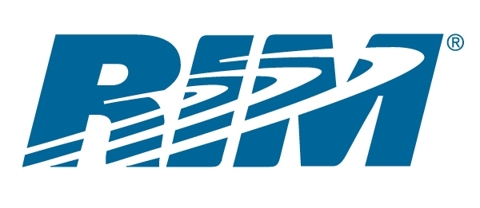 Research in Motion's (RIM) long-awaited tablet computer – the PlayBook – has been welcomed by sell-side analysts, but many outside Canada still don't think it is enough to drive the company's share price much higher amid fierce competition with rivals such as Apple (NASDAQ:AAPL).
The mean price based on analysts who have updated their 12-month targets within the last 30 days is $66.83, down from $70.64 a month ago.
Meanwhile, the median price based on thirteen recent targets of sell-side analysts tracked by Alacra Pulse stands at $67, little changed from a month ago and down from $85 since June. RIM closed at $48.69 on September 30.
Click image to enlarge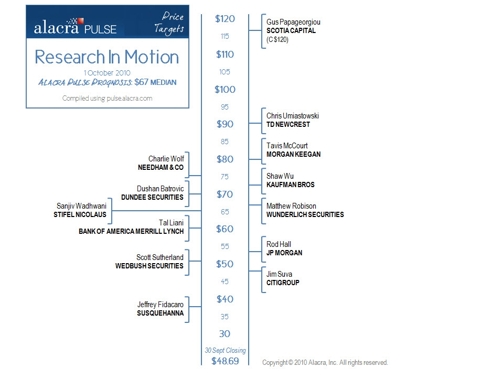 A dozen tracked analysts have lowered their price targets in the last month, while only a couple, both Canada-based, have increased theirs.
Indeed, Canadian analysts continue to dominate the higher end of the range. RBC's Mike Abramsky, who has RIM as a Top Pick, confirmed his $90 target, as did CIBC's Todd Coupland, while BMO Capital's Tim Long stuck with his $92 target and Outperform rating. TD Newcrest's Chris Umiastowski trimmed his target to $90, from $100, while Barry Richards at Paradigm Capital maintained his $105 target and Buy recommendation. Even more bullish is Scotia Capital's Gus Papageorgiou, who in mid September nudged his target up from C$117 to C$120, (about US$ 117). He believes that "concerns over competitive threats amongst the enterprise and consumer are greatly exaggerated."
Dushan Batrovic of Dundee Securities also raised his price target, to $70 from $65. Unlike most of his more bullish Canadian colleagues, however, his target remains close to the median. Richard Tse at Cormark Securities has a Buy recommendation and a "conservative" $50 target, the same as Canaccord Genuity analyst Michael Walkley who has a Hold recommendation. Walkley thinks the company will lose market share to Android devices and Apple.
Outside of Canada, the highest price target is currently from Jeff Kvall of Barclays Capital, who reiterated his $85 target and Outperform recommendation.
RBC's Abramsky estimates that RIM may sell as many as six million PlayBooks in the first year, as much as 13% of the addressable tablet market in 2011. "While continuing current rollouts (e.g., Torch) RIM's QNX-based PlayBook may kick off a series of next-gen BlackBerries, with cutting-edge software, more exciting designs and a broader app experience, along with unique services and partnerships," he said.
TD's Umiastowski was also encouraged by the new product: "We think the perception on RIM will change," he wrote in a research note to clients. "So long as RIM continues to execute, there are few reasons for bears to stay negative on the stock."
Raymond James' Steven Li, weighing in on the stock with an Outperform recommendation and a $70 price target said: "We believe the PlayBook tablet shows RIM is starting to compete effectively on hardware specs." Morgan Stanley's Ehud Gelblum said the PlayBook appears to outperform competing device hardware on nearly every metric.
Goldman Sachs analyst Simona Jankowski, raised her earnings per share estimate through 2013, saying that the company is improving margins. However, she reiterated the bank's Sell recommendation and $45 price target.
Even more bearish is Susquehanna's Jeff Fidacaro, who maintains a Negative rating and a target of just $37.50, as "we believe RIM's new product launches (PlayBook, Torch) do not address near-term share losses in the North American consumer smartphone market."