Bank of America (NYSE:BAC), the nation's second biggest banking institution, has contacted President Obama's Federal Attorney General Eric Holder. BAC CEO Brian Moynihan and other bank officials wish to negotiate how to pay the massive multi-billion dollar penalties for violation of mortgage security regulations.
The bank's talks with the Justice Department were actually scheduled to take place a few weeks ago, but the two sides didn't seem to be able to agree on the terms of the negotiations nor when to schedule further discussions.
This now appears to be the third time Bank of America's senior executives will meet with the United States Department of Justice representatives on this case.
Tense History
The first time official negotiations took place occurred in May 2013. At that time, the bank's senior executives and the Justice Department officials made an attempt to sort out the intricate details of the mortgage securities deal.
The second time a meeting was scheduled was in November last year. During those discussions, the bank may have agreed to pay out $13 billion for sorting out how to resolve the many legal and regulatory issues surrounding the violations of mortgage processes. At that time, it was agreed that part of the settlement--around $4 billion--was to be used to compensate those homeowners who had suffered the most during the financial crisis and the wide-scale foreclosure problems that arose during and after the national economic crisis.
Another Billion For Victims of Poor Lending Practices
However, since those talks, the federal investigations may have discovered even more mortgage fraud, and the Department of Justice is now asking for the amount used to compensate homeowners to be raised by one billion more.
This will bring the homeowner's compensation package up to a total of $5 billion. The money will be given to those unfortunate consumers who were forced into financial crisis due to the bank's lending practices.
Billions Keep Mounting
It is now expected that Bank of America may have to pay at least $12 billion for the gross mishandling of mortgage loans. According to federal investigations led by our Justice Department, this mismanagement may have been clearly fraudulent. However, while the expected penalty is at least $12 billion, this may be only a minimum.
Depending on further investigations and the agreements made during the negotiations, this number may reach as high as $18 billion. It is not clear whether the government investigators are planning to make further accusations.
Testing Methods of Compensation
Bank of America, at the present moment, is flirting with the possibility of compensating consumers with mortgage allowances.
If the Department of Justice agrees to this offer, it will give the bank a way of softening the penalties that they are expected to pay. Mortgage allowances will help the bank to avoid the financial hardships that will occur if they have to make direct cash payments. This scenario, however, is still only speculative. The idea is still under negotiation, and neither of the two sides has reached an agreement one way or another.
However Cards Are Dealt, A Great Blow To BAC
However the deal is structured, the penalties imposed upon the bank will still be a great blow to the bank's profitability. To put this in perspective: the total amount of $12 billion that the bank is expected to pay will exceed last year's profits of roughly $11 billion. Ironically, this profit was the highest amount that the bank had reached in a span of 6 years.
Countrywide Corp.: A Thorn In BAC's Side
In hindsight, it looks as if Bank of America was a little too hasty in purchasing Countrywide Corp., which is now the source of their current aggravations. The acquisition was made six years ago by Kenneth D. Lewis, the bank's Chief Executive at the time, and his management team and board of directors who believed it was a sound business move to purchase a mortgage lender at a bargain price. However, subsequent events have shown that what seemed like a brilliant business deal at the time was actually a huge mistake. The bank now has to pay for the numerous mortgage violations committed by the mortgage lender.
For BAC Investors: Outlook Shadier By The Minute
Prolonged negotiations between BAC and the US government continue to take a toll on BAC's market performance.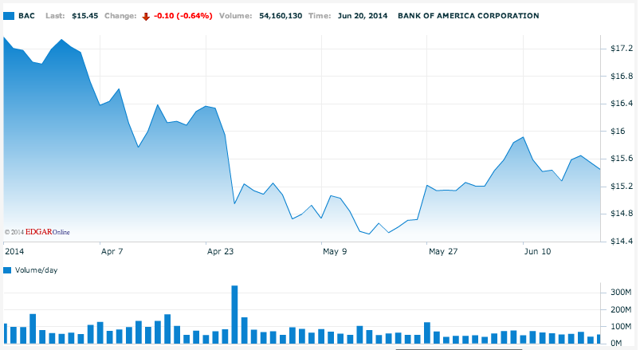 (Nasdaq.com)
With the bank's budget for its operations severely jeopardized by a $12 billion penalty on the horizon-mortgage allowances or no-this is clearly an increasingly higher risk stock as BAC's business decelerates.
Investors should not only be concerned about enormous financial loss but also the alleged dishonest practices BAC has been charged with against their own clients. In early April 2014, BAC was fined $800 million for pressuring customers to sign up for additional credit card products.
Bleeding money, BAC has not been able to raise its dividend as promised. Shareholders have not seen increased dividends above $0.01 since 2008.
Outside of the US, BAC has been allegedly charged with rigging foreign exchange rates.
The news simply keeps getting worse for this mega-bank as regulators begin to finally get a handle on an institution that apparently has put its own interests before its clients' first-with poor results for itself and society-for too long.
BAC will pay significantly more for its dodgy practices than BNP Paribas (OTCQX:BNPQY), which has recently made headlines for sanctions violations. BNP Paribas' fine was previously one of the largest regulatory fines on a bank to date.
We strongly suggest investors take profits in BAC as negative press continues to snowball and BAC will certainly feel the strain of a $12 billion fine, in any form, for years to come.
Disclosure: The author has no positions in any stocks mentioned, and no plans to initiate any positions within the next 72 hours. The author wrote this article themselves, and it expresses their own opinions. The author is not receiving compensation for it (other than from Seeking Alpha). The author has no business relationship with any company whose stock is mentioned in this article.
Editor's Note: This article discusses one or more securities that do not trade on a major U.S. exchange. Please be aware of the risks associated with these stocks.