Dividend growth investing offers the very simple opportunity to outperform the broader market such as the SPDR S&P 500 Trust ETF (NYSEARCA:SPY). There seems to be the popular notion (at least on Seeking Alpha) that with respect to dividend growth investing, the way to greater returns is from greater dividends and greater historical dividend growth rates. From my readings and research reports that are readily available, the key to success for dividend growth investing is growing dividends, combined with a low payout ratio. Of course, when I mean outperform, I am referring to total return. Before the article moves forward, we should recognize or consider (and even accept) that in the accumulation phase, the most important metric is total return. In the end, when we get to that spending stage (retirement or semi-retirement), the only thing that will matter is how much do you have to go shopping for income and how much is in that total portfolio.
Many authors on Seeking Alpha have written about the importance of tracking and measuring the portfolio total income. As I have written, they are "Total Income" investors and are not investing for total return. In the end, if taking a total return approach means an investor will have a greater portfolio value, that investor wins. A $1.5 million portfolio will beat a $1 million portfolio any day of the week, and every investor should choose that higher dollar value and seek that higher dollar value in the accumulation stage. There should be no debate on that fact, but there certainly will be (debate and challenge, that is). The only viable reason I can see to become a total income investor and to watch the portfolio income over all other measurements, including total return, is for risk management. If watching the dividends helps an investor stay the course and not sell during market turbulence, then that is an approach that is paying off. The most important part of any investment plan in being able to stick to that plan.
But we should make no mistake, the magic (and gift) of dividend growth is total return. If you are looking to watch the income and want the greatest income growth, then invest in the traditional higher-yield options, such as a combination of high-yield dividend and dividend growth stocks, REITs, MLPs, high-yield bonds and preferred shares. As I have demonstrated in articles, the traditional income approach can beat the typical dividend growth investor for income generation and income growth. But all said, when it comes to dividend growth, chasing and measuring income is barking up the wrong tree. Dividend growth offers a market beat (historical) in total return as compared to the broad market indices. Investors should take that market beat - whoever has the most money, wins.
The key to dividend growth's magic is dividend growth (and associated value) and low payout ratio. Here's a chart from my article "How To Get The Most Out of Dividend Growth."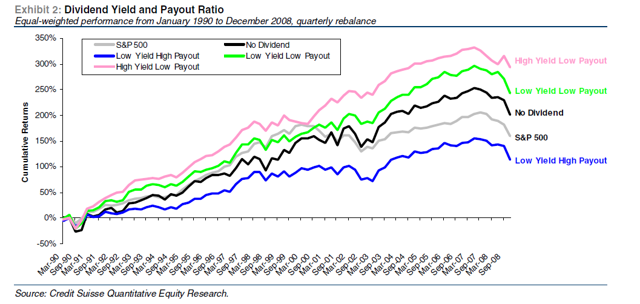 The Credit Suisse Study shows that the best performers are companies with a high yield combined with a low payout ratio, followed by low yield and a low payout ratio. The worst performing group in this study is high payout ratio companies. What should be obvious is that it is the ability of companies to continue to grow their dividends that is the key metric. Real and sustainable dividend growth is supported by real revenue and income growth, and companies that are currently returning a smaller percentage of their profits to shareholders have a more clear and open road ahead when it comes to those dividend increases. Those companies with low payout ratio have more room to maneuver.
But again, low payout ratio is hardly (and mostly never) a mention of some of the writers leading the dividend growth conversation. That's like trying to create the world's best lasagna without tomato sauce. As I have previously written being a total income investor instead of a total return investor (and ignoring dividend growth's gift) is akin to fiddling with the stereo in your vehicle when you are trying to maximize fuel efficiency. You are probably playing with the wrong dials.
Not surprisingly, the writers who practice total income (with public portfolios that offer the ability to measure) have not generated the returns offered by dividend growth. They are simply getting the returns of the broader market (or less), while the dividend growth companies are offering a market beat. I urge everyone in the accumulation phase to ignore the lure of the current higher income and historical higher dividend growth rates. It is more important to find the companies that have the ability to grow the dividend moving forward. The current income or dividend yields are somewhat meaningless. You are not looking to spend the income today if you are in the accumulation phase. You don't need the money in your pocket. The only thing will matter is the total value of your investments, how much will you have in retirement to go shopping for income.
Again, take that simple gift of a market beat.
There are some ETFs that offer a market beat and the ability to study how they are finding that market beat. Vanguard offers dividend growth ETFs and managed funds that have beat the market. These funds have lower yield, but very generous total returns.
Vanguard (NYSEARCA:VIG), from its inception in May of 2006 to the end of 2013, delivered 78.7%, compared to the S&P 500 return of 65%. Vanguard's managed fund, VDIGX, over the last 10 years, offered a total return of 137.3%, outperforming the S&P 500 total return of 103.1%.
The S&P 1500 dividend aristocrats fund (NYSEARCA:SDY) has beat the market by over 1% per year, when averaged.
The very simple S&P 500 dividend aristocrats index has beat the market. This index simply includes the companies from the S&P 500 that have increased their dividends over 25 years or more. More on that incredible phenomenon in this article "Simply Buy The Dividend Aristocrats and Perhaps Beat the Market." That article showed that the aristocrats have beat the market by a significant margin in the shorter and longer term. Do some digging, and you'll notice that the majority of those aristocrats still have a very low-to-moderate payout ratio - after all those years of paying out. And all of those funds or indexes (except SDY) have one thing in common, they ignore current yield.
Anyway, back to me and lowering my yield and improving my dividend growth portfolio. I was holding Vanguard's higher-yielding dividend ETF (NYSEARCA:VYM) due to the fact that I had a major career change at age 50 (moving to the advice side of the financial industry from the marketing side of things), and I had to take (willingly) a major salary cut. We went into a negative cash flow situation, and have been drawing down on our emergency savings funds. Who knew changing careers could be an emergency? Ha.
Given that, I wanted our investment portfolios to throw off lots of income, offering the ability to spend some of the income without having to sell shares - so I went with the higher-yielding VYM. Fortunately, to-date, we have not had to dip into our retirement funds for income, and I am somewhat confident or hopeful that I am making a good go of it in my second career. We also have some debts that will be retired, and I am hopeful that we can be completely debt-free within 18 months.
So it was time to say goodbye to the higher yield of VYM and move to Vanguard's VIG and the lower yield and lower payout ratios and the potential for greater total return. I made that move with one twist, I could not say so long to the largest holding in VYM - Apple (NASDAQ:AAPL). In a previous article "My Three Stocks", I detailed why I held Tim Hortons (THI), Enbridge (NYSE:ENB) and TransCanada Pipelines (NYSE:TRP). My next article on stock selection will, of course, be entitled My Four Stocks. I am also looking to add Warren Buffett's favourite dividend growth stocks that happen to be of the low payout ratio world.
I really like Apple due to its brand strength. I am not a stock picker, but I think and hope that I still get brands and marketing, and I am guilty of thinking that I understand the consumer in a couple of sectors. Apple is loved by its brand ambassadors (customers) in the same manner that Canadians love their Tim Hortons cup of coffee. I will admit to holding those two companies "on purpose".
When it comes to VIG, I am not looking to spend the majority of those funds well beyond my semi-retirement start date of 2019 or 2020. The first 2-3 years of spending will be covered by cash, and then, I would move on to the mix of stocks and bonds. The time horizon for the VIG funds will hopefully be in the 8-10 year range, and then harvested in small increments. Cash and bonds would be topped up in the good years for stocks - a retirement funding approach known as bucketing. See my recent articles on retirement funding.
Final thoughts
It can feel counterintuitive to lessen the yield of your portfolio when you are investing with an approach called dividend growth. But remember, the operative word or component is "growth". And that's growth moving forward.
Invest for total return in the accumulation phase; those who invest for total income appear to leave behind the total return potential of dividend growth. And those who are total income (or income growth) investors appear to trade too much, that may be a function of monitoring that income growth. Dividend growth investing is about patience and (mostly) staying with companies for decades.
Remember, investing ain't rocket surgery. Dividend growth offers another example of that fact. One can even simply buy the market-beating dividend aristocrat index in ETF form (BATS:NOBL), or buy all or most of the aristocrats individually if the trading fees do not get in the way. It's that simple.
Happy investing, and be careful out there.
Disclosure: The author is long VIG, EWC, EFA, SPY, THI, ENB, AAPL, TRP. The author wrote this article themselves, and it expresses their own opinions. The author is not receiving compensation for it (other than from Seeking Alpha). The author has no business relationship with any company whose stock is mentioned in this article.
Additional disclosure: Dale Roberts is an investment funds associate at Tangerine Bank (formerly ING Direct). The Tangerine Investment Portfolios offer complete, low-fee index-based portfolios to Canadians. Dale's commentary does not constitute investment advice. The opinions and information should only be factored into an investor's overall opinion forming process