Although interest in for-profit education has surged over the past decade, it has been very tough for many companies in this corner of the market. Intense competition and severe regulatory risk have hampered stock prices in this segment and could prevent any gains from coming to this beaten down sector.
In particular, worries have hit Corinthian Colleges (NASDAQ:COCO) pretty hard lately. The company warned of a possible bankruptcy thanks to a Federal Aid delay, and fears have trickled into other companies in the space too, pulling them down as well. While all have been impacted, one company in particular that is worth keeping an eye on in this regard is definitely ITT Education Services (NYSE:ESI).
ESI in Focus
ESI operates technology-oriented degree programs around the country, and is probably best known for its ITT Technical Institute brand name. The firm is headquartered in Indiana, but it has campuses in 39 states and an online presence as well.
But thanks to regulatory worries and cutthroat competition, the stock has been under severe pressure as of late. In fact, the stock is down close to 50% just in 2014, suggesting a pretty bearish trend for ESI in the near term.
Recent Earnings and Outlook
A big reason for the bear run in ESI is undoubtedly their last earnings report. The company missed estimates by a huge margin and foresaw reduced new student enrollment as well. If that wasn't enough, ESI also withdrew its earnings guidance for the year, something that punished the stock by about 20% in a single session.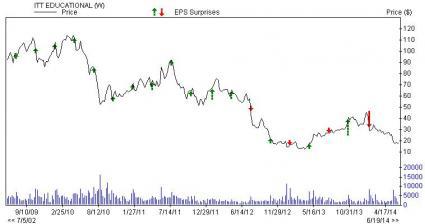 Earnings Estimates have also been sliding and this isn't great for the longer term picture. Estimates revised lower have outnumbered those moving higher by a nine to one ratio in the past 30 days (for the current year time frame), while all of the revised estimates for the next year period have moved lower in the last 30 days.
The magnitude of these revisions has been pretty bad too, suggesting that the current trend is extremely unfavorable for this stock. The consensus current year estimate for ESI has actually moved from $3.10/share 30 days ago to just $2.50/share today, pushing the year-over-year growth rate down into negative territory.
Given these trends, and the huge regulatory risks hovering over the space, it shouldn't be too surprising to note that ESI currently has a Zacks Rank #5 (Strong Sell). This means that we are looking for more underperformance from this stock, and that pain could definitely be ahead for this security during the summer.
Other Picks
The education segment is obviously a very tough one right now and investors definitely need a strong stomach to put their money to work here. However, in the schools industry, there is one top ranked pick right now, Lincoln Education (NASDAQ:LINC).
This security has moved from a Zacks Rank #3 (Hold) to a Zacks Rank #1 (Strong Buy) in just the past week, while it is slowly getting its act together and could see a solid level of profitability next year assuming it stays on this course. This-along with rising earnings estimates-could make LINC a better choice for school stock investors than the troubled ESI, at least for the time being.
ITT EDUCATIONAL (ESI): Free Stock Analysis Report (email registration required)
Editor's Note: This article covers one or more stocks trading at less than $1 per share and/or with less than a $100 million market cap. Please be aware of the risks associated with these stocks.