With the market hitting all-time highs again today, I thought it would be a good time to look for a stock that could be worth buying puts on, or shorting [for those who can]. For my search, I will be using the FinViz.com stock screener using the criteria below, along with CEO approval data from Glassdoor.com. With the criteria below my goal was to find companies that do not pay a dividend, have poor efficiency ratios, currently unprofitable, in a low margin business, and have not shown the ability to grow earnings in the past 5 years.
FinViz Screener Criteria
Market Cap: > $2 Billion
Average Volume: >500K
Dividend Yield: NONE
ROA: Negative
ROE: Negative
ROI: Negative
Profit Margin: Negative
Operating Margin: <10%
Debt/Equity: >.50
EPS Growth this year: Negative
EPS Growth past 5 years: Negative
Results
After running the screen, using the criteria above I found that six companies met my criteria, and they are listed in the table below.
| | |
| --- | --- |
| (NASDAQ:CSOD) | Cornerstone OnDemand |
| (DGI) | DigitalGlobe |
| (NYSE:JCP) | J.C. Penney |
| (NYSE:N) | NetSuite |
| (NYSE:NOW) | ServiceNow |
| (NASDAQ:SHLD) | Sears Holdings |
CEO Approval Ratings
The final step in my process was to look at the CEO approval ratings for each of the above companies and see which company had the lowest rating. The reason I believe CEO approval from employees is important is if a company has been struggling, and management has a turnaround plan, the employees have to believe in that plan, and have faith in management to make the company successful. Therefore, in this case I am looking for a CEO that does not have favorite ratings from employees. The results are shown in the table below, and by a wide margin, Sears Holdings has the lowest CEO approval rating, therefore, that is the company I will be focusing on.
| | | |
| --- | --- | --- |
| | | CEO Approval Rating |
| SHLD | Sears Holdings | 30% |
| DGI | DigitalGlobe | 61% |
| JCP | J.C. Penney | 64% |
| N | NetSuite | 83% |
| NOW | ServiceNow | 84% |
| CSOD | Cornerstone OnDemand | 92% |
Sears Holdings
After the results of my screen, and CEO approval criteria led me to Sears Holdings, I decided to look a little deeper at the company and see what other factors might lead to SHLD being a stock to buy put options on or short.
Factor #1: Declining Revenues
The following chart shows the annual revenues for SHLD starting in 2006 until the current time. The chart shows that after sales increased from 2006 to 2007, things reversed during the financial crisis and have continued to fall even through the recovery.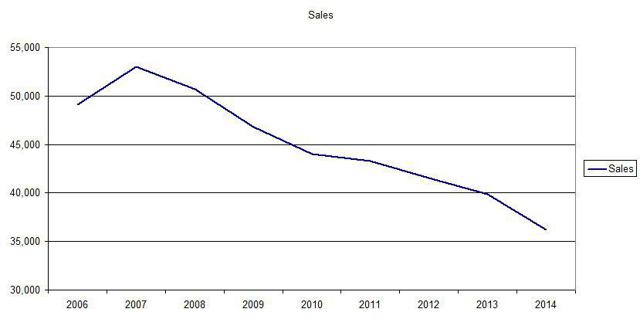 Factor #2: Declining Operating Margins
The following chart shows that operating margins for SHLD have continued to weaken since 2006. For 2006 to 2011, operating margins were still positive, however starting in 2012 operating margins turned negative, and have continued to fall.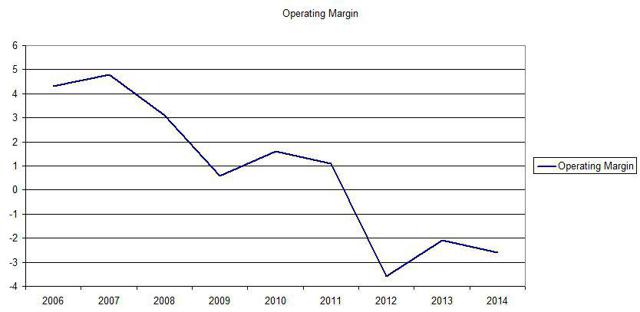 Factor #3: Declining Free Cash Flow
The following chart shows that free cash flow for SHLD, just like operating margins started out positive in 2006, but turned negative and the loss has continued to grow.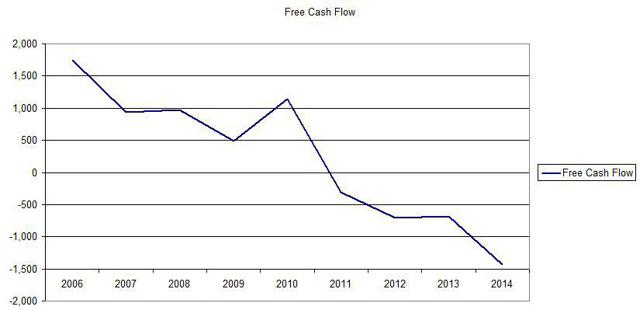 Factor #4: Long-Term Bond Payment
While this issue is not an immediate factor, it is still something to keep in mind. Sears has a $1 billion bond payment due in October 2018, which could potentially be a problem because SHLD currently has $1.02 billion in cash/cash equivalents, and they have negative free cash flow, so that payment could be from three different places: Improving Cash flow, Asset Sales, stock offering. Based on its recent history, it does not look likely that Sears's business will turn around anytime soon, so I do not believe increasing cash flow will happen. Sears has already started asset sales, when you look at the balance sheet for SHLD I noticed that Net property, plant & equipment was at its lowest level in 5 years, and has decreased every year for the last 5 years at a rate of 8.54%. The third option would be to raise cash through selling stock, which would mean a lower share price if SHLD went that road.
Factor 5: Technical Picture
Looking at the technical chart of SHLD below, you can see that shares are near two levels of resistance. The first level of resistance is a downward trend line [Red Line] that has been in place since November 2013, and with the close on Friday, SHLD barely closed above this level. I do not believe this is a breakout for the stock, because there is a more important resistance level [Blue Line] slightly above where the current share price is. The horizontal resistance level is extremely important because it is where shares were just prior to the large gap-down in January. In addition, the horizontal resistance level is also, where shares fell to at the beginning of April with the large gap-down then as well.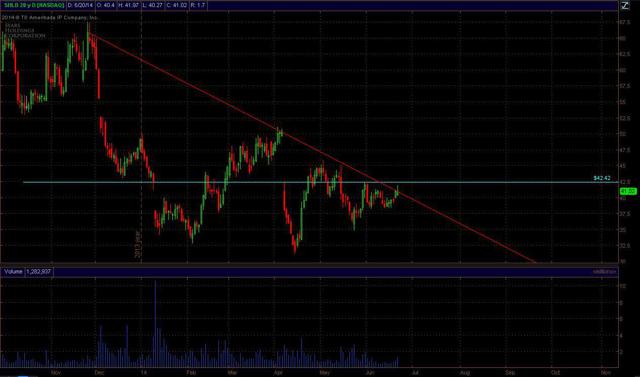 Closing Thoughts
In closing, I believe Sears could be a possible short opportunity because Sears Holdings met all my short screen criteria goals, has low CEO approval, and when I dug a little deeper, the fundamentals showed weakness, and the technical picture showed that the shares are near two levels of resistance. When all of those factors are combined, I believe shares of SHLD are worth a deeper look as a possible short opportunity.
Disclosure: The author has no positions in any stocks mentioned, and no plans to initiate any positions within the next 72 hours. The author wrote this article themselves, and it expresses their own opinions. The author is not receiving compensation for it (other than from Seeking Alpha). The author has no business relationship with any company whose stock is mentioned in this article.