The following is a list of the top 4 life insurance stocks, in terms of institutional inflows over the last 3 months. All of these stocks have seen institutional inflows increase by more than 6.0% over the last 3 months.

To give perspective on investor sentiment, we'll also include short float and performance data.

Short float data sourced from Finviz, institutional data sourced from Reuters.com.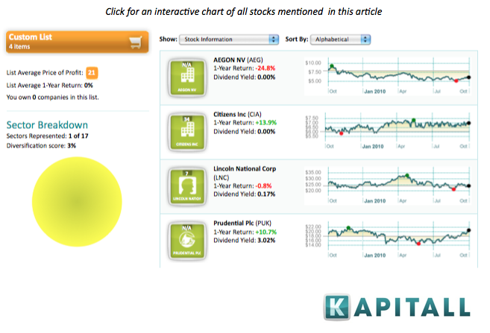 The list has been sorted by change in institutional ownership over the last three months.

1. AEGON N.V. (NYSE:AEG): Market cap of $10.32B. Institutional investors currently own 137,073,192 shares vs. 113,124,632 shares held three months ago (+21.17% change). Short float at 0.05%, which implies a short ratio of 0.94 days. The stock has lost -24.78% over the last year.

2. Citizens Inc. (NYSE:CIA): Market cap of $346.34M. Institutional investors currently own 8,645,251 shares vs. 7,790,796 shares held three months ago (+10.97% change). Short float at 5.36%, which implies a short ratio of 24.98 days. The stock has gained 13.89% over the last year.

3. Prudential plc (NYSE:PUK): Market cap of $26.06B. Institutional investors currently own 26,857,656 shares vs. 24,494,965 shares held three months ago (+9.65% change). Short float at 0.06%, which implies a short ratio of 2.2 days. The stock has gained 14.63% over the last year.

4. Lincoln National Corp. (NYSE:LNC): Market cap of $7.59B. Institutional investors currently own 252,314,648 shares vs. 237,925,135 shares held three months ago (+6.05% change). Short float at 2.38%, which implies a short ratio of 1.41 days. The stock has lost -0.66% over the last year.

Disclosure: No positions