I am a firm believer that each investor needs to find the investment approach that matches their lifestyle and goals. As outlined in this linked article Part of my portfolio is dedicated to deep value investing and part of it is dedicated to dividend growth investing. For the dividend growth investing part of my portfolio, I am always on the lookout for new investments that have long term track records of growing dividends. With that in mind, today I'm going to take a look at McDonald's Corporation (NYSE:MCD).

To borrow a cliche, McDonald's is as much an American icon as baseball or apple pie. It was founded in 1940 and has grown to include 28,691 franchised locations and 6,738 company owned locations. It total McDonald's operates more than 35,000 location. How's that for size?
Long time shareholders have been richly rewarded by McDonald's growth. The 10 year chart below illustrates the point rather well. Other than 2007/2008, earnings per share have steadily marched higher. Management has chosen to reward shareholders will steadily increasing dividends. In the last 10 years, the annual dividend has increased 6 fold. That sounds like supersized growth to me. The current 3.2% dividend rate appears secure, with a current payout ratio of 57%.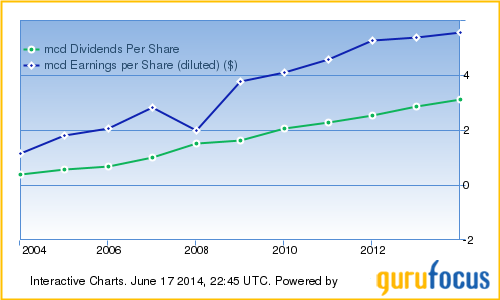 In addition to increasing dividends, management has spent a great deal of money buying back stock. In fact, the number of shares outstanding has decreased in each of the past 10 years. McDonald's growth has slowed in recent years, which isn't hard to believe given its immense size. The company has faced increased competition from up and down the value curve. In addition to McDonald's traditional competitors like Burger King (BKW) and Wendy's (NYSE:WEN), while newer fast casual restaurants like Chipolte Mexican Grill (NYSE:CMG) have increased in popularity. There has also been an explosion of "gourmet" burger chains like Five Guys and Burger 21. The cult burger restaurants like White Castle and Johnny Rockets are also competing heavily with McDonald's.
McDonald's even faces increased competition for breakfast. Gone are the days when Burger King and McDonald's were the only fast food breakfast options. Starbucks (NASDAQ:SBUX) has expanded their menu options, while Sonic and Taco Bell are heavily marketing their breakfast menu. All this competition couldn't have come at a worse time for McDonald's. Consumers are getting squeezed, from higher costs and declining real wages, which is leaving them with less disposable income. While at the same time food prices are going up. I believe this will eventually lead to compressed margins. Compressed margins won't be unique to McDonald's. As I outlined in previous Seeking Alpha article, consumer staples companies are already feeling the pinch.
At the start of 2014, I actually initiated a position in McDonald's at $95....feeling that it represented a good value relative to the broader market. Basically, I saw it as a mature and iconic brand that offered me a growing stream of dividends. I don't know that I would make the same decision today, but there are worse places to invest. Take a look at the Morningstar.com chart below for a historical comparison.

The chart above indicates that McDonald's is only slightly more expensive that its own historical averages. For a snapshot of the 5 years trend, take a look at the Gurufocus.com graphs below. What I see is a company with increasing revenue and stagnant income, suggesting that margins are under pressure. Also concerning, is the fact that corporate debt has steadily climbed.....while the cash position has remained flat. This could be explained by a company borrowing to capitalize on historically low interest rates, but I'm still going to keep my eye on it.

Based on the headwinds described above, I will need to see renewed growth from McDonald's before I purchase additional shares. I'm afraid the brand has become "mature" and staid, in the developed world. Typically, I run a discounted cash flow model on my long term investment prospects, but what will the results really tell me if customer's tastes are really changing? I am in a "wait and see mode" on McDonald's for the time being.
Disclosure:
I own MCD. This article is for informational purposes only and should not be considered a recommendation for anyone to buy, sell, or hold any equities. I am not a financial professional. The information above is provided by Yahoo Finance, Morningstar.com, GuruFocus.com and www.aboutMcDonald's.com/mcd.html.
Disclosure: The author is long MCD. The author wrote this article themselves, and it expresses their own opinions. The author is not receiving compensation for it (other than from Seeking Alpha). The author has no business relationship with any company whose stock is mentioned in this article.