In this bullish market, it is good to own at least one stock in your portfolio with takeout potential and a possible 100%+ return. There is a good chance that this could happen with Keryx Biopharmaceuticals (NASDAQ:KERX). The reason is because Baupost Group, of Idenix (NASDAQ:IDIX) fame, has recently acquired an over 10% stake in KERX and has become its largest shareholder.
As explained by Market Realist, Seth Klarman of Baupost Group is one of the best performing hedge fund managers of all time, generating $21.5B in returns over its history. If Warren Buffett announced that he's taking a big position in KERX, then the stock would instantly shoot up, right? Except Buffett doesn't invest in biotech, that isn't his specialty. However, Seth Klarman does and is like the "Buffett of biotech" and unknown to most investors. He takes huge positions in only a select few stocks with a big margin of safety, and has had tremendous success.
Baupost Group's largest position increase in 1Q 2014 was IDIX. By the end of the quarter, Baupost Group owned a whopping 35% of the outstanding shares in IDIX. This kind of large ownership in a stock is very rare for a hedge fund. Maybe he knew something that us mere mortal investors didn't know? Yes, he emphatically did! On June 6th, IDIX closed at $7.23 per share. On June 9th, Merck announced it agreed to buy IDIX for $3.85B, and the stock closed at $23.79, for a 230% gain. Something similar could happen to KERX any day. KERX is a plausible takeover candidate for its phosphate binder drug, Zerenex, to treat chronic kidney disease (CKD). Zerenex is a unique, and very valuable chemical compound. It is comparable to Idenix's nucleotides that are also unique and valuable compounds to treat Hepatitis C.
Baupost always seems to know how to be in the right place at the right time. The firm also initiated a large 6 million share position in Cheniere energy in 1Q 2014, which has already increased over 15% since then. Also, TriQuint Semiconductor (TQNT) and RF Micro Devices (RFMD) are both up almost 100% since Baupost initiated the positions in 1Q 2014. Those and KERX were the only four positions Baupost initiated in 1Q 2014.
The following were Baupost's top holdings in 1Q 2014: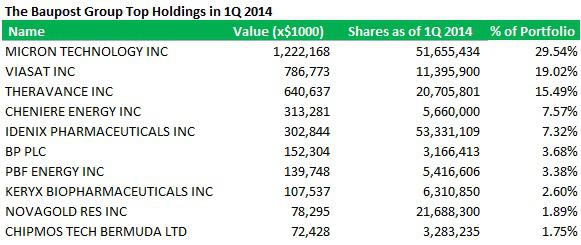 Bauposts only other top biotech holding besides KERX and IDIX is Theravance (THRX). It is a very concentrated, non-diversified fund, and could easily increase its stake in KERX with the gains that it just received from the IDIX buyout. It could even increase its stake to 35% of outstanding shares like it did with IDIX.
In fact, Baupost group did increase its position in KERX since 1Q 2014. As reported on Bloomberg:

With the 9,151,600 shares, Baupost is now an over 10% holder of KERX, which makes it an insider. It now has to report its buys and sells. There have been no buying or selling reports since 4/30/2014, so that means Baupost still holds the same position in KERX.
Keryx Short Sellers Should Be Very Concerned Right Now
On May 30th, KERX's short interest was 22%. Most likely all of those holding a short position in KERX haven't had near the success that Seth Klarman has brought to Baupost Group investors. Do they really want to go head to head against him? Any day they can wake up and see KERX up 100% or more from a buyout by a big pharma like Sanofi. With the IDIX 200%+ premium buyout, more big pharma companies are surely looking more closely at Baupost's remaining biotech holdings to see if there's something special there. I would think this takeout possibility would make KERX short sellers sleep a little more uneasily at night as a short squeeze could ensue in the short term. In comparison, IDIX also had a high short interest of 31.4% on May 30th, right before it was bought out.
Zerenex Could Be The Best Treatment For Chronic Kidney Disease
In 2012, an estimated 31 million people in the United States had CKD. If Zerenex turns out to be known in the medical community as the best phosphate binder, and ends up treating only 20% of people with CKD over the next several years, at the same price as existing phosphate binders of $9,000 annually, that's a whopping $55.8B in revenues. And that's only the United States, not counting the EU and Asia. One can see the gargantuan size of the market that Zerenex is hitting. Total revenues could quite possibly exceed $100B worldwide for the drug.
Zerenex controls phosphate effectively, and is the only drug that can increase iron storage and reduce ESA (erythropoiesis-stimulating agents) usage. This can make it a market leader. Zerenex is an oral pill that needs to be taken daily. The convenience (and lower expense) of CKD patients not needing to drive to the clinic to get injections is also a big advantage with Zerenex.
It's comparable to new all-oral treatments of Hepatitis C, like what Idenix has. Zerenex is the all-oral treatment for CKD. It's the new way of treatment for many afflictions instead of injections.
As explained by PropThink in their article Why Zerenex Could Be More Than Just A Dialysis Product:
Results (for Zerenex): The mean change in serum P level at EOT was -1.29 mg/dl in the JTT-751 group and 0.06 mg/dl in the placebo group (P<0.001)

In the study, the three leading phosphate binders - PhosLo, Fosrenol, Renagel/Renvela - were evaluated against placebo. For the phosphate binders, serum phosphate decreased from a baseline mean of 4.2 mg/dl to 3.9 mg/dl, and 4.1 mg/dl for patients on placebo (P=0.03). Thus, the active arm resulted in an average 0.3mg/dl serum P improvement. In contrast, recall that Zerenex in the above study improved serum phosphorous by an average of 1.29 mg/dl.
The above contrast between the reduction in serum phosphate from using Zerenex compared to the other leading phosphate binders is extreme. Zerenex is way more effective than the other leading phosphate binders, and is so unique that once it gets approved in September, it will likely soon be in strong demand and used on a worldwide scale. Also in the article:
Our models suggests that the dialysis opportunity alone is worth roughly $15 per share to Keryx, but we believe that significant upside exists if Zerenex demonstrates an ability to manage anemia in patients with chronic kidney disease (CKD) that are not yet on dialysis. We estimate this "pre-dialysis" market opportunity at three times the size of the dialysis market, suggesting that Zerenex could be a blockbuster drug if the CKD indication is realistic. Clinical trial abstracts released by the company's Japanese partner on Wednesday, suggest that it is.
The article concludes that the Phase III Japanese results support Zerenex's use in a pre-dialysis setting. Zerenex was already approved in January 2014 in Japan to treat patients with all stages of CKD. It's called Riona over there and marketed by Keryx's partner, Japanese Tobacco and Torii Pharmaceutical.
If Zerenex ends up being the treatment of choice for both dialysis and pre-dialysis CKD patients worldwide, Propthink's model would put the value of KERX at 1x$15 per share + 3x$15 per share = $60 per share.
Another good article from PropThink but by a different analyst, Why Doctors, Dialysis Providers, and Investors are Excited About Zerenex, explains:
So once we know a company has a great drug, the next question is: Can we profit from it? We note that the price target average on KERX has been raised from $14 per share to about $19 in the last week, yet estimates for sales in the dialysis and CKD markets suggest annual peak sales for Zerenex in the $1.2-$1.4 billion range. Apply a 3-4x multiple to those sales, and one can see that shares have potential to quadruple from current levels.
Zerenex Patent Accumulating
Keryx has been diligently accumulating more and more patents covering Zerenex. Just last week, it issued two: No. 8,754,257, and no. 8,754,258. This is a testament to how valuable and unique Zerenex's composition is. From the news:
These newly issued patents further enhance the Company's key patent family, which includes U.S. Patent Nos. 7,767,851, 8,299,298, 8,338,642 and 8,609,896, which expire in 2024, and U.S. Patent No. 8,093,423, which expires in 2028, without patent term extension. Each of these patents contains composition and method of use claims covering Zerenex.
The Supreme Court ruling in Myriad Genetics (June 2013) affirmed prior rulings and stringent new requirements for patent applicants. Inventors must show that they have made an "inventive step," in addition to finding a new compound. Making a new compound by applying techniques that have previously been established in the field is no longer acceptable. This means Zerenex is unique and valuable to be able to acquire all those patents.
The Bearish Argument Is About Keryx's Lack Of Marketing Ability, Not About Zerenex's Superior Efficacy
Upon reading many bearish articles on Keryx, it seems that the bears' main point is that Zerenex has a lot of competition, and Keryx will have trouble marketing it. However, I haven't read a bearish article that claims Zerenex doesn't have better results than the competition.
For example, Motley Fool's 4 Reasons Why Wall Street Hates Keryx, says:
"Concerns have also been voiced over Keryx's lack of a partnership to market Zerenex."

"One of the best arguments going for short-sellers is the existing competition within the phosphate-binding market space. Presently, Sanofi's (NYSE: SNY ) Renagel and Renvela dominate this market, with a handful of other products available as well."
A bearish KERX Seeking Alpha article says:
As a result, premium-priced Zerenex will be competing with multiple generics in the same indication. Zerenex has touted several advantages over these drugs, however, in summary Zerenex appears only to be incrementally better, if at all, in key categories.
The key words are "Zerenex has touted several advantages over these drugs". The SA author is likely discounting these advantages.
In that same article, the author states:
Now, while Velphoro appears to have dosing advantages over Zerenex, the key fact here is the partnership with Fresenius, a major, vertically integrated dialysis provider. Given that Fresenius receives profits on the sales of Velphoro, which phosphate binder will be used in their dialysis clinics?
As long as Zerenex undeniably proves to be a better treatment for CKD, then quite rapidly it will become the drug of choice for all healthcare providers. This is regardless of how many marketing dollars or partners Keryx's competitors have. Healthcare companies have an obligation to give their patients the best treatment for that patient, regardless of whether it generates more or less profits.
Also, if Keryx gets acquired by one of its competitors, like Sanofi, then all of its marketing issues will instantly evaporate.
PDUFA Delay Was Due To CMC, Not Issues With Zerenex's Data
KERX share price fell quite a bit in May due to the FDA's three-month PDUFA extension for Zerenex. This delay should not have a material affect on the company's valuation or the approvability of Zerenex. The issue is only around certain specifications related to the drug product manufacturing process. This extension wasn't imposed due to clinical data, it's a chemistry, manufacturing, and controls (CMC) issue. That has nothing to do with the efficacy and safety of Zerenex.
KERX Current Share Price Is Probably Less Than What Baupost Paid
We are fortunate to be able to buy KERX's shares at a price about the same as Baupost paid for. On 1/22/14, Keryx had a secondary for 6.9M shares at $14.50. The share price isn't very much above there now. Baupost also bought shares in April, during which the share price was in the $15s-$16s.
Disclosure: The author is long KERX. The author wrote this article themselves, and it expresses their own opinions. The author is not receiving compensation for it (other than from Seeking Alpha). The author has no business relationship with any company whose stock is mentioned in this article.