As I noted in a previous article, American Realty Capital Properties (ARCP) is hardly the perfect triple net lease REIT. The stock has lagged the market and its peers, due a questionable equity offering at low prices and for making large acquisitions with dubious accretion to FFO. However, I still thought ARCP was worth buying due to its dirt-cheap valuation (10.50x 2014 FFO) and high dividend 8% yield. That being said, Friday's 3.50% late day surge higher came as a pleasant surprise.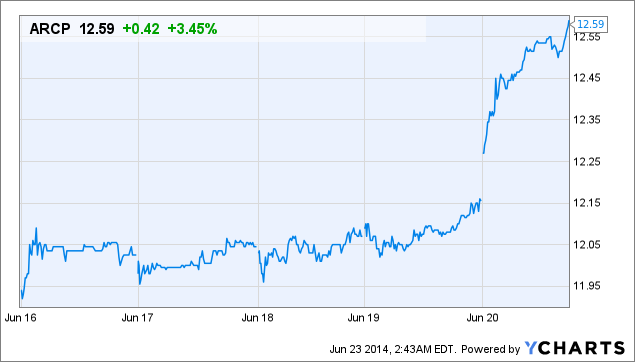 ARCP Price data by YCharts
Nick Schorsch on his way out as CEO
Near the market close on June 20, ARCP announced that its long-time CEO Nick Schorsch will be stepping down and be replaced by current President David Kay starting on October 1. Mr. Kay will take over the position as CEO and manage the day-to-day operations of the company.
This change was planned well in advance, with the November hiring of Mr. Kay slated as a move towards the self-management of the company. Mr. Kay is an experienced manager, having held numerous senior positions in REITS, both public and private.
Undervalued equity offering to leave a tarnished legacy?
As shown below, this move by ARCP seems in large part to be a reaction to shareholder frustration related to the recent equity issuance. The company specifically mentioned the need to be more proactive in communicating with its shareholders. Simon Yarmak, an analyst at Stifel Nicolaus & Co., wrote the following in a report. He has a hold rating on American Realty Capital:
We believe Mr. Kay will be more proactive in talking to investors and improve the company's financial transparency as he builds out his executive team.
Many investors, including large shareholder Marcato Capital, believe that the offering price was well below ARCP's fair value, and hence dilutive to current shareholders.
Of note, Mr. Schorsch had previously mentioned that ARCP was "not comfortable" selling equity at prices as high as $14 per share. In addition, he had hinted at a more "modest" equity raise in the $600 million to $700 million range.
As a result, when ARCP announced that it was raising close to $1.7 billion by selling 138 million shares at $12 each, it left many dumbfounded by both the size of the offering and the low share price.
In its letter to ARCP, Marcato Capital stated its concerns quite clearly:
Such willingness to destroy shareholder value, by issuing shares at an acknowledged discount to fair value, illustrates a disregard for existing shareholders that we find very problematic. Furthermore, the decision to then upsize the offering by more than 20% even after being loudly criticized by shareholders on the morning call of the offering was an additional slap in the face.
Yet, ARCP's response to Marcato was quite underwhelming and left much to be desired:
ARCP welcomes open communications with its stockholders and values their input toward the shared goal of enhancing value. Our Board of Directors and management team regularly review the Company's strategic priorities and opportunities, including deleveraging, capital allocation, and assess a variety of strategic options. We are committed to driving value for all ARCP stockholders and will continue to take actions to achieve this important objective.
ARCP's acquisition spree is likely over... for now
If there was any good news coming from the equity offering debacle, it is that ARCP will likely no longer do any major deals for the rest of 2014, given that it had mostly met its $3.0 billion acquisition target.
Furthermore, ARCP has its hands full with two major pending deals including the $1.975 billion sale of the shopping center portfolio to Blackstone (NYSE:BX) and the $1.50 billion sale-leaseback transaction with Golden Gate Capital to buy 500 Red Lobster restaurant properties from Darden (NYSE:DRI).
As noted by Marcato, ARCP may be involved in too many transactions at the same time, with the company making two material disclosure errors in late May. On May 20th, in an 8-K filing with the Pro Forma, first quarter results showed an inaccurate share count, requiring an amendment. On May 29th, ARCP put out an 8-K where it overstated the fees associated with the Red Lobster transaction by a factor of 10, from $10.8 million to $108 million.
Conclusion
It is little wonder that ARCP's stock has been languishing in recent months. The company has committed several major miscues, while confidence in Mr. Schorsch's management and leadership skills has likely never been lower. However, as shown by the market's reaction to the CEO stepping down, change is a good thing for ARCP.
At the moment, ARCP trades at a large discount to its triple net REIT peers based on both FFO multiple and dividend yield. Yet, its fundamentals (leverage, tenant diversity, tenant credit rating, etc...) are fairly similar to peers. Hopefully Mr. Kay does a better job in changing the overall market sentiment for the stock. Indeed, that is a tall order.
Disclaimer: The opinions in this article are for informational purposes only and should not be construed as a recommendation to buy or sell the stocks mentioned. Please do your own due diligence before making any investment decision.
Disclosure: The author is long ARCP. The author wrote this article themselves, and it expresses their own opinions. The author is not receiving compensation for it (other than from Seeking Alpha). The author has no business relationship with any company whose stock is mentioned in this article.