Last week BlackBerry (BBRY) revealed one of its best quarters in terms of showing signs of recovery. Revenue for the quarter stabilized at $966 million, down only 1% from the quarter before. Hardware accounted for 39% of the revenue, or $376 million. In the previous period, hardware accounted for 37% or $361 million. In my first article from May I noted that the hardware division had essentially seen the bottom due to the Foxconn partnership and release of the Z3 device. I went on to say that the new operating system BlackBerry releases toward the end of the year will probably contain a solution making their "app gap" less of an issue to consumers.
In the last conference call, CEO John Chen confirmed some of my deductions and provided more detail. First of all is the partnership with Amazon resulting in the Amazon Appstore being preloaded on the BB10.3 OS. This app would give BB10 users access to more than 240,000 Android applications such as Groupon, Netflix, Pinterest, Candy Crush Saga and Minecraft. It does not provide all of the apps available in the Google Play store, but does provide many popular ones, making it more than enough. Other big news was the release of a brand new physical keyboard device named the Passport, for this September.
We also learned that this past quarter was the first time that BB10 sales had beaten out BBOS sales with a 65% BB10 and 35% BBOS split. This is good news as the newer BB10 models have better margins, and it shows that the phones are relatively gaining more popularity. John Chen also let us know that a target of 10 million devices is necessary for the handsets segment to break even. With 2.6 million devices sold through to end customers last quarter, this target seems feasible to achieve.
In my last article, I claimed that BlackBerry had transitioned from a handset provider to an enterprise service provider. Proof of this is simply noting that 54% of last quarter's revenue came from services. Although this remains true, the phones are still going to be vital in the next two quarters as the company continues to achieve profitability. During this time period BlackBerry is in sort of a limbo while its EZ Pass program allows its enterprise customers to trial the BES10 software for free, and also receive free technical user support until early next year. For this reason I am choosing to explore BlackBerry's device strategy and judge its possible success.
Device Strategy for FY15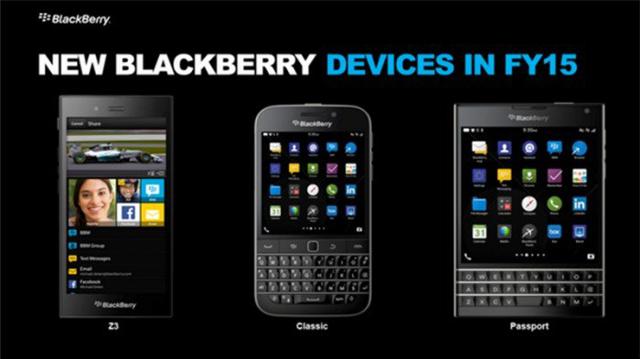 Source: BlackBerry.
The all touch Z3 phone (also named the Jakarta) was released in Indonesia last month and was received quite well. Mr. Chen let it be known that demand had almost surpassed production and there had been hundreds of positive reviews for the Z3. The product rollout is continuing to other parts of South East Asia as it launched in Vietnam on June 18, and will also launch in Malaysia and India on June 24 and June 25, respectively.
The progress of the rollout is a good sign and there is no doubt that BlackBerry wants to duplicate the same success seen in Indonesia. Even if sales of this sub US$200 phone do not result in significant profit, it will have an impact on market share and perception of BlackBerry. This will also lay down some foundation for the future devices to be released.
The Passport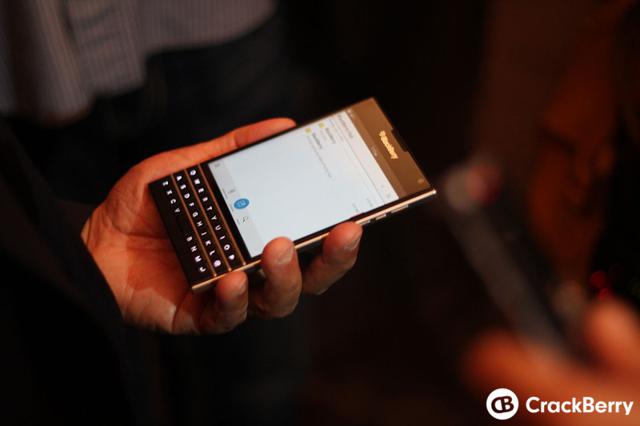 Source: Crackberry.
Aimed to be released in September, the Passport device has a special touch-capacitive physical keyboard phone and an extremely large high-resolution touchscreen. This high-end device will be built by BlackBerry and the cost to produce it will probably be higher than other devices. The company plans to hold a big launch event in London and will showcase the latest device portfolio for FY15 and of course demo the latest operating system which features the Amazon App store. This seems like a second shot at a big BlackBerry 10 release party, but this time the devices may lead to success.
Although this phone has high-end specifications, it is difficult to say if it will draw mass appeal. BlackBerry has essentially created a phablet with a physical keyboard. There simply is not another device like it on the market. Apple's (NASDAQ:AAPL) iPhone 6 is also rumored to be released in September. BlackBerry has tried to limit competing with the likes of Apple and Samsung, and that may still remain true with the Passport. BlackBerry loyalists and physical keyboard enthusiasts may be really interested in this device. The phone could also be targeted at the medical field as the large high-resolution screen would be good for examining X-rays and CT scans.
The pricing would also be important as premium pricing of previous models has hurt BlackBerry in the past. If it is able to release this phone at under US$600 I feel it could do well. With a name like Passport it will be interesting to see how BlackBerry chooses to market this phone. One thing for certain is it cannot do the same job of marketing the Passport as it poorly did with the Z10.
The Classic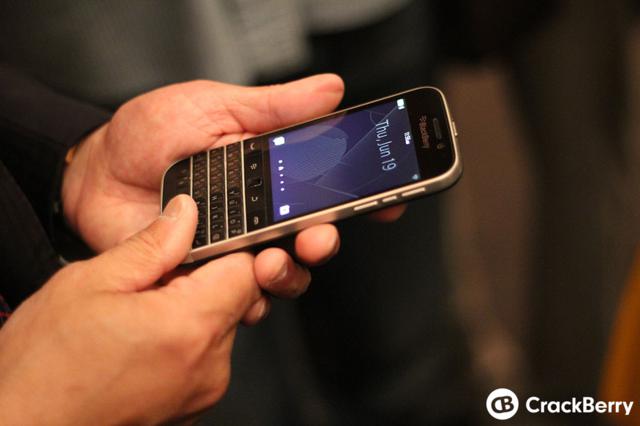 Source: Crackberry.
Originally announced late February, the Classic phone will be released sometime in November in tandem with BES12. Although such an early announcement may seem questionable, the strategy might be quite good. The Classic is a device aimed at enterprises but is also for those passionate old-school QWERTY customers around the world. Several BlackBerry Experience Events have taken place in North America and Europe and many more are planned for Asia and the Middle East. The FY15 device portfolio (Z3 LTE, Passport, and the Classic) has been teased at these events in an attempt to whet the appetite of potential customers. Due to the lengthy time required for some companies to gather funds and budget for new corporate phones, it simply makes perfect sense to showcase the Classic so early and build up demand. Moreover, since Foxconn is building this phone, BlackBerry can probably offer it at a much more competitive price, making the phone even more attractive. The timing also coincides nicely with the Christmas season. For these reasons I see a high volume of sales for the Classic.
Final Thoughts
The last quarter's results beat the street and instilled confidence in BlackBerry shareholders and resulted in the stock rising almost 20% since then. Shareholders should keep their expectations tame as BlackBerry isn't in the clear yet. The next two quarters will still be volatile as the other segments like BBM and QNX cloud slowly develop and start to bring in more revenue. As a reminder, this last quarter's results did experience a boost due to inventory recovery, settlement of accounts in Venezuela, sale of Canadian real estate, and a large tax refund.
BlackBerry was able to reduce its operating expenses by 57% year over year and 13% quarter over quarter. With $3.1 billion in cash and investments, the company is in a strong position to work on revenue growth. I believe there is a strong device portfolio now and the hardware division will remain stable and continue to grow. I consider BlackBerry a buy.
Disclosure: The author is long BBRY. The author wrote this article themselves, and it expresses their own opinions. The author is not receiving compensation for it (other than from Seeking Alpha). The author has no business relationship with any company whose stock is mentioned in this article.