Amazon Fire Phone Event
On June 18th, Amazon (NASDAQ:AMZN) unveiled the Fire Phone and proved almost all of the rumors to be true. Five years in the making, Bezos calls it a "premium" phone. The Fire Phone marks Amazon's first step into the smartphone hardware market, and they have their work cut out for them. However, according to most of the press, it isn't about the phone itself but rather the services tied in with the phone. Basic details include a $199 price tag for the 32 GB model and $299 for the 64GB, both of which will be sold exclusively through AT&T. The Fire Phone, for a limited time, comes with a year free of Amazon Prime service (usually $99), so one could consider the real price to be $99.
The Fire Phone
The phone itself is rather unremarkable for the most part. It's all black with Gorilla Glass 3 on the front and rear, plastic sides and some rubber features. The display is 4.7 inches large and 720p, which according to Bezos, is the sweet-spot size for one handed use. The phone is 8.9 mm thick, 5.64 ounces, and features five front-facing cameras for the new "dynamic perspective" feature. According to Bezos, Amazon put a lot of effort into the "injection-molded" connectors that will have no wobble when the charger is plugged in. Furthermore, the stereo speakers and headphones are presented as better than your average phone.
Computing Power and Insides
The insides feature a Qualcomm processor, Adreno 330 graphics, and 2GB of RAM. The rear camera is a 13 megapixel, f/2.0 lens with image stabilization. According to Bezos, the Fire phone will take better photos than the iPhone 5s and Samsung Galaxy S5 no matter the situation. In addition, Amazon is offering free unlimited cloud storage for all your photos, and 5 GB for videos. The phone will run Amazon's android-based Fire OS 3.5 which has been optimized for the Fire phone, and it will integrate many of Amazon's key services. The most noteworthy new features are Firefly, and Dynamic Perspective.
Initial Reactions
The phone isn't ugly, nor is it particularly attractive. However, when compared to the iPhone 5s or the Galaxy S5, it's much thicker and heavier. When compared to the rumored sizes of the iPhone 6 or Galaxy S6, the Fire is quite bulky, but obviously that is all still speculation. In terms of the insides, the Fire Phone is middle-of the road. The Galaxy S5 and a few other top-tier phones are more powerful. Even if the camera is better than the iPhone 5s' or the Galaxy S5's, that is most likely not enough of a reason to purchase the phone. In addition, Bezos really shouldn't be comparing the Fire phone to the iPhone 5 considering that the iPhone 6 is likely to be released this fall (and it will probably include an improved camera).
Realistically, Bezos is aware that users will not buy this phone because it has the latest and greatest specifications. So, why does Amazon think you will want their new phone?
Firefly is the most important feature of the Amazon Fire Phone. There is a dedicated button on the side of the phone which opens Firefly. From there, Firefly does for the physical world what Shazam once did to music (although Firefly does music now as well). What this means is that Firefly can recognize physical objects through the Fire's camera, and then pull up that object on the internet to be purchased immediately. Quite often, Amazon will have the lowest price and thus there will be a buy it now option from Amazon, and of course, have it delivered for free two days later. However, Amazon is not the only marketplace that will appear. Firefly can identify over 100 million objects, including QR and bar codes, movies, TV episodes, songs, and even phone numbers or web addresses written in the physical world.
Dynamic Perspective is a new technology created by Amazon which explains why the Fire Phone has five front-facing cameras. The cameras detect where the user's head is relative to the screen, and can adjust the content accordingly. With this technology, users can also tilt the phone to navigate rather than swiping with a finger. Furthermore, Amazon has used these sensors to create images that change depending on the angle that the user is looking at them from, which will add a sense of depth and three-dimensionality to the images. This technology will be useful in gaming and shopping in particular, as it will allow potential buyers to see more detailed views of the product (assuming the image has been optimized for Dynamic Perspective).
Mayday is Amazon's fancy customer support service. Any question, any time, Amazon will help you. Mayday is a free, live, video service from an Amazon expert available 24 hours a day, 365 days a year.
Amazon Prime and other services are included with the phone, meaning unlimited streaming and downloads of thousands of movies, TV shows, and songs, as well as access to the Kindle Owners' Lending library, and of course, free two-day shipping on millions of items from Amazon.com.
While these features might compel some early adopters, the Amazon Fire Phone (or the first edition at least) will most likely not be attractive to many consumers or gain much traction. Here's why:
Dynamic perspective isn't that useful or exciting. First of all, the entire concept of Dynamic Perspective relies on developers creating innovative things to use it for. Let it be known, apps need to be specifically written and adapted so that they take advantage of the new system. Like anything, building an app takes an initial investment, and it needs to be made clear to the developers that investing time and money into the Amazon app store and ecosystem is a worth their while. Unless developers make the apps, users will not come, and unless users come, the developers won't make the apps. Even if Amazon manages to convince developers to make apps for the new Dynamic Perspective, it may still not be enough to attract customers because it is not ground-breaking enough. Most importantly, the feature will most likely drain the phone's battery. No one knows for sure yet just how much, but surely it will take some amount of battery power to create this effect, and for most people this is not worth it. The feature requires the use of four front-facing cameras which must be constantly running to adjust the image relative to where the user's head is. So putting aside the fact that developers may not even take advantage of it, and that it might kill your phone before you have time to appreciate it, is it even useful? Probably not. Existing images will still look like normal images, so the majority of the digital world will rest unchanged. Games made specifically for the Fire phone could be exciting, and maybe an interesting lock screen will be a conversation starter, but most likely it will be more of a gimmick than a real tool. As for the touch-less scrolling features, that really depends on how well it works. If it works well, it would be a nice touch, but again, not quite enough to evoke enough excitement.
Firefly is just one app. No doubt about it, Firefly will be good for Amazon, but will it be good for the consumer? The truth is that feature is hardly new at all. With Amazon's app on Android and iOS, users can do basically the same thing using Amazon's "Flow" feature. Essentially, you can open the Amazon app and then scan barcodes and purchase the item directly from Amazon. It is definitely not as simple as it is on the Fire phone, and it doesn't (yet) include movies and music, but there are other apps for that. The Fire Phone boasts a dedicated side button which launches the Firefly app, but developers could do the same for a volume button on the iPhone, or just put it on the lock screen. Firefly is bound to bring even more traffic and conversion to Amazon, but this goal could have been achieved far more cheaply through a standalone app.
Although already mentioned, the phone is not nearly as beautiful or powerful as its competition. This would be fine if the phone was far cheaper, but it isn't. The Amazon phone is just too thick and heavy to be a hit. Smartphones have become an extension of the body, brought everywhere, and it will be hard to be excited about the Fire Phone's design. Figure 1 shows the Amazon Fire Phone compared to the Samsung Galaxy S5. Note that in almost every category, the Samsung Galaxy is superior.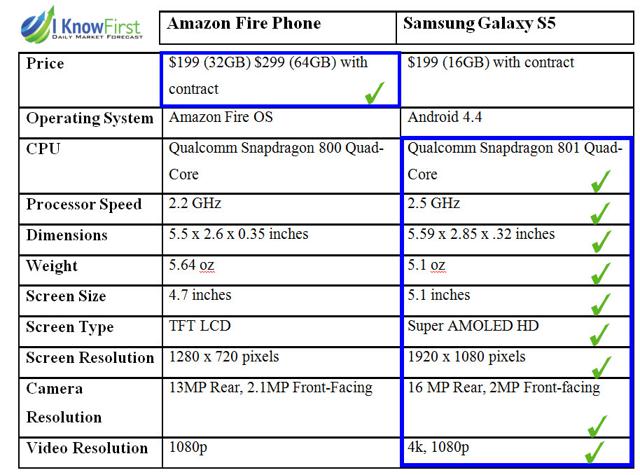 Figure 1: Spec's comparison for the Amazon Fire Phone and the Samsung Galaxy S5
4. The Fire Phone will be sold exclusively through AT&T. Therefore, 68% of America would have to switch carriers to even have the option of using the Phone. This is a huge limiting factor for the Fire Phone. As noted above, for Dynamic Perspective and the Amazon App store to be serious, they need a solid user base, and through offering the phone only through AT&T, the user base will be sized accordingly. Figure 2 shows the U.S wireless subscription market share by carrier.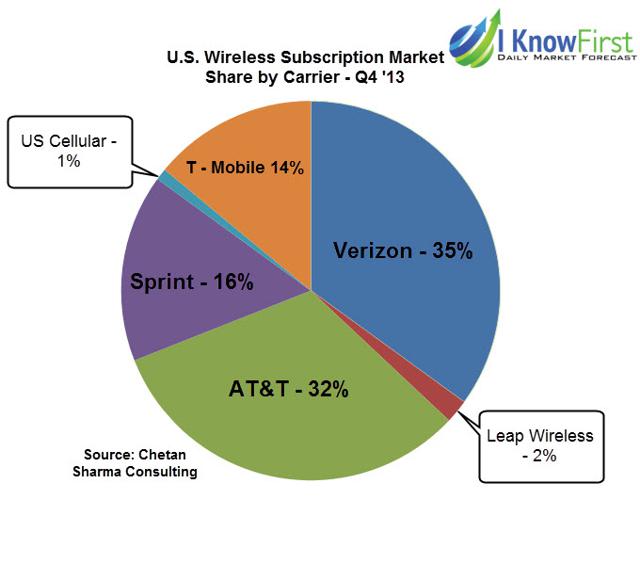 Figure 2: Pie chart illustrating U.S wireless subscription market share by carrier
5. Fire OS is a problem for two reasons. While it is built on top of Android, users will not have access to the Google Play Store or the usual suite of Google apps such Google Maps or Gmail (for now at least). Just as developers must specifically code for Dynamic Perspective, those making normal non-Dynamic Perspective apps must still create all new apps for Fire OS. The Amazon App store is, and will most likely stay, far smaller than Google Play and the App Store. The latest and greatest apps may have delayed releases on Amazon's Fire Phone, or they might not run on the platform at all. At the moment, Amazon's App Store only has 300,000 apps compared to 1.2 million in Google Play (Android) and the iPhone App Store. For most users, this will be a big issue. Secondly, Fire OS will not be able to compete with the tried and true iPhone or Android operating systems. Only with more experience and user feedback can Amazon really compete. Figure 3 shows the number of apps in each app store.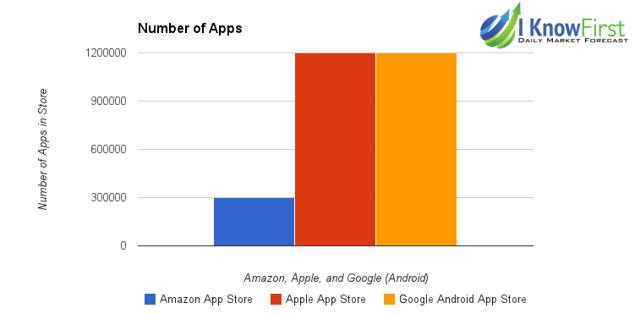 Figure 3: The number of apps in the Amazon, Apple, and Google app stores. Source: TechCrunch
6. Since the phone is being made for AT&T, this means that it can be used on many networks worldwide and could theoretically help the Fire Phone gain market share. However, it is very unlikely that users outside the US would have any interest in this phone because many Amazon services, including almost all the digital services (Mayday, Video, Music), are not available outside the US. In other words, the Fire Phone is just a clunky, mediocre phone with few redeeming services and features when purchased outside the US. This is a huge deal considering that the US smartphone market is extremely saturated, and Apple and Samsung are taking note. The BRIC countries should really be the focus as they are experiencing what the US experienced a few years ago: the massive conversion to a mobile centric world (see figure 4).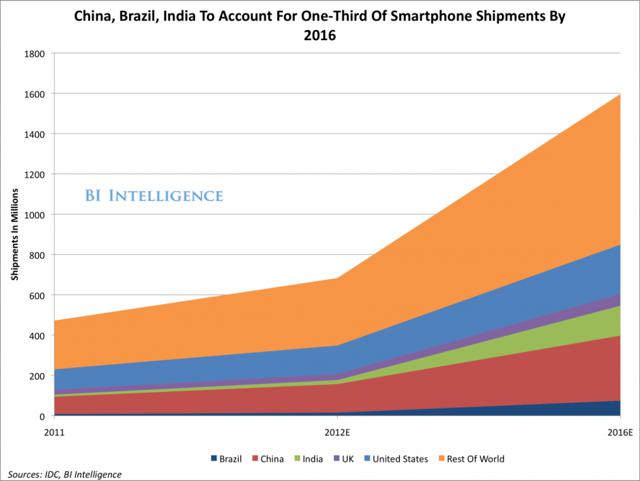 Figure 4: Projected global smartphone sales for the next 2 years. Source: BusinessInsider
7. If the Fire phone was cheap, the world might just be able to forgive all the problems listed above. Unfortunately, the phone is $650 unlocked, compared to $750 for the iPhone. At this price, even subtracting another $100 for the one year of prime service included, the phone is too expensive. Similarly priced android phones are sexier and more powerful. The world was expecting Amazon to undercut its competition through competitive pricing as it does in almost all its other products, but for whatever reason, they chose not to. The high price means that Amazon is aiming for potential iPhone buyers, and no doubt about it, the Fire is no iPhone-killer.
Retail-Store Killer
Careful analysis of the Fire Phone reveals that it is most definitely not an iPhone or Galaxy killer, but that is not a problem for Amazon. The Fire Phone will not and cannot command the market share held by Apple or Samsung. Bezos is not trying to kill the iPhone: he's trying to kill all retail stores from Wal-Mart (NYSE:WMT) to small mom-and-pop stores. Online retail is a major part and most would say the foundation of Amazon's business. Every phone that Amazon sells for $200 or $300, could translate to a far greater amount through webbing in Fire Phone users to Amazon's Ecosystem. Considering the major flaws with the Fire Phone, it will likely not take off, but it will surely sell at least a few million units. Each Amazon Fire Phone sold, and thus each additional Amazon Prime user, will most likely make the whole thing a worthy endeavor. Even though this Fire Phone is expensive and flawed, it may be a step towards the perfect Amazon phone, perhaps the Fire 2 or 3.
Bezos is encouraging "show-rooming"
Among other things, Bezos wants users to showroom. "Show-rooming" is the process of going to Best Buy (NYSE:BBY) or Wal-Mart to see a product in person before later purchasing it for cheaper online. According to a recent study done by Argiva's latest Wireless Nation Report in the UK, 49 percent of consumers checked prices on their mobile device in a store while 44 percent researched products on their mobile device before going to the store. In the US, almost 40 percent of smartphone users make purchases from a retail and shopping app at least once a month and another IDC study showed that 20% of people looked up a cheaper price online and bought the product while they were in still in the retail shop. Finally, 70% of users claimed that they would use their phone to help their overall "shopping experience."
Consumers are rapidly catching on to the concept of showrooming, and Bezos is taking note. The study also inquired as to why some users chose not to shop on their phones. According to the Ovum study, 49% of people don't think the services are secure and 47% are afraid that their personal data might be misused. Therefore, incorporating the whole process into an app with the Amazon logo could ease any anxiety shoppers might have over data theft.
Firefly as an industry example
Firefly is undoubtedly fantastic for Amazon's e-commerce segment. Firefly has the potential to greatly increase sales on the site through its ease of use. Firefly, however, can be easily implemented on a variety of phones. Through the use of the Amazon app, iPhone and Android users have almost the same experience, so why make the phone? Amazon knows that Apple and Google can easily implement this service, and Amazon also realizes that consumers will love it. If Apple and Google put in similar capabilities into their phones, Amazon is the true winner. Even if a user buys an iPhone, or uses a different app with a similar technology, be it made by Apple or a third-party, they will still probably use Amazon.com to purchase the product after scanning it. The Fire Phone is just a way of introducing this streamlined process to the tech-world.
Expected Sales and Revenue
According to Business Insider, analysts are predicting that Amazon will only sell 2-3 million units this year, while Apple is on-track to sell 83.8 million iPhones. However, Amazon has a few key advantages. If we assume Amazon sells 2.5 million units this year, with 50% being the $200 model and 50% being the $300, then Amazon would make $625 million ($375 million + $250 million) in revenue. As each Fire Phone comes with a year of Amazon Prime membership, we can assume that each user will be likely to follow the past behavior of Prime users. Once becoming Prime members, consumers spend up to 150% more on Amazon.com than before and they purchase a greater quantity and variety of products as well. According to a study done by CIRP which surveyed 300 Amazon Prime subscribers who made purchases over a three-month period, Prime users make purchases twice as often as non-prime users, and more importantly, they spend twice as much money. The Study found that Prime costumers spend an average of $1340 per year as opposed to $650 for non-prime members. Figure 5 shows an output from a different survey, showing the contrast between Prime and non-Prime users.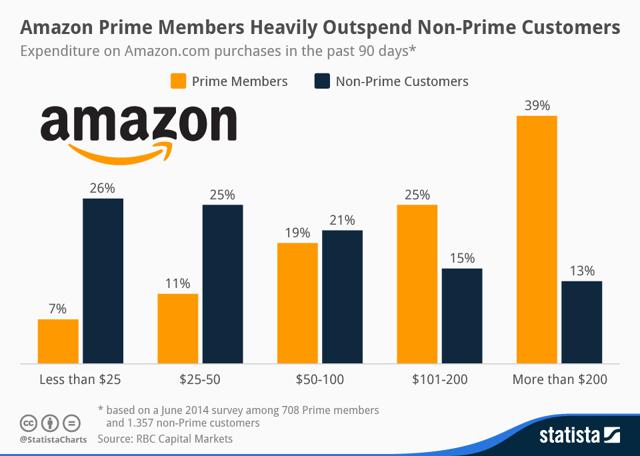 Figure 5: Comparison of Amazon Prime user spending versus non-Prime users. Source: Statista
Therefore, with the modest assumption that each Fire user will spend $100 more on Amazon.com than they had the previous year, that adds another $250 million to Amazon's revenue. Furthermore, the new Firefly app might encourage users to start spending at an even higher rate than previous Prime users, and Amazon is also betting that Fire owners will want to continue their subscription after trying Amazon prime, which means another $100 annually per user all without having to produce anything.
Survey Sources: Source 1, Source 2, Source 3, Source 4, Source 5
Looking Ahead
So, the Fire Phone is just an expensive way of making more users immerse themselves in the Amazon ecosystem. The Fire Phone may also soon be known as the first Fire Phone. This Fire Phone is indeed not going to attract throngs of customers, but the next one might. It is important to remember that the first Kindle was $399. Whereas many today consider the kindle to be a cheap and easy e-book at only $79, Amazon has come a very long way to create that image. In Future iterations of the Fire Phone, Amazon could continually lower the price just as it has with the Kindle and follow a similar strategy.
All considered, it is likely that Amazon stock could suffer due to the lackluster Fire phone release, but will increase in the longer term as investors both realize and watch as Amazon's illustrates the Fire phone as just a first step, rather than a final destination. Amazon, as explained in our previous article, is on a good path towards success, and the Fire phone will not be make-or-break for Amazon.
I Know First's Algorithm and the Amazon Stock Prediction
I Know First utilizes an advanced self-learning algorithm based on Artificial Intelligence (AI), Machine Learning (ML), and incorporates elements of Artificial Neural Networks and Genetic Algorithms in order to model and predict the flow of money in almost 2,000 markets from 3-days to a year. By separating the predictable part from stochastic (random) noise, the algorithm then creates a model that projects the future trajectory of the given market in the multi-dimensional space of other markets. Then it outputs the predicted trend as a number, which in turn, is used by traders to identify when to enter and exit the market. While the algorithm can be used for intra-day trading, the predictability tends to become stronger over longer time-horizons such as the 1-month, 3-month and 1-year forecasts, making this market prediction system ideal for longer term trading. Algorithmic traders utilize these forecasts in conjunction with traditional forms of analysis in order to reduce risk and optimize returns.
The forecast is color-coded, where green indicates a bullish signal and red indicates a bearish signal. Deeper greens signify that the algorithm is very bullish and vice-versa for deeper reds. The signal is the number flush right in the middle of the box and the predicted direction (not a specific number or target price) for that asset, while the predictability is the historical correlation between the prediction and the actual market movements. In other words, the signal represents the forecasted strength of the prediction, while the predictability represents the level of confidence. Ticker symbols for other assets have been removed; however, you can still see their signal and predictability.
Figure 6: The June 22 I Know First Amazon Prediction

The chart above (figure 6) shows I Know First's prediction for Amazon for June 22nd 2014 for the 1-month, 3-month, and year time horizons. The prediction includes three time horizons, as explained above. The one month time horizon predicts a drop in Amazon stock as its signal is -7.59 and its predictability is .1. It is important to note that .1 is a relatively weak predictability and the longer time horizons tend to be more accurate. The 3-month and year forecasts show greatly increased signals (37.93 and 120.25 respectively), as well as increasing predictabilities (.15 and .19).
The predictability or designated confidence of this forecast increases steadily over each time horizon from 0.11 to 0.2. Predictability ranges from positive 1 to negative 1. This metric is an adaptation of the Pearson correlation coefficient. A higher predictability is better, but generally a predictability of 0.2 is preferable. Consider both indicators in your own analysis, as both indicators are independent. Algorithmic traders utilize these daily forecasts as a tool to enhance portfolio performance, verify their own analysis and act on market opportunities faster. We never recommend blindly purchasing assets that are endorsed by the algorithm without your own additional analysis. Click here to learn more about using I Know First's algorithm.
The Table (figure 7) below shows the Top Tech Stocks by the algorithm utilized by current algorithmic traders using the I Know First market prediction system from May 18th. The table on the left is the prediction on May 18th, while the table on the right is the stock performance after the time period was over.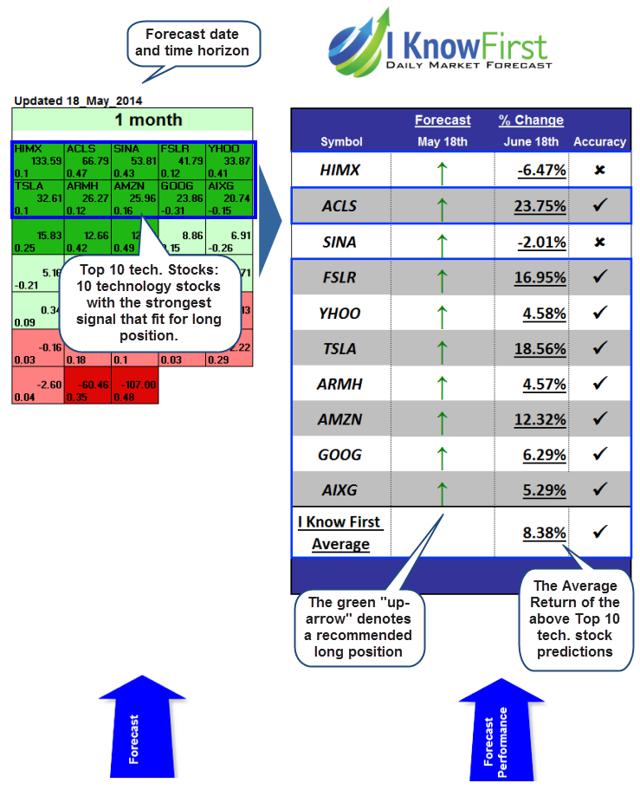 Figure 7: The Top Tech Stocks original prediction and stock performance table according to I Know First's algorithm.
(click to enlarge)
This forecast is designed for investors and analysts who need predictions of the best performing stocks for a specific industry; in this case it was the top tech stocks. Comparing the algorithmic performance of May 18th's 1-month forecast to the most contemporary forecast is an excellent strategy for rationalizing your expectations utilizing algorithmic trading as one tool in your analysis toolbox.
Figure 8: This shows Amazon's actual stock performance as well as the I know First forecasts over the past two months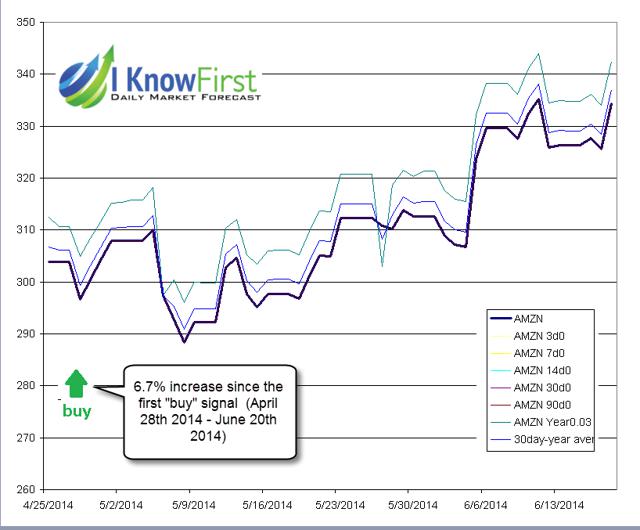 Next, there is a chart (figure 8) output tracking Amazon's actual stock performance as well as I Know First's predictions along the way. The dark blue line is Amazon's actual stock performance while the lighter lines represent I Know First's predictions for various time horizons. The algorithm correctly predicted Amazon's stock movement over the past two months.
Conclusion: Overall, the Fire Phone is plagued with a few key issues which will hold it back from gaining a large market share. However, the Firefly app and Amazon Prime membership included with each phone will make every Fire Phone purchased quite beneficial to Amazon as a whole. As Amazon continues to make purchasing from Amazon.com even easier, it takes further steps towards defeating physical retail. It is important to remember that Amazon is an enormous business and even modest sales of the Fire Phone will bring large revenues to Amazon through its users making purchases from other services in its ecosystem. As Amazon follows its past behavior and strategy with the Kindle, the future iterations of the Amazon phone may be what investors were waiting for. An underwhelming Fire Phone could mean the stock will suffer in the near 1-month future, but the stock will continue to flourish in the 3-month and one year time horizons in accordance with I Know First's algorithmic forecast.
Business disclosure: I Know First Research is the analytic branch of I Know First, a financial startup company that specializes in quantitatively predicting the stock market. Jeremy Quartner, an I Know First intern wrote this article. We did not receive compensation for this article (other than from Seeking Alpha), and we have no business relationship with any company whose stock is mentioned in this article.
Disclosure: The author has no positions in any stocks mentioned, and no plans to initiate any positions within the next 72 hours. The author wrote this article themselves, and it expresses their own opinions. The author is not receiving compensation for it (other than from Seeking Alpha). The author has no business relationship with any company whose stock is mentioned in this article.