By Sumit Roy
Anyone who has followed the U.S. natural gas market for any length of time is well aware that it is an isolated market. With the exception of Canada and Mexico, the U.S. does not have the capability to export its natural gas.
Imports are another story. The U.S. has several LNG import terminals, but they're slowly being converted into export terminals - a consequence of the fact that U.S. natural gas prices are well below those seen around the world.
For example, European natural gas prices were last trading around $10/mmbtu, while those in Japan were at $16. Compare that with the U.S. benchmark futures contract at $4.50. Clearly, there's money to be made shipping cheap U.S. natural gas into higher-priced markets.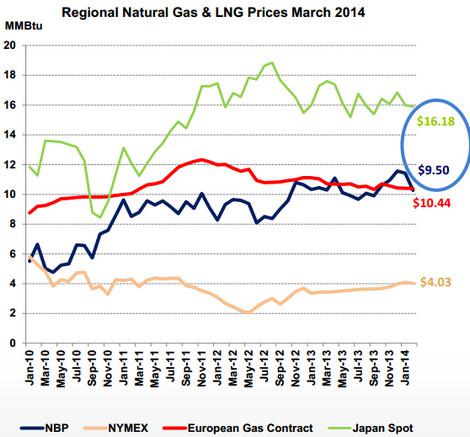 Source: Cheniere Energy
That's what companies such as Cheniere Energy (NYSEMKT:LNG) plan to do. Cheniere has been leading the charge in the U.S. push to export natural gas. The company, which owned several money-losing import facilities, is in the process of converting those facilities into export facilities.
In the pre-shale boom period several years ago, when it seemed like the U.S. would actually run out of natural gas, import facilities - which convert liquefied natural gas back into gas - seemed like a good idea.
Now that the U.S. has more natural gas than it knows what to do with, Cheniere is turning those facilities into liquefaction terminals, which convert natural gas into liquefied natural gas. That will allow LNG to be shipped around the world to higher-priced markets.
Other companies are also planning to build export terminals of their own, pending government approval. The federal government has cautiously embraced the idea of natural gas exports, though it has been wary of any dramatic price increases that could occur in the U.S., which would hurt the country's manufacturing sector.
According to Cheniere, there are 13 or more proposed LNG export projects totaling 16.85 bcf/d of capacity in the pipeline. For context, total U.S. natural gas production in the lower 48 states was 77 bcf/d in March.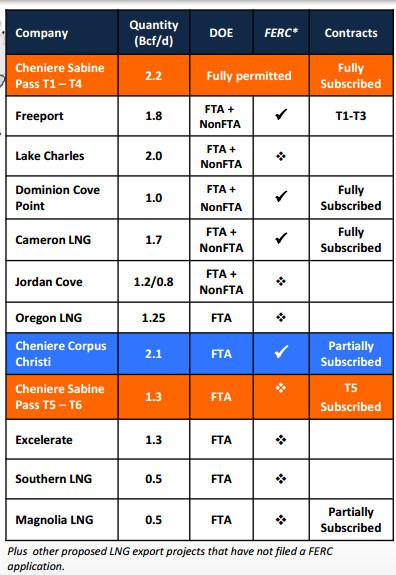 Source: Cheniere Energy
If the U.S. began shipping more than 20 percent of its natural gas overseas, prices would undoubtedly spike higher. But at the same time, those higher prices would encourage more production. That's a reason to be bullish on U.S. natural gas, and U.S. natural gas exploration and production companies in particular.
The onset of U.S. natural gas exports will come slowly as more and more terminals are approved. The first notable quantities will between 2015 and 2017, when Cheniere puts the first four trains of its Sabine Pass facility into operation.