This week the allied forces of the SEC and CFTC released their joint report on the 'flash crash' with the title of Findings Regarding the Market Events of May 6, 2010.

While many were underwhelmed by the report, it provides traders with a sense of some of what happened during a day in which the Dow Jones Industrial Average fluctuated some 1138 points.

The chart of the week below shows what happened to the iShares Russell 2000 Index ETF (NYSEARCA:IWM), the highly liquid ETF for the Russell 2000 index. IWM trades more than 60 million shares per day and is regularly one of the most active issues traded. Up until 2:43 p.m. ET, IWM was acting normally. Then as the price (dashed line, right scale) began to accelerate downward, liquidity (green and blue bands, left scale) suddenly began to dry up. By 2:46 p.m., market depth (the height of the green and blue bands) in IWM had almost completely disappeared. Over the course of the 74 minutes left in the normal trading session, liquidity began to return slowly to the markets. At the time the markets closed, approximately 60% of the normal market depth from earlier in the day had returned to IWM.

The report linked above has some interesting graphics surrounding trading in Accenture (NYSE:ACN), Procter & Gamble (NYSE:PG), 3M (NYSE:MMM), IBM, Apple (NASDAQ:AAPL), GE and IWM beginning on page 91 of the PDF. If anything, the action in IWM is the least extreme of the group.

If you have some time, the report is worth at least a scan.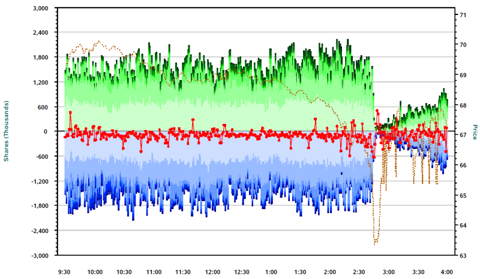 [source: SEC and CFTC]


Disclosure(s): none