In May of 2012 ConocoPhillips (NYSE:COP) announced a long-term strategic makeover that included spinning off its downstream operations into Phillips 66 (NYSE:PSX). PSX subsequently spun-off a midstream MLP -- Phillips 66 Partners (NYSE:PSXP). The timing couldn't have been better as MLPs have been the market darlings over the last few years. While the S&P500 is up only 3.4% YTD, many MLPs are up over 10%. Here is a list of the top-10 MLP ETFs this year: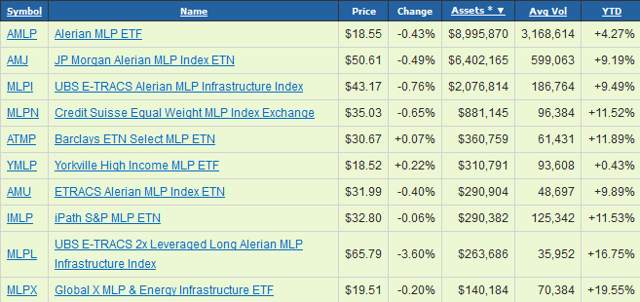 Many individual MLPs are up even more. PSXP has doubled this year. Western Gas Partners (NYSE:WES), an Anadarko (NYSE:APC) MLP, is up 19.8% YTD. One of the oldest and largest energy MLPs is Kinder Morgan Partners (NYSE:KMP). Although KMP is down a bit for the year, the LP throws off a fat 6.9% dividend.
As measured by the Alerian MLP index, MLPs have provided investors with a compound annual return of 15.8% from the index's inception in June 2006 through April 2014. The S&P 500 returned a 7.4% CAGR over the same timeframe.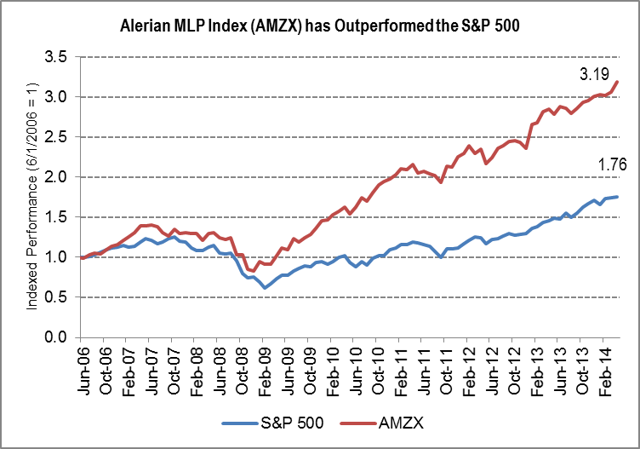 Fundamentals Are Strong
There is good reason for the popularity of MLPs. A key advantage of MLPs is that they combine the tax benefits of a limited partnership ("LP") with the liquidity of a publicly traded company. Another advantage is that many MLPs operate assets on a tariff or fee-based basis, which means they are somewhat insensitive to the day-to-day movement of commodity prices. They are volume driven. And volumes are growing.
The same reasons that have driven MLP outperformance over the past few years will likely continue driving the sector over the next few years: increased production of oil, natural gas, and NGLs as a result of the domestic shale revolution. Domestic natural gas and NGL production is already at an all-time high. Domestic production of crude oil is >8 million bpd, a level not seen in 25 years. Domestic production by the end of this decade could very well exceed the record 10 million bpd set back in late 1970.
Two other reasons MLPs should continue to prosper:
Infrastructure required to support LNG exports
Infrastructure required to support production from new (well, relatively new) shale plays like the Marcellus, Bakken, Eagle Ford, and Niobrara.
MLPs should capture the majority of spending on this infrastructure. P&I estimates spending could be as high as $640 billion over the next 20 years:

Value of Existing Infrastructure Rises
Obviously, the value of existing energy infrastructure such as pipelines, storage tanks, and terminals has risen in value. However, when these midstream assets exist under the umbrella of a large corporation, like a Chevron (NYSE:CVX) for example, they cannot reach their full potential. The midstream segment of CVX's portfolio is largely overshadowed by other operations such as exploration and production, refining, and chemicals. The market cap of CVX is so large ($252 billion) that it trades largely based on metrics such as overall cap-ex spending, production growth, cash margin per boe, and the price of oil and natural gas. As such, CVX's midstream assets are likely to be significantly undervalued.
Last week, Shell (NYSE:RDS.A) followed the COP/PSX/PSXP example and announced its intention to spin-off some US pipelines into a master limited partnership called Shell Midstream Partners. The IPO is scheduled for the second half of the year and is expected to raise up to $750 million. The new MLP will trade under the symbol "SHLX." The market response was positive and immediate. Shell popped up on Wednesday morning and ended the week up close to 2%. It was up again today.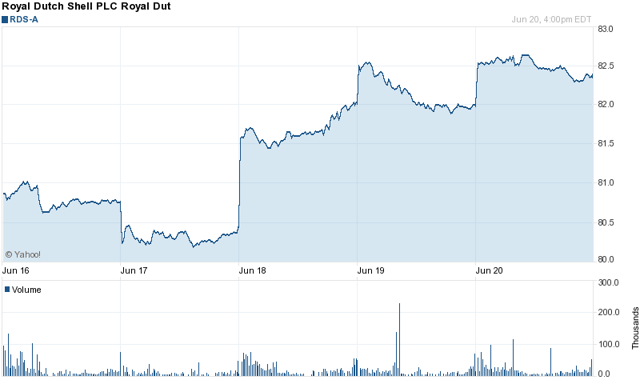 Although one could argue COP was the first (technically it was PSX), this was a significant event in that it was the first of the large international integrated oil companies to take this step. My question is: what is keeping Chevron from joining the party?
Chevron
Chevron recently announced a "realignment" of its Gas and Midstream business by consolidating the company's supply and trading functions into a single supply and trading group within Chevron's Gas and Midstream organization. But why take this step? Why not simply form an infrastructure MLP for the appropriate domestic assets in the Gas and Midstream segment? This would unlock the value of the business and enable CVX to collect tax-advantaged distributions. Perhaps CVX is thinking along these lines, and the realignment was an intermediate and necessary step to prepare for formation of a Midstream MLP. Time will tell.
Chevron certainly has assets ripe for an MLP structure. For instance, Chevron owns the Keystone Gas Storage facility in the Permian Basin of West Texas. This is a high-deliverability salt-cavern storage facility that connects to three major pipeline systems:
El Paso Natural Gas
Transwestern Gas Company
Northern Natural Gas Company
This asset begs to exist in an MLP.
Chevron also owns or operates 10,000 miles of pipelines in the US alone. It owns ~100 bcf of natural gas storage capacity in Canada. Through a subsidiary, Chevron operates the Henry Hub -- a natural gas trading hub that connects nine interstate pipelines with four intrastate pipelines and serves as the pricing point for NYMEX natural gas futures. CVX should unleash the value of these assets by forming an MLP that would generate shareholder tax-advantaged income for decades into the future.
Summary & Conclusion
ConocoPhillips (err...PSX) has shown big-oil the way in terms of unlocking the value of midstream assets. Shell took note and has taken action. The market noticed and immediately rewarded Shell for its plans. It's time for Chevron to follow suit and form an MLP for its domestic midstream assets. Like PSX, Chevron should launch a midstream MLP IPO, adequately fund the enterprise, start slowly with a small set of valuable assets, and then drop-down larger assets over time. In this way, Chevron can maintain control of its midstream assets yet unlock its potential value and reap the benefits of tax-advantaged distributions for decades into the future. COP/PSX has proved the strategy with its PSXP MLP. Shell's recent announcement is a validation of that strategy. Chevron should jump on the bandwagon.
Regardless, Chevron is still a very high quality company and my favorite in the international integrated oil company space. It is up only ~10% (~13.3% when you add in the dividend) since my STRONG BUY about one year ago. I still believe CVX is a STRONG BUY as investors should get ready for some good news out of the company's projects in the Gulf of Mexico (Big Foot, Jack/St.Malo, Tubular Bells) starting in Q4 of this year. Meantime, the company pays a nice dividend yield (3.2%) and could unleash significant value if it chooses to form a midstream MLP. That is something it could easily do once the realignment of its Gas & Midstream segment is completed.
| | |
| --- | --- |
| Market Cap: | 252.20B |
| P/E ("ttm"): | 12.90 |
| EPS ("ttm"): | 10.27 |
| Div & Yield: | 4.28 (3.20%) |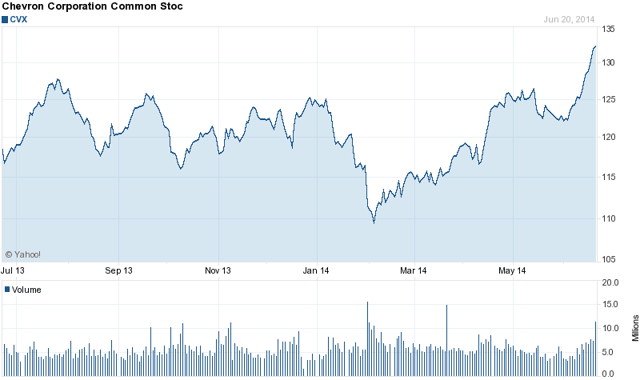 Disclosure: The author is long COP, CVX, PSX. The author wrote this article themselves, and it expresses their own opinions. The author is not receiving compensation for it (other than from Seeking Alpha). The author has no business relationship with any company whose stock is mentioned in this article.
Additional disclosure: I am an engineer, not a CFA. The information and data presented in this article were obtained from company documents and/or sources believed to be reliable, but have not been independently verified. Therefore, the author cannot guarantee their accuracy. Please do your own research and contact a qualified investment advisor. I am not responsible for investment decisions you make. Thanks for reading and good luck!