By Jules Koifman
A look at the BlackBerry PlayBook and its competition.
On Monday, September 27, in a San Francisco auditorium, Mike Lazaridis, the president and co-CEO of Research In Motion (RIMM), promised the audience that he would introduce something really special. Moments later, he played a short clip entitled "BlackBerry amplified" to announce the upcoming arrival of the BlackBerry PlayBook, the world's first professional tablet.
The PlayBook is beautiful. "BlackBerry amplified" shows users flipping through photos, watching videos and browsing the web on an indisputably brilliant 7-inch screen. Of course, the natural question to ask is, "how is it better than the iPad?" In one word: multitasking. The demonstration clip made it clear that this was its key strength by showing a user smoothly flipping through multiple windows of simultaneously running apps. The PlayBook runs a 1 GHz dual-core processor with 1 GB of RAM to support this. It also runs QNX, an operating system that breaks down instructions into a number of small tasks, making it ideal for efficiently using the dual-core processor to multitask.
And in terms of security, QNX is certified for US government and military use, so it is ideal for protecting sensitive company information. The BlackBerry PlayBook also works with BlackBerry enterprise servers to connect to corporate networks, something the iPad simply cannot do.
RIM will certainly steal a good chunk of Apple's (NASDAQ:AAPL) tablet market share. The PlayBook's web browser has built-in full support for Adobe Flash, something Apple has long neglected, sparking much criticism. Although I am usually Apple-biased, I can't see any advantage the iPad has over the PlayBook. RIM has added front and back HD cameras for built-in videoconferencing capabilities. And even though RIM's smartphones usually lag in multimedia experience, videos and positive blogger reviews of the device suggest that this time, things are different. Unlike the iPad, the PlayBook has standard HDMI output, making it useful for giving boardroom presentations on a projector.
The PlayBook is targeted at the corporate market. Its 7-inch screen is the perfect size for something smaller than a laptop yet large enough to be useful. In contrast, the iPad is too large to be fully portable and lacks too many features to be a laptop equivalent – it targets a market segment in the middle where there is no clear practical use for the device.
Of course, the PlayBook isn't perfect. There was no 3G model announced which means that the device will rely on WiFi availability for connectivity. This will severely limit mobility and hence the practicality of the PlayBook. However, it can use Bluetooth to tether with BlackBerry handsets for data over the cellular network.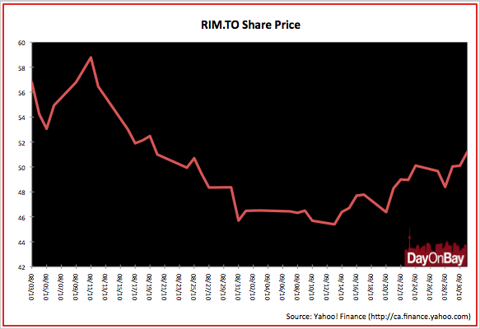 The biggest drawback of the PlayBook is the way in which RIM has been going about its release. The expected release date is in early 2011, just after the Christmas season. Everyone wanting a tablet for Christmas will probably now receive an iPad instead of a PlayBook simply because of availability. Plus, it gives Apple time to develop a new version of the iPad in a market it already dominates. On the morning following the announcement, RIM shares fell more than 3 percent on both the TSX and the NASDAQ because of these concerns. No matter how good the PlayBook is, it is still Apple's domain and RIM can't expect to waltz in without a well-planned playbook.
See:
Disclosure: No position