This is the fifth and final article in a series of articles where I will highlight the "best of breed" stock for each of the nine major sectors covered by the SPDRs. For this article, I will be covering the holdings of the Industrial SPDR (NYSEARCA:XLI). To aid in my search I will be using the Finviz.com stock screener to screen for fundamentals, corporate governance data from Institutional Shareholder Services [ISS], and glassdoor.com for CEO approval ratings. The reason why I chose these three categories was that I wanted to find companies with strong fundamentals, good corporate governance, and companies with employees who believe in management.
Best of Breed Part 1: Technology & Utilities
Best of Breed Part 2: Staples & Discretionary
Best of Breed Part 3: Energy & Materials
Best of Breed Part 4: Financial & Health Care
Step #1: Finviz Screener Criteria
I downloaded the holdings of the XLI into a spreadsheet and copied them into the Finviz stock screener. I then used the following bullets below which are the screen criteria I used to get my initial list of stocks. I found that only 10 stocks of the 64 holdings for XLI met the criteria I set below, and those companies are listed in the table below my criteria.
Return on Equity: +10%
Return on Investment: +5%
EPS Growth Past 5 years: Positive
EPS Growth Next 5 years: Positive
LT Debt/Equity: <1
Dividend Yield: Positive
Operating Margin: >20%
Profit Margin: >10%
Float Short: <5%
Performance [1 year]: Up
Industrials

(NYSE:AME)

AMETEK Inc

(NYSE:CSX)

CSX Corp

(NYSE:EFX)

Equifax Inc

(NYSE:KSU)

Kansas City Southern Inc

(NYSE:MMM)

3M Co

(NYSE:NSC)

Norfolk Southern Corp

(NYSE:PCP)

Precision Castparts Corp

(NYSE:ROP)

Roper Industries Inc

(NYSE:SNA)

Snap On Inc

(NYSE:UNP)

Union Pacific Corp
Step #2: ISS Corporate Governance
For this step, I looked at the corporate governance score from ISS to see which companies had the lowest score. The score ISS gives is from 1-10, with 1 being the best score, which means that company has the lowest governance risk, where a score of 10 means that company has a high governance risk. The governance score for each company is listed in the table below, and the top 50% are highlighted, and those stocks will make it to my final step.
Industrials

Governance Rating

UNP

Union Pacific Corp

1

MMM

3M Co

1

CSX

CSX Corp

2

NSC

Norfolk Southern Corp

3

SNA

Snap On Inc

6

ROP

Roper Industries Inc

7

PCP

Precision Castparts Corp

9

KSU

Kansas City Southern Inc

9

AME

AMETEK Inc

10

EFX

Equifax Inc

10
Step #3: CEO Approval
For this step, I looked at the CEO approval ratings for each of the top companies from my corporate governance section above and the results are shown in the table below. The industrial company with the highest CEO approval rating was 3M with 91%, and thus is the company that I have determined is the "best of breed" stock for the industrial sector.
Industrials

CEO Approval

MMM

3M Co

91%

NSC

Norfolk Southern Corp

86%

CSX

CSX Corp

81%

UNP

Union Pacific Corp

77%

SNA

Snap On Inc

74%
Performance of 3M
The chart below shows the performance of MMM compared to XLI since the inception in 1998 for the XLI. As you can see, MMM has outperformed the XLI by a margin of nearly 2 to 1 since 1998, and has shown that it can maintain a margin of outperformance compared to the XLI over long periods.
Performance Chart: 3M [Black line] vs. XLI [Blue Line]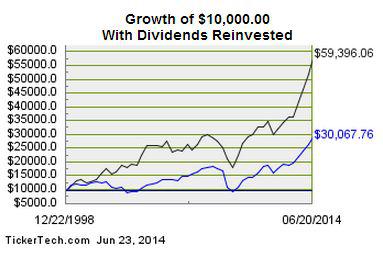 The chart below shows the yearly dividend totals for MMM has steadily increased every year and was able to raise its dividend during the financial crisis. This speaks to the quality of the company and the ability of management to steer the company in the right direction even in times of crisis. [Dividend Data from Dividendchannel.com]

Closing thoughts
I believe 3M is worth a deeper look because it met all my fundamental criteria, which I believe are important factors that make each company strong. In addition, by including additional factors like corporate governance and how employees view management, I believe when combined with strong fundamentals is a solid method of determining stocks that are best of breed.
Overall, for my series of "best of breed" articles I believe all the companies I have highlighted are worth a deeper look. Going forward I believe my list of best of breed stocks for each sector would be a good place to start for an investor looking for high quality companies. At the top of that list, I would put 3M and Schlumberger (NYSE:SLB) because out of the nine companies I highlighted in this series, they were the only two companies to have a governance rating of 1, and a CEO approval rating of over 85%.
Disclosure: The author has no positions in any stocks mentioned, and no plans to initiate any positions within the next 72 hours. The author wrote this article themselves, and it expresses their own opinions. The author is not receiving compensation for it (other than from Seeking Alpha). The author has no business relationship with any company whose stock is mentioned in this article.