Adeptus Health Inc. (NYSE:ADPT), operator of a network of independent, free-standing emergency rooms, plans to raise $100.5 million in its upcoming IPO.
The Lewisville, Texas-based firm will offer 4.9 million shares at an expected price range of $19-$22 per share. If the IPO can find the midpoint of that range at $20.50 per share, ADPT will command a market value of $424 million.
Strong Underwriters
ADPT filed on May 21, 2014.
Lead Underwriters: Deutsche Bank Securities Inc; Goldman, Sachs & Co.
Underwriters: Dougherty & Company LLC; Evercore Group L.L.C; Morgan Stanley & Co. LLC; Piper Jaffray & Co.; RBC Capital Markets, LLC
Overview of ADPT's Operations
ADPT owns and operates a network of independent emergency rooms located primarily in Texas and Colorado.
As of March 31, 2014, the network consisted of 32 facilities, having grown from 14 at the end of 2012 and expected to grow further to 53 facilities by the end of 2014. ADPT hopes to meet rising demand for emergency room facilities, both in the sense of providing access to communities without nearby hospitals and in the sense of relieving pressure on often overcrowded hospital emergency rooms.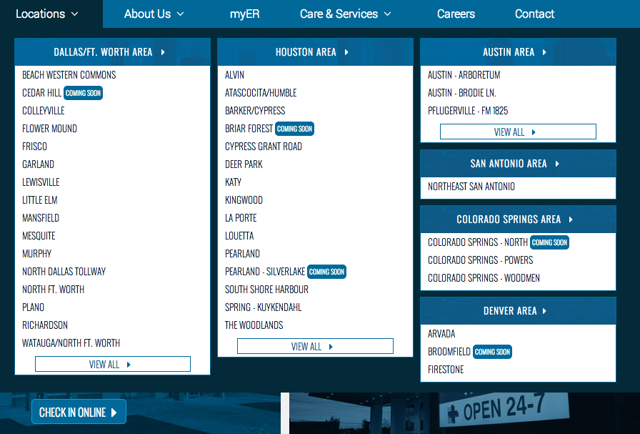 (Snapshot of locations)
ADPT's facilities offer sophisticated medical care, despite the relatively low cost to patients. The firm's facilities typically have on-site laboratories to allow for quick test results. The facilities also contain specialized rooms for high-acuity cases, pediatrics, and gynecology. Diagnostic equipment such as X-ray machines, CT scanners, and ultrasound machines are also available at the facilities. As of March 31, 2014, ADPT employed some 260 physicians.
Valuation
ADPT offers the following figures in its S-1 balance sheet for the three months ended March 31, 2014:
Revenue: $44,529,000.00
Net Loss: ($2,767,000.00)
Total Assets: $186,034,000.00
Total Liabilities: $110,491,000.00
Stockholders' Equity: $75,543,000.00
ADPT's Competition
ADPT is not alone in attempting to remedy the lack of emergency room availability in the United States, and faces numerous competitors offering free-standing emergency rooms.
Competitors include ER Centers of America, Elite Care, Neighbors Emergency Center, Texas Emergency Care Center, and PhysiciansER. Some of these competitors are also independent, while others are affiliated with hospitals.
The firm also faces competition from traditional emergency care services offered by hospitals, which may have access to greater medical and technological resources than ADPT's emergency rooms.
Management
President and CEO Thomas S. Hall has served in his current roles since 2012. Mr. Hall has previously served as chairman, president and CEO of NovaMed, Inc., president and CEO of Matria Healthcare, Inc., and president of ADP Total Source. Mr. Hall received a bachelor's degree in business from Goshen College, and an M.B.A. from Clarkson University.
Mr. Hall's total compensation for 2013 was $1,053,079, which we find excessive given the huge losses he is incurring for his current shareholders.
Conclusion: Investors Should Wait On This Company Until They Show They Can Make Money
We are neutral-to-negative on this IPO.
Though ADPT has been expanding quickly, it has seen declining income from operations over the past two years, and posted a loss from operations in the first quarter of 2014.
The firm certainly has strong opportunities to succeed, however; the need for emergency facilities is undeniable, as rapidly increasing quantities of emergency patients over the past two decades have gone unmatched by emergency room expansion.
ADPT's focus on proximity to underserved communities and cost-efficiency also seems a good match for an American populace concerned with inflated healthcare costs.
We are not comfortable that the CEO is being paid over a million dollars, while the company losses money for its current shareholders.
Note: As a large sample of information sources does not yet exist for ADPT, we have taken much of the information for this article from ADPT's S-1 filing.
We invite readers wishing to join the discussion on IPOs to click the +FOLLOW button above the title of this article.
Disclosure: The author has no positions in any stocks mentioned, and no plans to initiate any positions within the next 72 hours. The author wrote this article themselves, and it expresses their own opinions. The author is not receiving compensation for it (other than from Seeking Alpha). The author has no business relationship with any company whose stock is mentioned in this article.