The very last thing I watched on CNBC last night was the anchor talking about the expected results of Vertex's (NASDAQ:VRTX) coming cystic fibrosis drugs - and what it could potentially mean for the stock price of the company. She was saying that a positive trial could lead to $100/share and that a negative trial could lead to $40/share. Sure enough, this morning I still had the "VRTX" page on CNBC open from when I checked it last night. When I looked this morning, this is what I saw:

It was clear that the trial results were in, and were successful. Not only that, our own constituency here at Seeking Alpha - judging by looking at their past works - seems to have nailed this one on the head as well.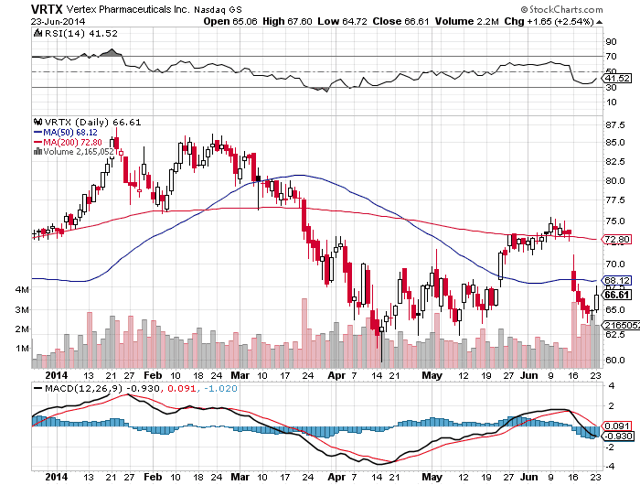 After trading as high as $85 in the past six months, Vertex had settled in the mid $60 range as analysts and investors awaited the results that we were offered this morning.
Two drugs put out by Vertex Pharmaceuticals - Kalydeco and VX-809 (lumacaftor) met their primary endpoints for improving lung function in those with a certain genetic defect that had caused cystic fibrosis. Basically, the combination of the two drugs helped lung function of those with CF, as well as helping them gain weight and prevent infections.
The NY Times listed the details of the trials:
The two trials involved a total of about 1,100 patients, age 12 and over, in North America, Europe and Australia. Each trial had three arms. Patients in two of the arms took ivacaftor plus either a low or high dose of lumacaftor. Patients in the third arm received a placebo.

Lung function was assessed by the maximum a person could exhale in one second, a standard test. At the start of the trial, the patients had average lung function, based on this measure, that was 61 percent of what would be predicted for people their age.

After 24 weeks, lung function had improved in all four groups that got the drug combination, by between 2.2 and 3.6 percentage points, meaning their average lung function was somewhere around 64 percent of what would be normal for their age. The lung function of those who got the placebo fell slightly.
Vertex's Kalydeco has shown tremendous efficacy alone, however just in a small group of patients who had one specific genetic mutation that was the cause of their CF. When combined with VX-809, the patient population that it can help jumps to nearly half of all patients with CF.
The one question that arose from the trial was whether or not the efficacy of the drug combination was going to be the same of Kalydeco on its own. What I learned this morning is that lung function under the drug combination improved about 3%, whereas those on Kalydeco alone for their specific mutation saw a 5% improvement. Perpetual skeptic Adam Feuerstein over at the Street sees this result as not quite a home run, but a "bases clearing triple":
Maybe not a home run, per se, but sticking with the baseball analogy, I'd say the study results are a base-clearing triple. Vertex skeptics are going to furrow their brow and question whether the 3.3% absolute improvement in lung function is clinically meaningful. Sure, a 5% absolute improvement in lung function would have been preferred, but the pooled, 3.3% lung function improvement (at the highest VX-809 dose) was highly statistically significant.
However, additional analyst and doctor sentiment from around the web this morning seem to think exactly what the market is thinking this morning - this is a relatively major success for Vertex.
In keeping with one of the subplots of the pharma industry this year, questions are already being raised about the price of the treatment. This morning, Forbes put out a piece that said the combo could cost as much as $160k per patient per year. Kalydeco, by itself, costs $307,000 per patient per year.
There is no doubt that approval of the drug combination - which Vertex is going to be seeking in the coming months in the U.S. - could have a major bottom line effect on the company. Kalydeco, on its own, does about $370 million a year in revenue. The addition of more than half of the CF population (even at half the price of Kalydeco) means that Vertex could potentially be launching its revenues into the stratosphere in the coming years.
For Vertex shareholders and those effected by cystic fibrosis, however, it's clear that this morning is a major success. Congratulations to both groups, and to those at Vertex for their breakthrough.
Disclosure: The author has no positions in any stocks mentioned, and no plans to initiate any positions within the next 72 hours. The author wrote this article themselves, and it expresses their own opinions. The author is not receiving compensation for it (other than from Seeking Alpha). The author has no business relationship with any company whose stock is mentioned in this article.