Intel's stock rose 6.83% on June 13, after the company raised its outlook for revenue and gross profit margin this quarter and the full year, showing better than expected sales volume of personal computers. Moreover, Intel's stock has surged strongly this year. In fact, its relative strength index [RSI] technical indicator is indicating overbought conditions. Since the beginning of the year, INTC's stock has gained 16.4%, while the S&P 500 index has increased 6.2%, and the Nasdaq Composite Index has risen 4.6%. Nevertheless, considering its good valuation metrics, its solid earnings growth prospects, and its leading position in the industry, Intel's stock is not expensive. In this article, I will show by comparing its valuation metrics to its historical values that the stock is still cheap, and in my opinion, it still has plenty of room to move up. Furthermore, the growing rich dividend represents a gratifying income. All the data for this article were taken from Charles Schwab, Yahoo Finance and finviz.com on June 23, before the market open.
The rising demand for personal computers is driven mostly by strong demand for business PCs. However, the recent boost for PC sales comes after a noteworthy slump in PC sales, mainly due to the growing popularity of tablets. Some analysts think that PC sales will continue to decline in the future, but in my opinion, the improvement in the global economy will lead companies to replace their old PCs to new stronger and more efficient PCs. Being late to mobile Intel has an ambitious program to gain market share in the strong growing mobile market. In the first quarter of 2014, Intel shipped five million tablet processors, making strong progress on its goal of 40 million tablets for 2014. Considering its financial and technological extensive resources, I believe that Intel will be able to fulfill its goal in this fast growing market.
Price to Sales
Intel's trailing twelve months price-to-sales ratio is at 2.84, a fairly low rate compared to its historical values. Many analysts of the semiconductor industry give a high importance to the price-to-sales ratio, and consider it a better indicator than the P/E ratio for companies in this industry, (the small difference in value with the chart is due to delayed updating of the chart).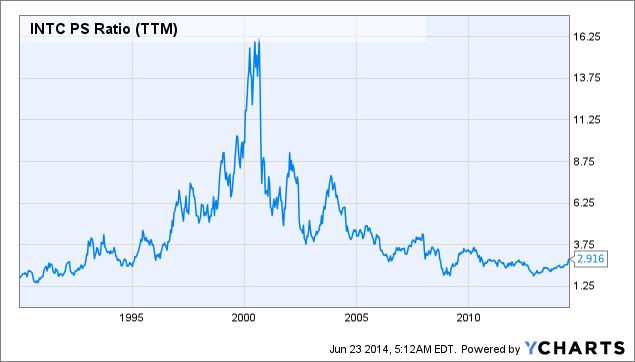 INTC PS Ratio (TTM) data by YCharts
Enterprise Value/EBITDA
Intel's Enterprise Value/EBITDA ratio is very low at 7.01, and it is also a low rate compared to its historical values. According to James P. O'Shaughnessy, the Enterprise Value/EBITDA ratio is the best-performing single value factor. In his impressive book "What Works on Wall Street," Mr. O'Shaughnessy demonstrates that 46 years back-testing, from 1963 to 2009, have shown that companies with the lowest EV/ EBITDA ratio have given the best return. Mr. O'Shaughnessy explains that EV/ EBITDA is a better way to assess value-that is, how cheap or expensive it is-than looking at the P/E ratio alone. The EV/EBITDA is neutral to a company's capital structure and capital expenditures.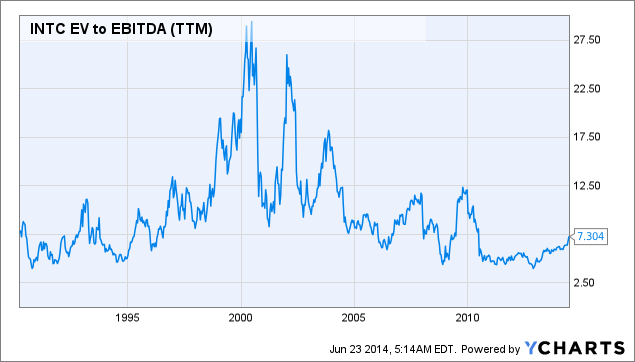 INTC EV to EBITDA (TTM) data by YCharts
Price to Book Value
Intel's price to book value ratio is at 2.59, a pretty low rate compared to its historical values.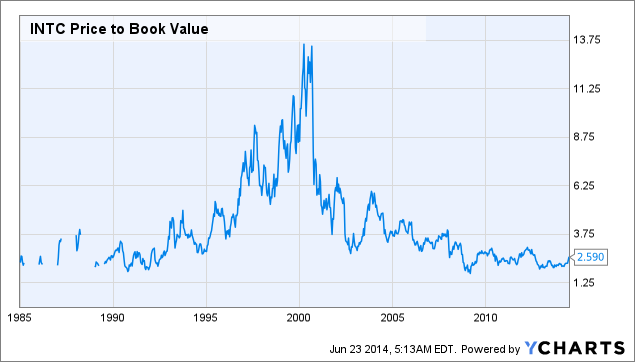 INTC Price to Book Value data by YCharts
Price to Free Cash Flow
Intel's price-to-free-cash-flow ratio of 17.60 is not historically too high, although it was lower in the recent years.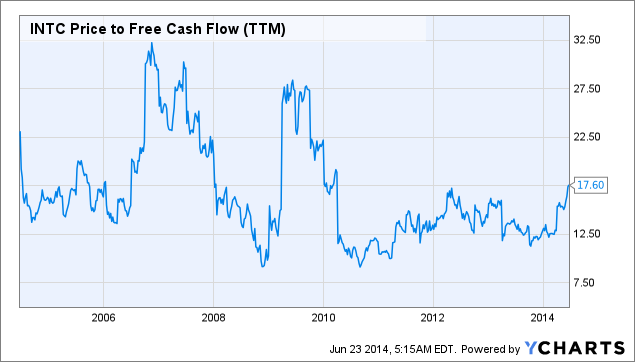 INTC Price to Free Cash Flow (TTM) data by YCharts
Dividend
Intel has been paying uninterrupted dividends since 1992, the forward annual dividend yield is at 2.98%, and the payout ratio is at 52.70%. The annual rate of dividend growth over the past three years was at 7.5%, over the past five years was at 7.4%, and over the past ten years was very high at 25.8%. I consider that besides dividend yield, the consistency and the rate of raising dividend payments are the most crucial factors for dividend-seeking investors, and INTC's performance has been very good in this respect.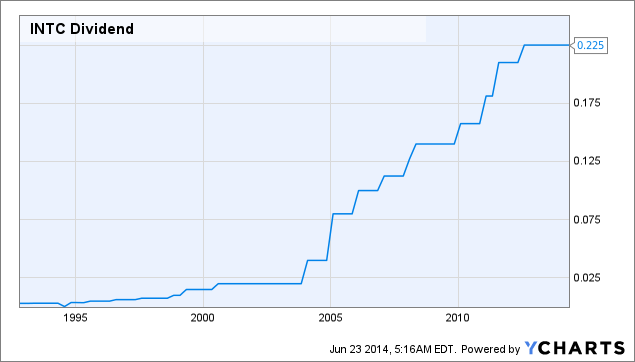 INTC Dividend data by YCharts
Although it was higher before, Intel's actual yield of 2.98% is higher than its average historical value.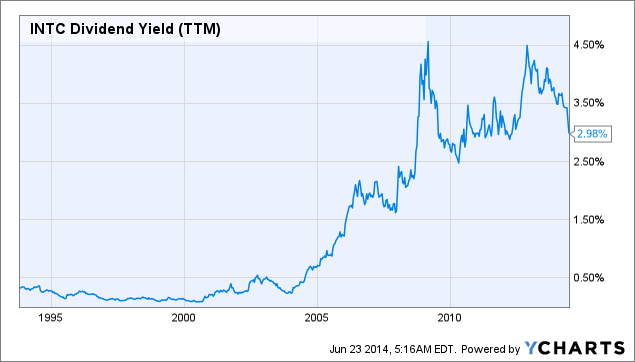 INTC Dividend Yield (TTM) data by YCharts
Competitors
A comparison of key fundamental data between Intel and its main competitors is shown in the table below.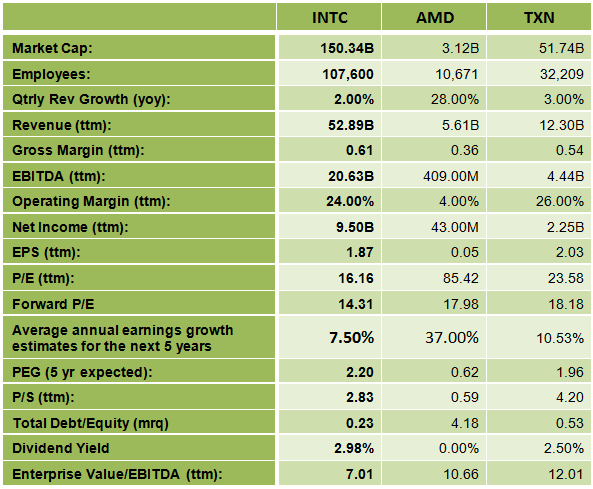 Intel has the lowest EV/EBITDA ratio, the lowest debt to equity ratio, and the highest dividend yield among the stocks in the group.
Intel's Margins and Return on Capital parameters have been much better than its industry median, its sector median and the S&P 500 median as shown in the tables below.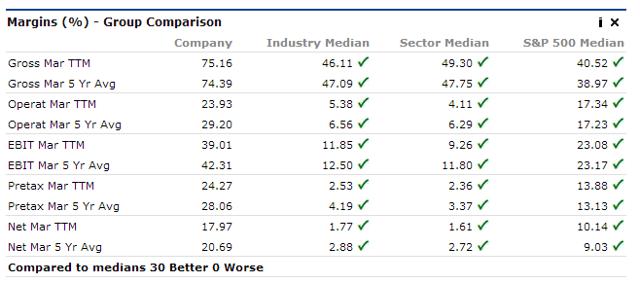 Source: Portfolio123
Technical Analysis
The charts below give some technical analysis information.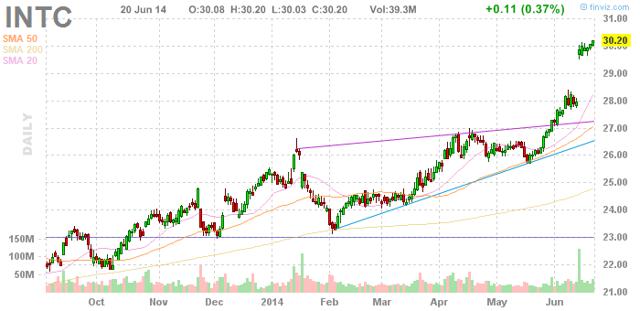 Chart: finviz.com
The INTC stock price is 7.75% above its 20-day simple moving average, 11.84% above its 50-day simple moving average, and 21.88% above its 200-day simple moving average. That indicates a strong short term, mid term, and a long-term uptrend.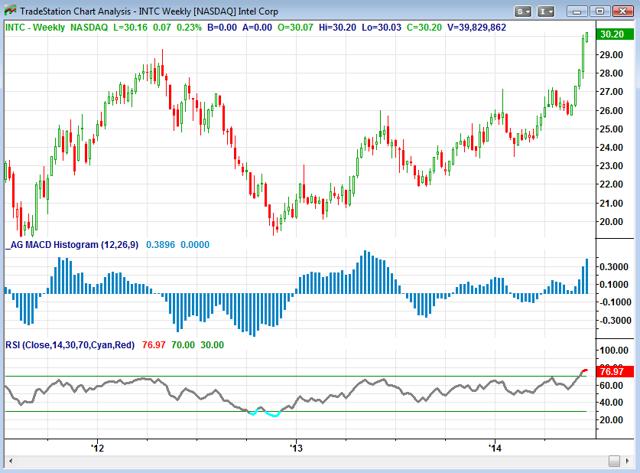 Chart: TradeStation Group, Inc.
The weekly MACD histogram, a particularly valuable indicator by technicians, is at 0.3896 and ascending, which is a bullish signal (a rising MACD histogram and crossing the zero line from below is considered an extremely bullish signal). The RSI oscillator is at 76.97, which indicate overbought conditions.
Analyst Opinion
Many Analysts are covering the company but their opinion is extremely divided. Among the 45 analysts, 8 rate it as a strong buy, 7 rate it as a buy, 23 analysts rate it as a hold, 5 rate it as an underperform, and two analysts rate it as a sell.
TipRanks is a website that ranks experts (analysts and bloggers) according to their performance. According to TipRanks, among the analysts covering INTC stock there are 29 analysts who have the four or five star rating, 13 of them recommend the stock, 15 top analysts have a hold rating on the stock, and one analyst rates it as a sell.
On June 13, Credit Suisse's analyst Jonathan Pitzer reiterated an Outperform rating, and raises his price target to $35 from $30, saying:
While there will clearly be concern that upside was driven by unsustainable EOL WinXP buys, we would note that assuming 70% of C2Q14 revenue upside was driven by Corporate PCs would represent approximately 4m incremental units or just 5% of the installed base of Corporate PCs still running WinXP - if EOL of WinXP was a major driver of demand, the upside would have likely been higher.
I consider Mr. Pitzer's analysis very valuable, since he has a 5-Star rating from TipRanks for the accuracy of his previous calls.

Source: TipRanks
Conclusion
As the world's leading manufacturer of microprocessors for personal computers, INTC will benefit from the rising demand for personal computers. Intel has good valuation metrics and solid earnings growth prospects; its Enterprise Value/EBITDA ratio is very low at 7.01. Furthermore, comparing its valuation metrics to its historical values shows that the stock is still cheap. Intel is generating strong cash flows, and it returns value to its shareholders by stock buyback and by increasing dividend payments. All these factors bring me to the conclusion that INTC stock is a smart long-term investment.
Disclosure: The author is long INTC. The author wrote this article themselves, and it expresses their own opinions. The author is not receiving compensation for it (other than from Seeking Alpha). The author has no business relationship with any company whose stock is mentioned in this article.