Privately-held Valley Green Bank made it big in the city. In 2006, the bank held $22 million of deposits; by 2014, its deposits had grown to $335 million. Indeed, growth at the bank has been nothing short of spectacular: Over the last 4 years, the bank increased its assets, loans, and tangible book over 3X. SNL ranked Valley Green the 8th top community bank in 2013 (it should be noted that most of the banks ahead of Valley Green were located in oil-rich Oklahoma and Texas.) Valley Green's stats are eye-popping, all the more remarkable considering it only has $321 million in assets: ROA 1.5, ROE 17.5, NIM 5.06%, NPL/assets 0.36%, 5-yr. CAGR 37.1. Similarly sized banks write off millions of dollars in bad loans. In all of 2013, the bank charged-off a measly $28,000.
In other words, banking nirvana! Valley Green hit every metric: earnings, yield, credit quality, and growth.
But, drool all you want - you can't buy in. Valley Green is frustratingly private. So why I am wasting your time about something you can't have?
Simple. Univest Corp. of PA (NASDAQ:UVSP) did what you and I can only dream about. Univest is acquiring Valley Green - and you can buy UVSP. The question is: Should you?
Univest Corp. of PA: Small-Town Banking Has Its Limits
UVSP has been around for 138 years, serving the hinterlands of Buck and Montgomery Counties, PA. When I talk rural, I mean it. For instance, UVSP has 2 branches in Doylestown (population 8,000), Kulpsville (population 8,000), and Sellersville (population 4,000). (Not to make light of it, but one wonders what population is required to merit only one office.) The bank has been acquiring asset managers and insurance brokers, but its branches have remained firmly in the country. However, UVSP is bumping against an unfortunate fact: There just isn't a lot of growth in the small-town Buck and Montgomery Counties.
You can see the stagnation in the company's assets and loan portfolio over the past 4 years, despite active M&A. The bank has experienced limited growth. Considering a 138-year history, having a 3.8% share of Buck County deposits is just not all that exciting. Will another century lead to a 5% share? After all, how many branches can you build in Sellersville?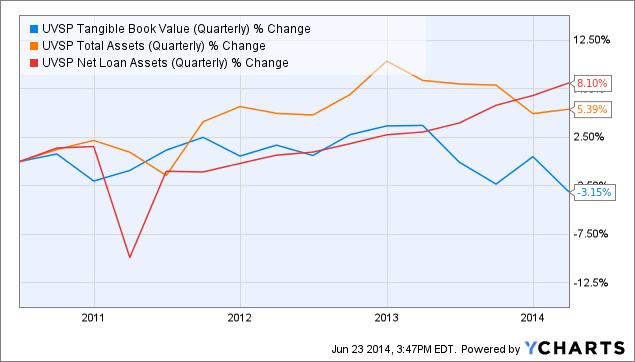 UVSP has meandered for the last 4 years. Net interest income has improved only because loan loss provisions have declined. Its bottom line has only modestly increased, due to contributions from its trust, wealth and insurance divisions.
Needless to say, the bank's metrics are nowhere as impressive as its target: ROA 0.95, ROE 7.5, NIM 3.81%, NPL/assets 1.52%, 5-yr. CAGR 0.5%. Valley Green could supply the juice to get UVSP moving again.
The Merger And Its Implications
Through the merger, this country bumpkin becomes an instant player in Philadelphia. And as we now know, if you wanted to get in on the Philadelphia market, you could not do better than by getting in on the Valley Green banking dynamo. This acquisition gives UVSP a much-needed growth market, something it has been lacking.
UVSP wisely paid up for this banking gem, spending 2.25X TBV. The seemingly high price doesn't bother me. Old National Bank (NYSE:ONB) is purchasing average United Bank (OTCQB:UBMI) at 2.2X TBV to enter Ann Arbor, making the vastly superior Valley Green look crazy cheap. UVSP picks up a prize bank in a prime MSA.
The Big Risk
As noted, regardless of the metric, Valley Green is a far better bank than UVSP. I have never seen a clearer example of a fair bank purchasing a great one. The biggest risk of the purchase is that UVSP will turn Valley Green into a yawn.
Normally, banking acquisitions are all about gaining location and assets. In this case, the real asset lies in Valley Green's leadership and personnel. After all, how many tiny banks are this well-run? How many can grow this fast and maintain such superb credit quality? UVSP wisely paid up for this banking gem, spending 2.25X TBV. The real challenge will be keeping this winning Valley Green team. All too often, once deals are completed, acquiring companies find the talent walked out the door.
I'm pleased to see UVSP recognizes banking genius when it sees it, and has a credible plan to retain the critical personnel. Valley Green's CEO will remain and head the Valley Green Division. All branches will continue to operate separately under the Valley Green name. This is an instance where the less integration, the better.
While Valley Green will represent only a fraction (14%) of UVSP's assets, its potential is enormous. While there is not much growth in Buck County, Valley Green has already proven Philadelphia boomtown. The key question remains: Will UVSP stifle the golden goose? Does UVSP let Valley Green manage itself? Do the key personnel stay?
Bottom Line
Univest Corp. of PA has snatched a Philadelphia diamond. Should UVSP retain Valley Green's banking team and give them free rein, this country bumpkin is a BUY. Otherwise, I would take a pass. As in all things, people are a bank's true assets. Valley Green's Goldstein (chief executive officer) and Biedermann (chief lending officer) are a must. UVSP is a guarded BUY, with an eye to the exit, should either Goldstein or Biedermann depart.
Disclosure: The author has no positions in any stocks mentioned, and no plans to initiate any positions within the next 72 hours. The author wrote this article themselves, and it expresses their own opinions. The author is not receiving compensation for it (other than from Seeking Alpha). The author has no business relationship with any company whose stock is mentioned in this article.
Additional disclosure: The opinions in this document are for informational and educational purposes only and should not be construed as a recommendation to buy or sell the stocks mentioned. Past performance of the companies discussed may not continue and the companies may not achieve the earnings growth as predicted. The information in this document is believed to be accurate, but under no circumstances should a person act upon the information contained within. We do not recommend that anyone act upon any investment information without first consulting an investment advisor as to the suitability of such investments for his specific situation.