Wouldn't it be great to load up on options and then announce to the world that you've done so, thereby generating tremendous gains as other investors pile into the stock, driving its price higher? I think most investors either believe that such behavior is mere fantasy, or would love to have this significant influence for their own use, assuming it was legal. Perhaps to your surprise, this behavior is neither fantasy nor illegal (at least under the situation outlined below, to our knowledge), and some investors do have tremendous influence over the market.
Enter the activist investor. Most associate activist investing with driving change at a company for the benefit of all shareholders. Though this can be true, most investors don't realize that the activist investor has a built-in advantage that offers a leg up when it comes to generating outsize returns. Let's walk through an example to illustrate this point.
On June 6, Carl Icahn (NYSE:IEP) disclosed a 9.39% position in dollar store giant Family Dollar (NYSE:FDO), stating that the purpose of the share accumulation is as follows:
The Reporting Persons acquired their positions in the Shares in the belief that they were undervalued. The Reporting Persons see great long-term potential in the Issuer's industry and believe the Issuer's current situation is analogous to that recently faced by companies such as CVR Energy (NYSE:CVRR), Forest Laboratories (NYSE:FRX), Chesapeake Energy (NYSE:CHK) and Biogen (NASDAQ:BIIB), as well as a number of other companies over the last two decades, where the Reporting Persons' involvement helped to generate tremendous returns for all shareholders. The Reporting Persons intend to seek to have conversations with members of the Issuer's senior management and board of directors to discuss the Issuer's business and strategies to enhance shareholder value, which may include the pursuit of operating initiatives or the exploration of strategic alternatives. The Reporting Persons may also determine to seek shareholder board representation if appropriate.
According to the SEC filing, Carl Icahn accumulated the vast majority of the 9.39% stake in Family Dollar through American-style call options, all of which appear to expire April 8, 2016. Since the per-share exercise price of the call options is $38 per share (not to be confused with the purchase cost of the options themselves), the options can be classified as "deep-in-the-money" calls. Shares of Family Dollar were trading at ~$60 per share before the filing was made public.
When "deep-in-the-money" calls become more "deep-in-the-money" (as in the case when a stock price increases), the delta of the option approaches 100% -- or for every dollar change in the price of the stock, there is an equal dollar change in the value of the option. This appears to be how Icahn has structured the position. Icahn won't benefit from the large delta that at-the-money, short-dated options provide, but he will benefit from significantly lower risk and materially lower capital investment than buying the shares outright. The lower capital investment in this example serves to magnify his immediate return.
In all, Carl Icahn controls 10,691,011 shares of Family Dollar.
Then…the filing.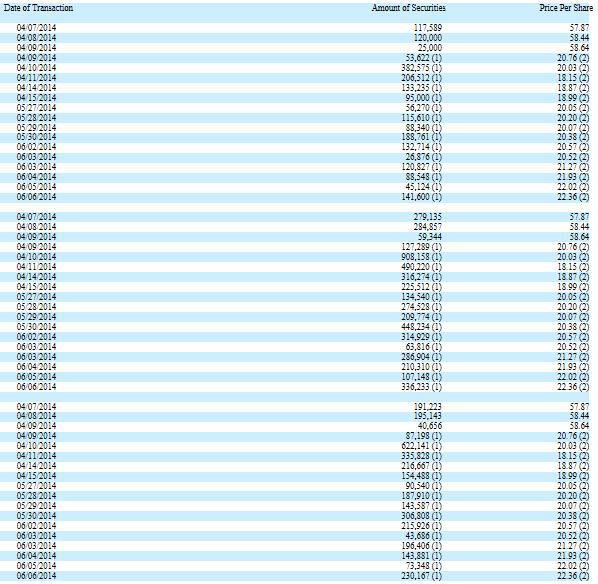 Image Source: SEC, Icahn Capital
Followed by…Twitter (NYSE:TWTR).
By simply making his position publicly known, shares of Family Dollar popped 13.4% on Monday, June 9, to close up $8.09 to $68.62 each. The ~$8 per-share move in Family Dollar's stock increased Icahn's paper value by an estimated ~$86.5 million (in just one day). More importantly for this discussion, the ~$8 move on the ~$20 option positions represent a ~40% gain - all for just disclosing his stake.
Is it fair that anyone should have such privileged gains in the stock market? Some may say that Icahn has created significant shareholder value via activism in the past (and this may be just the price to pay for his services as other investors pile on). Others, however, would say "probably not." Creating shareholder value via activism is one thing, but making a huge return on the position before any real work is done is another. These individuals may also say that something just doesn't seem right if activist investors can load up on options (acquire a full position in a firm's shares) and then record a ~40% gain on their position the day they make their holdings public. On an annualized basis, a ~40% return over two months is simply through-the-roof.
Both activist investors and hedge funds are protective of this advantage. In the recent instance of Greenlight Capital and Micron Technology (NASDAQ:MU), for example, David Einhorn sued an anonymous Seeking Alpha author because the person(s) allegedly revealed the investment in Micron in a post before Greenlight disclosed its position with the SEC. Though this issue has been resolved, Einhorn argued that the website post drove up the costs of his purchases. Presumably in the eyes of the SEC, accumulating a large position in a company (perhaps via options) and then making the position public to reap huge gains is just fine (not saying that this is any investor's intention, but this is what is happening in many cases). It's clear that, while activist investors and hedge funds are not doing anything "wrong" (to our knowledge), they can gain a significant advantage over the everyday investor.
Corporations have a similar advantage. The most recent example that comes to mind is Coca-Cola (NYSE:KO) and Green Mountain (NASDAQ:GMCR). In February, Coca-Cola scooped up 10% of Green Mountain at $74.98 per share (the soda-maker has subsequently increased its stake to 16%). With shares of Green Mountain trading at $114 each at present (primarily as a result of optimism regarding the KO-GMCR partnership), the deal for just a small portion of the firm now looks incredibly savvy (given the substantial gain in Green Mountain's shares). If, for example, Coca-Cola were to now decide to acquire all of the remaining shares of Green Mountain, buying the 10% stake when it did will have saved the soft-drink giant's shareholders ~$650 million [(114-74.980)*16,684,139)], assuming the initial agreed-upon deal price to acquire all of the outstanding shares of Green Mountain in February -- not just 10% -- would have been at today's levels -- not at $74.98 per share (the price to consummate the transaction in February, however, could have been even higher). Coca-Cola's profit in Green Mountain is simply not a small number. It begs the question: should all M&A proceed this way (i.e. the suitor scoop up a portion of the target's shares on the cheap before disclosing that merger talks have begun)?
Fiduciary duties and the freedom of investors to pile on to any idea they want probably precludes any increased investor protections in this area, but the use of options to build large equity stakes to further magnify a seemingly "built-in" competitive advantage could be something that regulators look to in order to level the playing field for the common investor. Without a doubt, it's a lot easier to make money when one is effectively starting with a ~40% gain on a position, as in the recent example of Icahn and Family Dollar. Individual investors do not have this benefit, and it's worth re-evaluating whether any investor should. But with each passing day, this hidden advantage continues.
Disclosure: The author has no positions in any stocks mentioned, and no plans to initiate any positions within the next 72 hours. The author wrote this article themselves, and it expresses their own opinions. The author is not receiving compensation for it (other than from Seeking Alpha). The author has no business relationship with any company whose stock is mentioned in this article.