The bitcoin/cryptocurrency mining craze has finally come to an end. Well, that's wrong, what I meant to say is that GPUs can no longer effectively mine bitcoin. Therefore, the GPU market is set for some serious deceleration.
I had no idea that the rate of decline would be this severe. According to Digi Times:
Worldwide graphics card shipments are expected to decline 30-40% sequentially in the second quarter as vendors are suffering from excessive inventories, according to sources from graphics card players.
I never thought bitcoin mining could have such a material impact on Nvidia (NASDAQ:NVDA) and AMD (NASDAQ:AMD). But maybe it makes sense; after all, if you could mint a currency that's worth as much as gold or silver, wouldn't it make sense that enterprising individuals would build miniature server farms, and hash the living crap out of code to get their hands on some crypto-currency?
Extra background information
Before application specific integrated circuits were developed for Bitcoin, the demand for high-end CPUs surged. Soon enough, people thought of developing custom semiconductor solutions, which is basically what people refer to as ASIC. When using an ASIC the hash-rate drastically improves, which renders mass-market CPUs, or GPUs, less useful for crypto-currency mining.
To develop an ASIC (application specific integrated circuit), semiconductor engineers will modify the hardware design language, which in turn allows for optimization of computation, for a specific task. Well, in the case of bitcoins, ASICs were developed, and that in turn forced bitcoin miners to set-up shop as litecoin and dogecoin miners, as the scrypt based coins were thought to be ASIC proof. Well, soon enough, engineers began to develop ASICs for litecoin and dogecoin. And now, custom solutions are starting to hit the market. This renders standard GPUs (application standard specific products) vastly inferior for bitcoin or litecoin mining. This is because a single ASIC rig for litecoin mining could in theory replace 300-400 R9 290X GPUs.
Awkwardly enough, AMD mentions in every shareholder meeting that the company can develop custom semiconductor solutions in unique growth markets to sustain sales growth. What leaves me flabbergasted is that AMD didn't capitalize on the opportunity of bitcoin mining by developing an ASIC. Furthermore, NVIDIA did not design a custom solution for crypto-currency miners either. I'm sure the wizardry within these companies could have come up with a more competent solution. Instead, AMD quickly lets go of the market opportunity presented.
How will this impact AMD financially?

Quoted from AMD, table is by AlexLeAnders
Looking over the sequential quarterly data between Q4 and Q1, there's been some moderate deceleration due to seasonal factors. After all, demand for PCs and consumer electronics tend to taper following the holiday season. However, if we look over the y-o-y numbers, AMD has been able to exhibit fairly reasonable growth in the graphics and visual segment, this was driven by console demand (PlayStation 4, Xbox One) paired with bitcoin, litecoin mining.
However, going into Q2 2014, it's unlikely that bitcoin mining will drive top-line growth, as miners are investing heavily into custom semiconductor solutions leaving AMD out in the cold. Furthermore, AMD doesn't really have a chip that's customized specifically for bitcoin mining, or litecoin mining. Therefore, the company is reorienting its focus on its core competencies which involve semi-custom semiconductor solutions for game consoles, semi-custom solutions for mid- and high-end servers, and mass-market GPUs and CPUs.
Admittedly, AMD doesn't exactly break-down GPU sales. Therefore, I have no way of knowing how much revenue will come from this specific segment. However, analysts have been quick to act on the reports of sales-channel weakness, which is why I'm convinced that a decline in high-end GPUs will have a material impact. This is because the R9 series GPUs have above average ASPs, pair that with high volume, and sudden drop-off in demand following production ramp, and AMD may report weakening top-line sales well ahead of consensus estimates. I'm not sure how AMD sets up its retail distribution agreements, but if in case GPUs are sold on consignment, the impact will also hit bottom line.
However, I'm pretty convinced the retailers take on the inventory risk, and not AMD. In that case, what's likely to occur is falling shipments, which will give us an idea of how much impact crypto-currency mining has had over the years. My guess is that crypto-currency miners will no longer buy graphic cards, and will continue to build their PC farms using custom semiconductor solutions.
Does Nvidia dodge the bullet?
Well, yeah sort of. To be honest, Nvidia cards were considered to be vastly inferior for mining scrypt based crypto-currency. This means that the inflated demand, when deflated, will not impact Nvidia as much.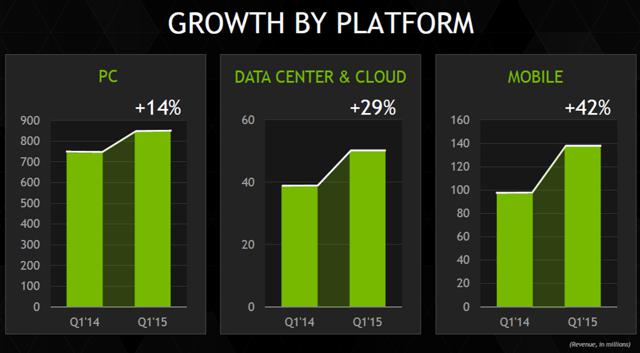 Source: Nvidia
Looking over key-segment data, Nvidia has been able to grow its data center & cloud business by 29% y-o-y and mobile by 42% y-o-y. Furthermore, infrastructure cloud (IAAS) is expected to grow quite significantly over the next five years; therefore, Nvidia seems to be well positioned. Also, Nvidia has been able to secure tablet and smartphone wins over the trailing twelve-month period, which gives the business more diversification when compared to AMD.
However, there's no denying that the vast majority of Nvidia's current revenue comes from PCs, and any modest deceleration in demand for whatever reason will impact results over the next six months.
Adam Gonzalez, an analyst from Bank of America, states:
While Nvidia is doing well in enterprise graphics, the consumer side has peaked, with gaming growth offset by mainstream PC declines... Nvidia derives ~30% of its EPS from fixed quarterly royalty payments from Intel and there is considerable investor debate on whether these will be renewed beyond their early 2017 expiration date.
I won't argue with Adam's assessment. Furthermore, I don't feel that I have enough visibility on the core business to determine whether Adam's estimates are conservative or optimistic. However, I believe that Nvidia will do better when compared to AMD in the gaming GPU market, as Nvidia's quarterly revenue weren't inflated by the crypto-currency frenzy.
Conclusion
Investors should be somewhat cautious of investing into AMD at present levels. As many have already pointed out, AMD seems to be a great trading vehicle. This is because AMD has yet to establish a consistent trend in financial performance. AMD seems to benefit from one-off events that boost revenues, rather than through strategic execution.
AMD mentions that it can grow through strategic product development in niche markets. And while focusing on niche markets is a great strategy, the volatility between quarters makes it excruciatingly difficult to buy-and-hold.
While Nvidia's consumer business is expected to peak at some point, the company has been able to grow its market presence in server and mobile. While these two segments represent a small sliver of total revenues, it's likely that these two segments will continue to grow, giving investors a more diversified source of revenue.
I think it's time to load up on Nvidia and avoid AMD for a couple of quarters. My opinion will change when we figure out the impact crypto-currency has had on AMD's top line and bottom line.
Disclosure: The author has no positions in any stocks mentioned, and no plans to initiate any positions within the next 72 hours. The author wrote this article themselves, and it expresses their own opinions. The author is not receiving compensation for it (other than from Seeking Alpha). The author has no business relationship with any company whose stock is mentioned in this article.