Although there are visible improvements in Zynga's (NASDAQ:ZNGA) business of late, the stock price doesn't indicate the same. Zynga's shares have lost 20% this year, even though the company has been making some positive moves. For example, its NaturalMotion acquisition has diversified its portfolio, while the company's moves in mobile are also impressive. So, is Zynga a good buy on the weakness? Let's find out.
A key acquisition
Earlier this year, Zynga acquired the gaming company NaturalMotion in a deal worth $527 million. NaturalMotion's Euphoria game animation engine is expected to help Zynga develop new games, as this is the only way for the company to prosper again and regain its lost position in the online gaming industry. Euphoria adds to the company's arsenal, as it has been the developer of successes like Grand Theft Auto V and Red Dead Redemption.
Although Zynga's stock is hovering near 52-week lows, the company has shown some big signs of improvement under the leadership of Don Mattrick. As you can see from the charts below, Zynga's DAU, MAU and bookings, which have been consistently going down for over a year, showed sequential improvement in the last reported quarter.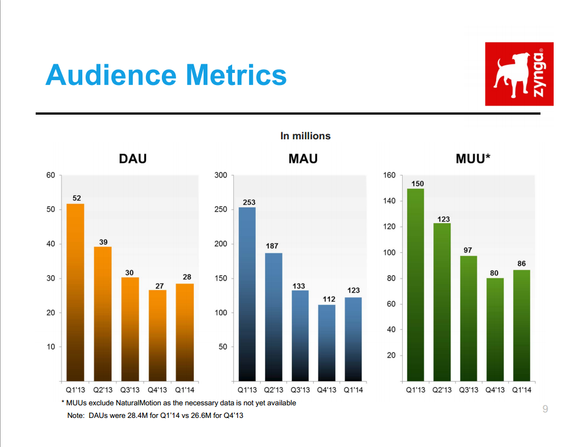 Source: Zynga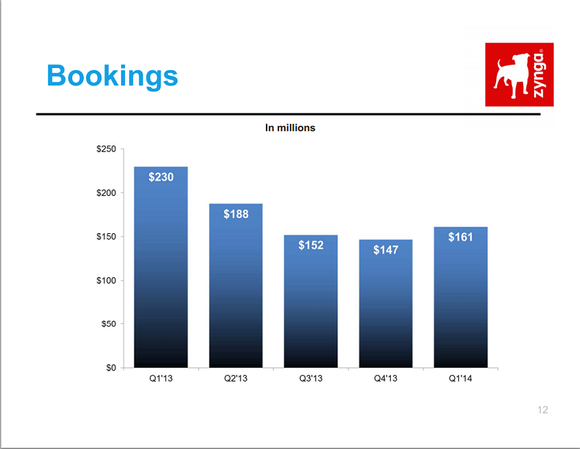 Source: Zynga
In addition, Zynga is also looking to win back investors' confidence by strengthening its mobile pipeline. Zynga's latest title, Hit it Rich! is now available on all platforms and is expected to perform well. Joe Kaminkow, Zynga's chief game designer of the title said,
"By blending the look and feel of real slot machines with iconic entertainment brands and free-to-play, social gaming elements, Hit it Rich! delivers consumers an authentic entertainment experience that mirrors the fun people have in real casinos around the world."
Zynga is trying to improve its bottom line by moving into the mobile gaming industry with NaturalMotion. NaturalMotion holds a strong position in mobile gaming with its racing games, and other games, such as Clumsy Ninja that hit 10 million downloads within seven days of launch. The acquisition of NaturalMotion should have a positive impact on Zynga's customer base.
Positive developments
The launch of FarmVille 2: Country Escape in sixteen different languages on Android and Zynga Poker are positives for the company. FarmVille 2 offers features such as connected gaming, so that the players can link the web game with their mobiles. It also lays down an attractive offline mode for its players to remain active even without an Internet connection.
On the whole, Zynga has gotten off to a good start in fiscal 2014, with the first-quarter results beating analysts' estimates. With the launch of its top three franchises, namely Zynga Poker, Words With Friends, and FarmVille on mobile, the company is heading toward a better performance in the future. Moreover, the global workforce reduction program of the company is a key part of its cost reduction strategy, which will help Zynga become profitable. Zynga is investing aggressively in its marketing strategies and innovation to support its vision. It plans to develop and launch more and more games to attract gamers globally.
With measures such as the above, Zynga looks set to prosper in the mobile gaming industry. With heavy investments and the acquisition of NaturalMotion, it is expected that the company will expand its business over time.
Conclusion
Although Zynga is going through tough times, it can get back on track. The company is making positive moves and looks set to get better going forward. So, investors should think of buying Zynga on its weakness, as it could yet deliver long-term growth.
Disclosure: The author has no positions in any stocks mentioned, and no plans to initiate any positions within the next 72 hours. The author wrote this article themselves, and it expresses their own opinions. The author is not receiving compensation for it (other than from Seeking Alpha). The author has no business relationship with any company whose stock is mentioned in this article.