Although investors have abandoned most natural resources, oil continues to hold above $100 per barrel making oil exploration one of the strongest businesses in the natural resource space. The public markets are characterized by most oil exploration stocks trading at multi-year highs and trading with valuations in the billions. One company in Utah provides an intriguing opportunity for natural resource investors looking for a high risk, high return scenario.
Virtus Oil and Gas (OTC:VOIL) is a U.S. oil and gas exploration company that launched in October 2013. The company is planning to drill a 12,000-foot test well in central Utah by September 2015 at an estimated cost of $2.5 million. It hopes to discover oil in the Central Utah Thrust Belt Region for Salt Lake City refineries and/or gas for Southern California.
The company plans to drill just one well - perhaps the most concise business plan amongst oil exploration and production companies - yet the public places $44 million worth of confidence in its success as reflected in its current market capitalization. With minimal debt, no historical revenue, and limited assets besides oil and gas interests, investors are hopeful that its drilling program will tap a sizable oil and gas reservoir. Or is the stock actually extremely cheap based on reserve prospects alone?
Being familiar with the surging values in the oil and gas sector, the valuation equation piqued my interest and prompted a deeper look into what appears to be a fascinating story.
Capital Structure
As of April 9, 2014, there are 48.3 million shares of common stock outstanding. The vast majority of common stock (46.9 million shares) were issued in 2009 by the predecessor that terminated operations in 2012 and was overtaken by Virtus Oil and Gas in 2013.
Shareholder dilution has been minimized, with most share issuances raising cash to the balance sheet and thereby counterbalancing the issuance. Moreover, institutional investors in these issuances have agreed to favorable prices ranging from $0.33 to $0.40 per share. Barely priced below the Volume Weighted Average Price ("VWAP"), these issuances are particularly friendly to common shareholders given the early stage of this company.
Feb. 2012: 500,000 shares sold to raise cash at $0.40 per share
Nov. 2012: 300,000 shares sold to raise cash at $0.33 per share
Nov. 2012: 100,000 shares sold to raise cash at $0.40 per share
Jul. 2013: 150,000 shares sold to raise cash at $0.3333 per share
Oct. 2013: 250,000 shares sold to raise cash at $0.40 per share
Jan. 2014: 250,000 shares sold to raise cash at $0.40 per share
Feb. 2014: 250,000 shares sold to raise cash at $0.40 per share
Virtus Oil and Gas has limited cash and will need to pay administrative expenses and the estimated $2.5 million to drill the first well. The company will undoubtedly have to issue more shares in future periods. With the stock trading around $0.92 now, the dilution will be lower than prior periods.
Corporate Timeline
In October 2013, Virtus Oil and Gas overtook the public listing of a failed food catering business and concurrently acquired its oil and gas interests in Utah. Founded and operated as a simple company aimed at drilling one well as its first phase of operations, subsequent SEC filings consist mostly of customary paperwork and personnel hires.
The company is rapidly evolving with new management members and recently acquired assets making the situation very fluid.
Parowan Project Overview
Virtus Oil and Gas's singular focus is its Parowan Project in Utah. Located approximately 110 miles south of Wolverine Gas and Oil's Covenant Oil Field, which has already produced 3.1 million barrels, the company claims that its Parowan Prospect "may hold as many as one billion barrels of producible reserves of oil."
Virtus Oil & Gas will pay the estimated $2.5 million cost of drilling a 12,000-foot vertical test well in the Parowan Project by September 1, 2015. If results from this test are overwhelmingly positive, the company could outright sell its 87.5% working interest and 80% net revenue interest in the relevant oil and gas leases. If somewhat positive, the company will likely fund additional tests. If mediocre or poor, the company will likely abandon the project and pursue other domestic shale oil and gas opportunities.
Fortunately, the Parowan Project has some history. In 2008, Delta Petroleum drilled a test well approximately eight miles east of the Parowan Prospect. These test results were favorable. Moreover, COO Brett Murray recently agreed to join Virtus Oil & Gas after working on a $1.4 billion divestiture at Anschutz Exploration, an $80 million Sundance Energy Australia divestiture, and a $114 million Bakken divestiture. That he decided to join as COO speaks to the likelihood of a significant oil deposit.
In May 2014, Gustavson Associates conducted a probabilistic resource analysis of the Parowan Project. According to the report, the reservoirs contain mostly oil with some associated gas. It is expected that the oil will have an API gravity ranging from 26-40 degrees. Below are the results of the firm's analysis.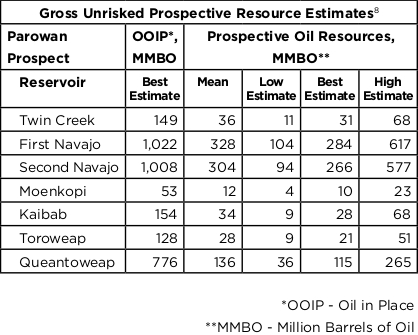 It is important to note that the resources in this report are categorized as Prospective Resources as defined below in the Gustavson report:
Prospective Resources are those quantities of petroleum estimated, as of a given date, to be potentially recoverable from undiscovered accumulations by application of future development projects. Prospective resources have both an associated chance of discovery and a chance of development.
Some important notes is that the report was published in April and only includes the 36,787 acres in the Tidewater deal. Of those acres, the report suggests that only a small percentage of the acres (7,120 acres) have data and information with oil prospects provided to Gustavson.
Interesting Potential
Although the oil and gas potential of this specific well is difficult to determine, the value proposition is undeniably significant. Rarely does a stock outside of the biotech sector rely so heavily on one test result. With advanced drilling technologies and seismic data, the probability of success is greatly enhanced for a wildcat well though the risk of failure still exists.
Depending on how investors view the risk, the business plan of drilling one test well by next year places the $35 million market capitalization of Virtus Oil and Gas in an interesting position. With leasehold assets apparently containing millions of prospective barrels of oil, the market value approximates a very low present value of a positive outcome on the well.
As an example, a recent deal in the Eagle Ford for 106,000 net acres was seen as cheap at $639 million. Of course, that deal included proved reserves and current producing wells, but the acquirer in Sanchez Energy (NYSE:SN) viewed the resource potential at only 500 million barrels of oil equivalent, or less than the Gustavson Associates report on the leases acquired by Virtus.
In another example, RSP Permian (NYSE:RSPP) only owns 39,250 net acres in the Permian Basin, yet the stock has already obtained a valuation of $2.3 billion. The company has limited operating history and production only hit 9,339 Boe/d in the first quarter.
The nearest major oil field lies 110 miles to the north and has produced 3.1 million barrels to date. Overall, the State of Utah is ranked 11th in U.S. crude oil production and 10th in U.S. natural gas production. Utah has produced 1.2 billion barrels of oil. Utah is home to 11,200 producing wells owned by companies such as Anadarko (NYSE:APC), Wolverine (NASDAQ:WBKC), Newfield (NYSE:NFX) and Marathon Oil (NYSE:MRO).
Clearly, the leases owned by Virtus aren't in the lucrative Eagle Ford Shale or Permian Basin, but investors should not ignore that Utah has seen successful drilling in the past suggestive that this project has real prospects. According to these examples, the market has been very receptive to stocks with potential for production growth.
Undeniable Risks
Virtus Oil and Gas is basically operating as a wildcatter with limited financing and a new management team. Even with the resource potential estimated by Gustavson, the company faces higher than normal risks due to the risks of the one well failing due to either technical issues or even drilling slightly off target and missing the oil. On top of that, the company will need to prove that the recoverable oil is significant enough to exceed the drilling and completion costs in order to obtain the financing for the next well.
Goodrich Petroleum Corp. (NYSEMKT:GDP) plunged over 50% in a matter of months as its well results in the up and coming Tuscaloosa Marine Shale under whelmed the market. The exploration firm eventually rebounded as it improved results on the following wells, but Virtus Oil and Gas may not get that opportunity.
The risks are undeniably higher without financing in place for a multi-well program. A lot of the successful exploration firms in the new shale plays took several development wells and years to improve techniques before eventually drilling profitable wells.
Conclusion
The attractive economics of developing oil reserves with oil prices exceeding $100 per barrel makes the Virtus investment worth a look. The company has acquired some interesting leaseholds in Utah for limited cash investments, yet the potential for the production of a large amount of oil exists.
The stock is a high risk with the length until the test well over a year off. In addition, any unsuccessful test would devastate the value of the leases and this stock. As well, the company lacks finances to develop this project requiring further dilution or issuance of debt. Ultimately, though, a successful well would send this stock significantly higher providing investors the intriguing opportunity to invest in a very high risk/high return driller. Investors though face significant risks that even if oil is discovered that the company won't be able to produce enough to survive and profit from the discovery.
Disclosure: The author has no positions in any stocks mentioned, and no plans to initiate any positions within the next 72 hours. The author wrote this article themselves, and it expresses their own opinions. The author is not receiving compensation for it (other than from Seeking Alpha). The author has no business relationship with any company whose stock is mentioned in this article. The information contained herein is for informational purposes only. Nothing in this article should be taken as a solicitation to purchase or sell securities. Before buying or selling any stock you should do your own research and reach your own conclusion or consult a financial advisor. Investing includes risks, including loss of principal.
Editor's Note: This article covers one or more microcap stocks. Please be aware of the risks associated with these stocks.