Dividend Aristocrats are those companies in the S&P 500 that have increased their annual dividend payments for 25 straight years. This group of stocks has outperformed the S&P 500 over the last few years.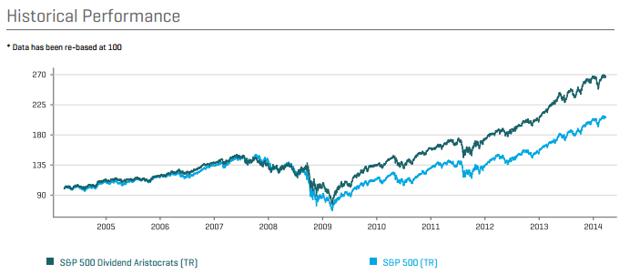 Source: S&P
But are all Aristocrats buys? You might even think those Aristocrats having the longest streaks would be worthwhile, but that isn't always the case.
First is Dover Corp. (NYSE:DOV), which has the longest streak, coming in at 58 straight years. Its dividend yield comes in below the average S&P 500 yield. Dover's dividend yield is 1.65%, versus the S&P 500 average yield of 1.9%.
Dover also has a high P/E-to-growth ratio at 3.5 PEG. Its return on investment isn't all that great at 13%, and the 70% debt-to-equity is fairly high. Shares are already up near their 52-week high, and its stock price is up 160% over the last five years, which has pushed its current yield well below its 5-year average of 2.3%.
Dover is a conglomerate producing various specialized industrial products and manufacturing equipment. It is somewhat diversified, with four key segments, including engineered systems (35% of revenues), energy (25%), food equipment (22%), and fluids (18%). But the company has a number of headwinds, namely high materials costs (such as metals and oil), which will squeeze margins. Limited credit availability has also hurt major capital spending, which drives Dover's businesses.
Second, with 57 years of consecutive dividend increases, is Procter & Gamble (NYSE:PG). The consumer products giant pays a 3.2% yield. Its 5-year average dividend yield is 3.1%, and Procter & Gamble has been growing its dividend faster than the industry. Its 5-year average dividend increase has been 9.5% annualized, compared to 9% for the industry average.
Procter & Gamble is a global consumer products company. It's also a very big player in international markets, with a focus on developing markets. It sells its products across 180 countries, and has over 25 brands that generate between $1 billion and $10 billion in sales annually.
The key for shareholders is that P&G is a free cash flow-generating machine. Last year, it generated $11 billion in free cash and converted 96% of earnings into free cash. That's well ahead of its 90% free cash-to-net income target. In 2012, the FCF-to-net income conversion was 90%, and 84% in 2011.
The company is not only putting that cash to work for shareholders via dividends, but also share buybacks. During fiscal 2012, it bought back $4 billion in stock, and in 2013, it bought up $6 billion. It's targeting $6 billion in buybacks for this year as well. Over the last decade, P&G has managed to return nearly $100 billion to shareholders.
Third is Emerson Electric (NYSE:EMR), having increased its annual dividend payment for 57 years, and with a current yield of 2.5%. Emerson is a diversified global manufacturing and technology company. Its products cover climate technologies, network power, professional tools, appliance solutions, motor technologies, and industrial automation. It's a big play on global infrastructure spending and improving energy efficiency.
As emerging economies grow, there will be an increasing need for infrastructure investment. One key example is the adoption of air conditioning in Asia. During the first quarter of 2014, its operating cash flow was up 8% year-over-year, and it plans to use its cash flow to tap the M&A market. The focus will be on tapping new technology and gaining exposure in new geographical markets.
Genuine Parts Company (NYSE:GPC) is fourth on the list, with 57 years of dividend increases and a current yield of 2.6%. This is the second stock on the list of our 5 longest-running aristocrats that I'm not a fan of. Its 26% debt-to-equity ratio is appealing and its 48% dividend payout ratio is reasonable, but its P/E to growth ratio is 2.6. As well, Genuine Parts has only managed to grow its dividend at an annualized rate of 6.6% over the last five years, compared to the 14% industry average.
Genuine Parts distributes automotive and industrial replacement parts in North America. The sluggish demand for industrial and office products has been a drag for the company. This comes as employment remains high and offices are shifting toward digital products and services. On the auto parts side, Genuine Parts has failed to boost prices, given the rising competition and pushback from retailers.
Fifth is 3M Co. (NYSE:MMM). This global technology company has been increasing its dividend for 55 years. Its current dividend yield is 2.36%. Its PEG ratio is 1.9, which isn't the best you'll find in the market, but it's the lowest of the five.
I'm also very encouraged by 3M's 20.5% return on investment, and its payout ratio is only 39%. 3M is one of the better plays on China. Only about 10% of its revenues are generated via China, but the company believes that it can grow Chinese revenue by 15% over the next five years. The two biggest opportunities are China's push to reduce pollution and boost water quality.
3M is a very recognizable name, with home products that include Post-it, Scotch, Scotch-Brite, and Scotchgard. Part of 3M's business market includes its ability to convert high R&D spends into market share gains. It consistently spends around 5.5% of its revenues on R&D, but it has managed to grow revenue by an annualized rate of 5.4% over the last decade.
Bottom line
A company that has increased its dividend payment for over a half a century isn't always the best place to park your money. Granted, dividend investing is a great way to build wealth (just look at the outperformance of the Aristocrats versus the S&P 500), but trying to single out a stock based on its consecutive dividend increase might not be the best strategy. With that said, there are a few that are worth a closer look, including P&G (given its cost cutting and exposure to emerging markets), Emerson Electric (due to its strides in energy efficiency), and 3M (thanks to its opportunity in China).
Disclosure: The author has no positions in any stocks mentioned, and no plans to initiate any positions within the next 72 hours. The author wrote this article themselves, and it expresses their own opinions. The author is not receiving compensation for it (other than from Seeking Alpha). The author has no business relationship with any company whose stock is mentioned in this article.