Despite the recent run in the price of gold mining stocks over the past few weeks, Barrick Gold (NYSE:ABX) still remains well behind its peers on a year-to-date basis; Barrick is down over 2%, while Newmont Mining (NYSE:NEM) is up about 8% and Goldcorp (NYSE:GG) is up over 25%. While much of the punishment was well justified, given many of the steps that the company has taken, the stock now looks like it offers a particularly appealing opportunity. Barrick has largely cleaned up its balance sheet, constructed a diverse portfolio of projects, and achieved favorable valuation metrics for the space. With the gold mining space, Barrick is a buy at current levels.
Not a Consensus
While Barrick does have its supporters, Wall Street is not fully sold. A little over a week ago, UBS lowered its price target on the stock from $21.75 to $18.50, driven largely by weak expectations for gold. Barron's reported on the stance taken by analysts Joshua Wardell and Brian MacArthur:
UBS's precious metals analyst, Edel Tully, believes the gold price push of late has largely arisen from short-covering, rather than the emergence of new buyers. Compounding the difficulties facing the gold demand environment, UBS economists believe the Fed 'will not alter their tilt toward tapering nor interrupt their debate about when to tighten and how quickly' given the emergence of encouraging U.S economic data points. Together, Edel Tully believes this lack of fresh demand coupled with the improving U.S economy will result in gold remaining in a range-bound state. UBS forecasts gold prices declining from $1,300/oz to $1,200/oz in 2015.
Weakening gold prices are a significant negative for miners, particularly when you remember that miners tend to provide a leveraged position relative to the price of the underlying commodity.
Positives
Barrick's stock price was beaten down as a result of a series of negative news events, many of which have been faced and corrected. The company addressed its overleveraged balance sheet by completing a secondary equity raise near the end of 2013 and weather the failed merger attempt with Newmont. Heading into the rest of this year, the company has a world class portfolio that includes two significant U.S. projects: Gold Rush and Turquoise Ridge. The latter is in the midst of a pre-feasibility study that, if successful, would allow the mine to expand from its current 6.7 million in reserves over the next five to eight years up to 75%.
In addition to its solid portfolio, the company has achieved an impressive $833 per ounce all-in-sustaining cost in the first quarter of 2014. This beats peers, with Newmont coming in at $1034 and Goldcorp at $840 for the same period. Particularly given the potential for fluctuation in gold prices, being a low-cost provider is a significant positive for the company. Barrick has rededicated itself to running efficiently, and while these results are present, the stock has not been fully rewarded by the market.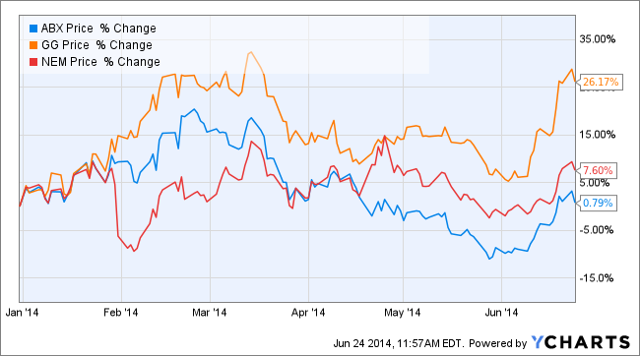 Finally, Barrick's metrics look particularly favorable relative to these same peers, when the above factors are considered as well. On EV to EBITDA, Barrick is in line with Newmont around a measurement of 6, with both well below Goldcorp above 22. Barrick offers a 1.1% dividend yield, better than Newmont at 0.4%, but below Goldcorp at 2.2%. Overall, the stock looks priced to perform, and given how much it has lagged, it should be a solid gold holding at current levels.
Disclosure: The author has no positions in any stocks mentioned, and no plans to initiate any positions within the next 72 hours. The author wrote this article themselves, and it expresses their own opinions. The author is not receiving compensation for it (other than from Seeking Alpha). The author has no business relationship with any company whose stock is mentioned in this article.