In prior reports, I outlined my view on why I value shares of Provectus (OTC:PVCT) at $0. PVCT remains wildly overvalued with an estimated fully diluted market cap of ~$200m, which I believe creates at least -90% near-term downside risk before PVCT eventually goes bankrupt.
I think the case for PVCT hinges on the market's view of management's credibility and the outcome of the Phase 3 trial. Unfortunately, new research shows PVCT's Phase 3 trial seems clearly unviable (raising questions about management motives), PVCT's own documents indicate this Phase 3 trial is unviable1 and PVCT's cash seems woefully insufficient to complete the trial while management appears elusive on this topic as recently as last week's conference call. Most importantly, the study seems designed in such a way that it seems effectively incapable of enrollment and completion in my view. Keep in mind this is the same management team that has not started Phase 3 trials for 4 years (so far) while collecting an estimated ~$30m in compensation over that timeframe.
Perhaps most concerning, new research proves PVCT's has connections to paid stock promotion firm "Hunter Marketing", the firm which paid Small Cap Street $10k for promoting PVCT. I believe these connections appear irrefutable and seem contradictory to PVCT management's statements to investors. Could investors who PVCT raised money from while PVCT stock may have been artificially inflated due to paid stock promotion sue PVCT and demand their money back? Could this accelerate a potential PVCT bankruptcy?
Why would PVCT management ever pursue a Phase 3 trial that seems to me to be incapable of completion and could take many years longer than expected? The third section of the report covers PVCT management's history of compensation so excessive they were sued and forced to give some of the money back to shareholders. I include the related shareholder lawsuit (with full documents linked) PVCT had to settle, along with new fraud allegations PVCT is facing in court (with full documents linked).
With more dilution on the horizon, little cash, NYSE de-listing risk and a trial that seems effectively impossible to enroll to me, I see only negative catalysts in the near term and reiterate my price target of $0.00. I believe investors will not be willing to continue funding incredible management compensation or the accelerating cash burn. I expect PVCT will run out of money at that point and go bankrupt, leaving the equity worthless like the many companies connected to the individuals involved here.
PVCT's Highly "Questionable" Phase 3 Trial Seems Totally Unviable
Based on "apples-to-apples" comparisons with other recent or ongoing trials, PVCT's own data, and an industry standard clinical-trial mathematical analysis, I believe:
PVCT's proposed Phase 3 trial does not have enough patients to be credible.
Trial Duration is far too short to produce useful data or have a credible shot at FDA approval.
Most shockingly, the trial appears to be designed in such a way that it seems effectively incapable of successful enrollment or completion.
PVCT is not even close to having enough cash on hand to finish the trial, management's answers seem evasive on this topic.
PVCT management actions imply imminent shareholder dilution and more equity issuance.
It's very unlikely a partnership agreement with a large pharma company will be reached soon (I personally doubt this will ever happen) as management has already been touting this for years.
PVCT Phase 3 Trial Design Appears Obviously Unviable
On the June 3 conference call, PVCT management offered an extremely rough outline of its proposed Phase 3 trial for PV-10 (Rose Bengal) in locally advanced refractory cutaneous melanoma. Management said the randomized, multi-center trial would likely include 210 patients randomized 2:1 (drug vs. standard of care). PVCT expects to start enrolling patients later this year and for that process to take 18 months. The trial would follow patients for just 12 months and interim data will be available after 50% of the expected events occur, which management put at 15 months after patient accrual begins.
I believe investors who are not experts on clinical trial design for melanoma may be misled on the implications and details of this trial.
Let me explain the four primary reasons this Phase 3 appears to me to be totally unviable:
1. Phase 3 trials for melanoma typically require a much larger sample size than just 210 patients. For example, Amgen enrolled over 400 patients for its Phase 3 for its intralesional drug (talimogene laherparepvec or "T-VEC") in advanced melanoma. Merck's Phase 2 trial for Pembrolizumab (MK-3475) in advanced melanoma has enrolled 510 patients. Even Vical's failed Allovectin cancer trial (which PVCT's doctor Agarwalla was involved in) enrolled 390 subjects, nearly double PVCT's proposed patient population.
a. If Agarwalla's failed trial had 390 patients, why does he expect a successful response from the FDA for a much smaller trial of only 210 patients? How could the FDA possibly establish a significant improvement in overall survival and increase in lifespan of cancer patients in such a short period of time with that tiny patient population?
Vical's Stock Chart After Allovectin 390 Patient Phase 3 Trial Failure (that's going to leave a mark)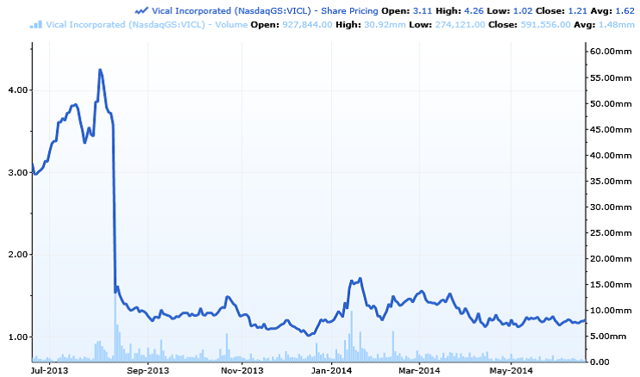 (Chart source: CapIQ)
b. In fact, PVCT's OWN DOCUMENTS indicate they previously thought 210 patients would be insufficient, as they targeted 300 patients!

(from PVCT's own 2010 ASCO poster)
2. The Phase 3 trial is far too short to generate the necessary data in my view. It seems clear to me, and PVCT, that the FDA is focused on overall survival (OS) and it takes a long time to prove a benefit there. Furthermore, the idea that PVCT will be able to stop such a trial midway through and potentially attract a partner based on interim data also seems not credible.
Merck's trial for Pembrolizumab for example, started in November 2012 and requires 24 months of follow-up data. Clinicaltrials.gov shows the estimated completion date for data collection in the Pembrolizumab study as March 2015, or a full 28 months after the start date. Final study completion is not expected until January 2016, or 38 months after start.
a. Don't take my word for it though, just think about it logically to yourself: Does it really make sense to you that the FDA would approve widespread use of something as serious as intra-lesional injections of Rose Bengal in late stage cancer patients based on just 12-15 months of data based on a small number of patients? Do you truly believe the level of statistically significance the FDA requires about improvement in survivability can be proven in late stage cancer patients with less than 18 months of data?
b. PVCT itself previously estimated Phase 3 study duration of 30 months…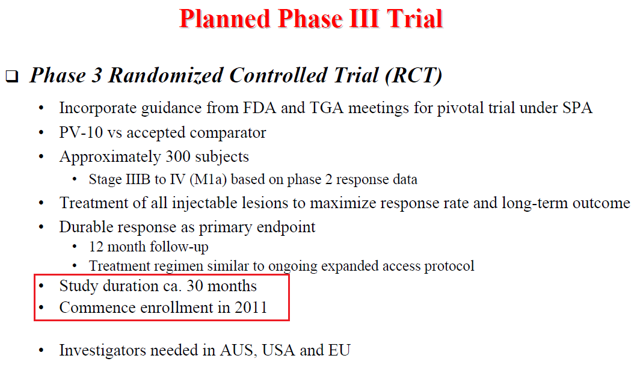 (PVCT's own 2010 presentation in Sydney at SMR)
c. In 2012, PVCT's own doctor Sanjiv said:
phase 3 trial of PV-10 is expected to include up to 300 subjects with stage IIIB-IIIC melanoma… Enrollment in the 30-month trial is scheduled to begin in the second half of 2012.
3. PVCT's targeted patient population seems impossible to enroll in a timely manner to me.
a. All the above objections above may be irrelevant though as, upon deep dive of the trial details, the Phase 3 trial enrollment criteria appears designed in such a way that completing trial enrollment in any reasonable time frame seems virtually impossible to me.
b. What follows is an unusually detailed "nuts and bolts" discussion of patient enrollment, if you are a shareholder this is extremely important for you and I recommend you read this a few times if necessary until you understand it perfectly.
c. PVCT apparently proposes patients with cutaneous melanoma that are B-raf negative and have progressed following immunotherapy. I believe this is a very, very small potential population to try and draw patients from. It seems that ~60% of patients harbor b-raf mutations and would have to be automatically excluded.
d. Of the remaining patients, they would then progress to immunotherapy, which typically has very high response (~55%) and disease control (nearing 95%). By the time patients get through these requirements, the patients who are left and eligible for PVCT's trial are going to be extremely few.
e. Then, of the patients who have progressed following immunotherapy, they probably won't live very much longer (tragically) and, due to cancer spreading, likely will not be "M1a" at the time they progress so they also would also seem to be ineligible for PVCT's trial.
M1a: Metastasis to skin, subcutaneous tissue, or lymph nodes in distant parts of the body, with normal LDH levels.
Enrolling 210 patients who fit all this strict criteria and are willing to sign up for this controversial study is going to be nearly impossible in my view. If it is even possible, it could take many, many years to fully enroll this study, which I believe is already too small.

Is this why PVCT has backed down from their own initial estimates of 300 patients for the Phase 3 trial? (which is also too small by my estimates)
f. Now follow this very carefully because it is critical: for powering the study, we can assume patients live 24 months, based on the AMGN T-vec data. Note the T-vec patients were sicker so the median overall survival could be longer for PVCT, potentially necessitating a larger trial to show it. So I assume a 90% power at p=0.05 to detect a 3 month difference on a 24 month baseline. Furthermore, assume 12 months to enroll and follow for 36 months after completing enrollment, with 1:1 randomization…
Using these estimates: N=2,231! (as in over 2 THOUSAND patients) to fulfill this study based on these estimates.
As a result, I believe PVCT's Phase 3 trial, as currently proposed, is effectively incapable of being enrolled.
Plunge-igo Montoya Weighs in on the PVCT Phase 3 Clinical Trials: "Clinical trials? You keep using those words. I do not think that means what you think it means."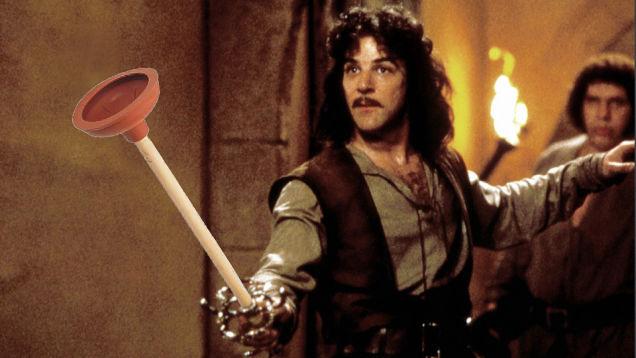 (picture source: created by me with credit to "Princess Bride" for awesome original)
Considering PVCT has already been told by the FDA there is a "paucity of data" for a compound where "the preclinical data do not demonstrate substantial improvement over existing therapies" pursuing this half-cocked trial seems suicidal for shareholders to me.
4. PVCT's Cash Balance Seems Woefully Insufficient to Complete Phase 3 Trial, Management Actions Imply More Dilution Coming Soon.
a. Even if you disagree with the above, PVCT's cash balance doesn't even seem to me to be enough to complete the inadequate Phase 3 trial they have proposed, let alone something more credible. Even more upsetting, PVCT management seems elusive when asked this very simple question about having sufficient cash for Phase 3 trial completion.
b. PVCT ended the March quarter with $16.6mm in cash and further diluted shareholders by raising an additional $4.3mm through a private placement in April with Network One Financial, a questionable underwriter who has faced fraud allegations discussed in my first report. This ~$20.9mm in cash minus a -$2.8mm burn in Q2 should leave PVCT with ~$18.1mm in cash. I don't see how this is remotely sufficient to fund even their apparently inadequate Phase 3 trial.
c. PVCT is currently burning ~$11m per year just for normal operations and I estimate PVCT's currently proposed Phase 3 trial will take ~2 years before sufficient data is gathered and compiled in a way where PVCT can move forward.
d. PVCT should need to keep $3-4m in cash just to avoid the "going concern" statement from their auditor and avoid delisting issues so I estimate that is effectively cash they have to keep on hand and is not available to be spent.
e. Furthermore, CROs that manage these trials typically put the cost at ~$75,000 per patient for a Phase 3 oncology trial. Even if we assume PVCT's short timeline is sufficient and 210 patients is enough, the trial will cost ~$15.75mm. If PVCT were to attempt a more credible study of 400 patients, Phase 3 trial cost would jump to $30m.
f. Assuming at least two years of cash burn at the same rate, $22m, and a $15m trial cost, plus $3m of cash necessary to avoid a "going concern" statement, I estimate PVCT needs ~$40m of cash just to complete their proposed Phase 3 Trial of PV-10. With a more credible trial and 400 patients, total cash needs over the next 2 years jump to $50m+. The current ~$18m PVCT has is not even close to enough cash to complete a trial as far as I can tell

g. None of this includes any potential cash burn from the lawsuits PVCT faces, the cost of any potential regulatory costs or the potential for shareholders who feel misled to demand cash returned through legal action.
h. No matter how I look at it, there is a giant looming cash shortfall that PVCT simply doesn't have. Of course, should a larger or longer trial with more follow up be necessary or if the FDA requires additional data, follow on studies or has any special requests, PVCT's cash shortfall will only increase.
i. The cash question is crucial because: what if PVCT can't get cash or goes bankrupt then what good was it to even attempt the trial? Or what if shareholders are brutally diluted (more) and their ownership is reduced to an immaterial fraction of what they started with?
j. Worryingly to me, management does not seem to provide particularly clear answers on this topic. Skip to 26:30 of the latest call to hear management apparently fumble the seemingly simple question from Sandy of how much the study will cost:
we have adequate capital to do the work that Eric has outlined, certainly to get to the interim analysis, but we have adequate capital, the phase 3 study I believe it is fair to say is going to be well managed in terms of the cost… the overall cost of the study should be, based on our history, well within our adequate capital. For the entire study. But certainly we've been saying we'll get to the interim analysis, the interim read out on the existing capital.
Uhh… what? Where in that response is your estimate of the cost of the trial? The investor just asked you how much the study would cost and if you have enough cash to complete it but you are responding about "interim analysis" and "interim readout." This does not appear to be a straight forward answer to me and this, along with simple math, does not indicate they can complete their trial with the cash on hand.
What will PVCT do if investors simply will not continue to provide them with more cash in exchange for more and more stock shares?
5. Management's Actions Imply More Near Term Dilution for PVCT Shareholders
a. Unsurprisingly, PVCT's lack of cash seems further reinforced when one looks at PVCT management's actions. In PVCT's recent proxy statement the company asked shareholders to vote to increase the total authorized share count:
approve and adopt an amendment to our Certificate of Incorporation to increase the number of shares of common stock, par value $.001 per share, that we are authorized to issue from 250,000,000 to 300,000,000 shares
b. The only reason a company would try to make this type of amendment is anticipation of future share issuance. If PVCT thinks they have enough cash or thinks a partner is coming soon why are they signaling they plan to issue even more shares? How long can this go on?
c. As a reminder to readers, PVCT shareholders have endured crushing dilution of 2,060% so far. I expect continued material dilution: if PVCT increases its total share count to 300m that is an additional 50,000,000 shares to be issued.
Note, PVCT's management team has waited 4 years to begin Phase 3 trials. A 2010 article was expecting PVCT Phase 3 trials in 2011, then this article in 2012 stated PVCT phase trials would begin in late 2012 or early 2013.
What possible motivation could PVCT management have to engage in an unviable study? Why would PVCT management ever wish to delay or pursue a trial that could take many years to be completed?
I estimate management made a whopping $30.3 million of stated compensation during the "gap" period in PV-10's history between the Phase 2 trial and 2013 alone!

(chart source: my own estimate using SEC filings)
PVCT Management: Forced to Pay Back Excessive Compensation, Now Facing Fraud Allegations and More Lawsuits
Investing in speculative and early stage ventures hinges on both management quality and also your trust in them to look after shareholder value in a selfless manner.
PVCT management allegedly granted themselves such egregious compensation they were sued by shareholders and then, in an incredibly rare outcome, have been forced to repay some of this compensation. For insight into how PVCT management apparently thinks about PVCT shareholders I would like to post the various documents involved in full here for the public good as I do not believe PVCT shareholders understand the implications of giving their money to this management team.
The Kleba Lawsuit (in full here) alleges management essentially paid themselves 1.05m options in both 2010 and 2011 when PVCT's compensation plan clearly limits that to 100k options per person (section 7.2(d)). As a result of alleged "breach of fiduciary duties and waste of corporate assets" for just the years in question, PVCT's only 4 executives received $11.2m in bonuses. The $4.8m in 2010 bonus for example, constituted 57% of the company's R&D costs (R&D was just $8.4m). While Kleba only owned PVCT shares since 2008 and so could not sue for insiders' actions prior to this date, the footnote in the lawsuit indicate PVCT's management team was violating the shareholder approved stock plan for years back in 2004, 2005 and 2006 also. The "settlement" proposed is shocking as are the details.
Furthermore, due to recent issues PVCT management now faces a barrage of fraud allegations and lawsuits from shareholders. Examples include lawsuits cv-01263, cv-01245, cv-01243, and cv-01231.The allegations in these lawsuits are serious, ranging from "making false statements" to "failing to disclose adverse facts known to them about Provectus." Even worse "defendant's fraudulent scheme and course of business that operated as a fraud or deceit on purchasers of Provectus securities…" I strongly recommend you read these lawsuits I have posted for you in the footnotes.
I would be careful investing in management teams facing fraud allegations, more lawsuits and have a history of violating shareholder approved compensation plans, resulting in forced legal action regarding paying themselves egregious amounts of money.
PVCT Demonstrable Connection to "Hunter Marketing" Appear to Contradict Management's Public Statements.

Small Cap Street LLC has promoted PVCT stock, including issuing a "research" report in January with a $62 price target, which would value the company at an absurd $15.5 billion. Small Cap Street says that an entity called Hunter Marketing paid $10,000 for this promotion. PVCT management has denied any connection to Small Cap Street or Hunter Marketing for the purpose of publishing promotional research on the company. Specifically in the following public statement:
The article indicates that Provectus is 'connected to questionable stock pumpers promoting PVCT including Small-Cap Street LLC.' To the contrary, Provectus is not connected in any way to Small-Cap Street LLC or any other similar promoter.
However, my research shows PVCT is indeed connected to stock promotion firm Hunter Marketing, Darren Lopez, and Kip Eardley. My research appears to me to contradict this public statement by PVCT management and, along with the BTD disclosure fiasco, I find the discrepancy concerning both from a management credibility standpoint and also that I personally do not believe credible companies should be associated with paid stock promotions.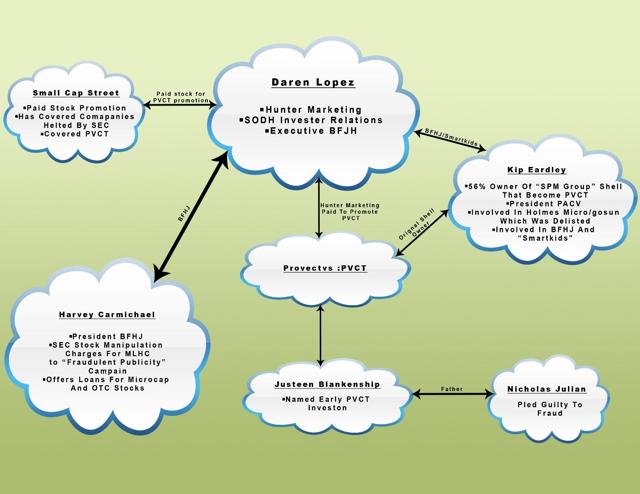 2
(chart source: made by me using publicly available information)
Explaining the Curious "Hunter Marketing" and Darren J. Lopez Connection to PVCT:
The website Huntermarketing.co says it's a service of Hunter Marketing LLC. The company offers a variety of public relations services to public companies. The disclaimer notes it is paid by the companies it promotes, which raises the question of whether PVCT hired Hunter directly? From the disclaimer page:
Huntermarketing.co is a service of Hunter Marketing, LLC, a financial marketing and investor relations firm that has been compensated by the companies profiled. All direct and third party compensation received has been disclosed within each individual profile in accordance with section 17(b) of the Securities Act of 1933…
Hunter Marketing, LLC, and/or its affiliated will hold, buy, and sell securities in the companies profiled…
This sounds pretty "similar" to a stock promotion firm to me...
The Whois.com lookup shows HunterMarketing.co registered to a proxy domain site. However, InvestmentAce.com is apparently another site registered to Hunter Marketing LLC, to a "Carrie Lopez" in Utah. The phone number also appears to be Darren J Lopez's phone number used for Hunter Ventures LLC as well and not only does the address shown appear to be Darren's but it also seems connected to an apparent "shell company farm" called "Corp 95." Looking up Utah's corporate registration site for Hunter Ventures LLC shows:
HUNTER VENTURES, LLC
Entity Number: 5928032-0160
Company Type: LLC - Domestic
Registered Agent: DARREN LOPEZ
I believe this means Hunter Marketing appears to be run by and connected to Darren J. Lopez and his apparent wife Carrie Lopez3. Unfortunately for shareholders, Darren Lopez also seems to have connections running back 10 years to a Utah stock promoter and shell company creator named Kip Donan Eardley, a 56% owner of SPM Group Inc., the shell company that BECAME "Provectus Pharmaceutical, Inc." via a reverse merger.

Lopez showed up as a 5.2% holder (3.75mm shares) of Source Direct Holdings, Inc. (OTC:SODH), an unprofitable Nevada incorporated marketer of cleaning products, in an SC 13G filing dated 4/28/04. His listed address is the same one listed for Hunter Ventures and appears to be Darren Lopez's house?
Lopez is listed in SODH's 10-K (9/10/04) as a Consultant affiliated with Ageless Enterprises, LLC, identified as a "Utah limited liability company controlled by Darren J. Lopez."
SODH Stock Price Chart

(chart from CapIQ)
Eardley appears to me to be a Utah stock promoter who served as the Investor Relations contact for Source Direct. He's first listed on a press release in October 15, 2003, announcing the reverse merger between public shell Global-Tech Capital Corporation (GLTC) and Source Direct, indicating he came on board immediately after Lopez became a significant stockholder.
The apparent owner of Hunter Marketing is directly connected as an associate and business partner to the majority owner of the public shell company that PVCT merged into during 2002. So who is this Kip Eardley who is connected to PVCT and Darren Lopez?
Kip Eardley Background: Creating PVCT
Provectus became a publicly traded company in 2002 through a reverse merger with the shell company SPM Group Inc. SPM was 56% controlled by Eardley and John Chymboryk through Capital Holdings LLC as of March 10, 2010, according to the 10KSB filed for SPM on 3/31/00.
His FINRA Broker Check seems to include a regulatory issue in 1986 dating back to the manipulation of shares of Freedom Coin by members of Equity One Corp. allegedly in a "implemented and directed a scheme to manipulate the price of a stock."
Kip Eardley has apparently been involved in all sorts of questionable microcap OTC stocks that wiped out investors, which you can google if you are curious.
Eardley is president of PACV ($261k market cap) and Google Finance shows no financials since 1997

(chart from CapIQ)
Both Lopez and Eardley were involved in BFHJ: stock has declined -99.5%

(chart from CapIQ)
There are more "questionable" stocks and bad charts here but in the interest of time I will move on.
So what does this all mean?
Hunter Marketing is apparently registered directly to Carrie while Hunter Ventures is registered to Darren Lopez
Darren Lopez and Kip Donan Eardley are connected through various investments. Kip Eardley was the majority owner of SPM Group, the reverse merger shell that ultimately became Provectus . Many companies Kip Eardley has been involved in have imploded while Kip Eardley has faced allegations of stock price manipulation.
Hunter Marketing has disclosures indicating it is "compensated by the companies profiled"
We know based on disclosures that Small Cap Street was paid $10,000 by Hunter Marketing for the Provectus report, and that Small Cap Street then in turn paid Osman Ghani, the author of the PVCT stock promotion report.
THIS MEANS TO ME THERE IS A CONNECTION BETWEEN PROVECTUS AND HUNTER MARKETING, THE FIRM THAT PAID SMALL CAP STREET TO PUBLISH ITS REPORT ON PVCT
So who paid Hunter Marketing? Did Hunter Marketing pay $10,000 to Small Cap Street out of the goodness of Darren Lopez' heart? This is hard to believe.
I would not be surprised to see law firms dig deeper into these connections on behalf of shareholders that got crushed on the price collapse. Could investors feel misled by any potential paid stock price promotion sue PVCT for their money back? Would this further put pressure on PVCT's already insufficient cash balance?
Regardless of the specific, given the connections outlined here it seems simply false to me to state:
Provectus is not connected in any way to Small-Cap Street LLC or any other similar promoter.
Management Response:
I called IR, the company, their media person and their main line multiple times and was unable to get through to anyone. I look forward to management clarifying these issues in a transparent and public way because I believe investors deserve better than what they are getting.
Conclusion
I recommend investors avoid PVCT stock because I believe PVCT stock is worthless. In my view, legitimate companies do not pay their executives excessively at the expense of shareholders, nor do they have ties to paid penny stock promoters. Given PVCT's continued management questions, apparently unviable Phase 3 clinical trial design, lack of sufficient cash, failed BTD, and the years between completed Phase 2 trials and today, I think it's safe to say if there were something here, it would have happened already.
Furthermore, PVCT now faces fraud allegations4, a barrage of shareholder lawsuits and has a very serious risk of being delisted from the NYSE. With the BTD failure, increased share count, accelerating cash burn and multiple negative catalysts that have already occurred and the more I expect to occur, I see no reason for PVCT to trade above the 52-week low of $0.30 per share and reiterate my price target of $0.00 as PVCT cash burn continues with excessive insider compensation until shareholders say "enough is enough" and PVCT goes bankrupt, like many other companies connected to the people tied to PVCT.
For full disclaimer please see my PumpStopper website.
1 Based on PVCT presentations from 2010-2013 showing 300 patient and 30 month Phase 3 trial plan
2-Justeen Blankenship named as owner of shares of PVCT's reverse merger shell
-Connection between Justeen Blankenship and Nicholas Julian as daughter/father
-Nicholas Julian pleading guilty to fraud
-Darren Lopez involved with SODH
-Darren Lopez named as BFHJ "executive"
-Kip Eardley president of PACV
-Kip Eardley involved with Holmes Microsystems, which apparently became Gosun Communication and then looks to have been delisted per Bloomberg
-Harvey Carmichael as president of BFHJ
-Harvey Carmichael found liable for one count fraud related to a publicity campaign
3 Based on identical last names, similar ages, identical addresses and apparent joint tenancy
4 Based on shareholder lawsuits filed in 2014 alleging various allegations including fraud, see explanation and background in body of report above.
Shareholder lawsuits with fraud allegations: cv-01263, cv-01245, cv-01243, and cv-01231
Disclosure: The author is short PVCT. The author wrote this article themselves, and it expresses their own opinions. The author is not receiving compensation for it. The author has no business relationship with any company whose stock is mentioned in this article.
Disclosure: I am/we are short PVCT. I wrote this article myself, and it expresses my own opinions. I am not receiving compensation for it. I have no business relationship with any company whose stock is mentioned in this article.
Editor's Note: This article covers one or more microcap stocks. Please be aware of the risks associated with these stocks.