by Maulik Mody
Treasuries rallied as yields fell across the curve, led by the belly of the curve. The 2-Yr was mostly flat at 0.41%. Yield on the 5-Yr bond weakened 4 bp to 1.22%. The benchmark bond gained, pushing its yield 3 bp lower to 2.48%. The 30-yr bond inched up slightly as its yield slipped a basis point to 3.71%.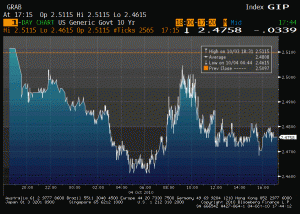 Inflation expectations as indicated by the yield differential between the 10-Yr treasury and the 10-yr inflation indexed bond (TIPS) narrowed 2 basis points to 1.80%. ()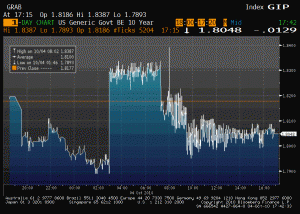 Yields ended lower across developed European nations. Germany's 5-Yr Bunds appreciated in price as its yield fell 5 bp to 1.45%. The French 5-Yr bond posted gains too, pushing its yield 3 bp lower to 1.70%. 5-Yr UK Gilts inched up a basis point to 1.60%. The yield on the 5-Yr U.K. Gilts followed suit to end at 1.57%.
Among the peripherals, yields were mixed. Portugal's benchmark 5-yr note continued to rally as it pushed its yield 13 bp lower to 4.73%. Greece's 5-Yr bond ended where it started at 9.74%. Spain's bond gained pushing its yield 6 bp to 2.98%. A basis point is 0.01%. Bond prices move inversely to their yield.
For the performance of the high grade bond market last week, click here.