When it comes to the Silver Mining Sector (NYSEARCA:SIL), there are a number of factors I tend to consider before deciding on whether or not I'm going to track and subsequently invest in any one company. Sitting at the top of my list of considerable factors is the idea that any initiative aimed at increasing long-term production could help enhance the growth of one's shares. That being said, and in the wake of its recent production-related news, I wanted to highlight a number of reasons behind my decision to consider a position in Coeur Mining, Inc. (NYSE:CDE).
A Brief Summary of the Company:
Headquartered in Chicago, and through its subsidiaries, Coeur Mining, Inc. is engaged in the ownership, operation, exploration, and development of silver and gold mining properties, primarily in the United States, Mexico, Bolivia, Argentina, Australia, Ecuador, and Chile. The company's primary properties include the Palmarejo silver and gold mine in Mexico (slated to initiate production in 2015), the San Bartolomé silver mine in Bolivia, the Kensington gold mine located to the north of Juneau, Alaska, the Rochester silver and gold mine in northwestern Nevada, the Endeavor mine in New South Wales, Australia, and lastly, the La Preciosa silver-gold project in Durango state, Mexico.
A Look At Coeur Mining's Latest Mine Project At Palmarejo:
On June 23, it was announced that Coeur Mining intends on completing the development of the Guadalupe underground mine at its Palmarejo operation in Mexico and expects initial production to begin during the first quarter of 2015. As it currently stands, Guadalupe contains 99% of the 3.6 million tons of underground inferred resources at the Palmarejo operation, with average grades of 5.26 oz/t silver and 0.12 oz/t gold at year-end 2013.
According to the company's press release,
"The preliminary Guadalupe development plan assumes the initial mining of 2.5 million tons at average grades that are 20% and 38% higher than the average Guadalupe underground silver and gold reserve grade, respectively. This plan selectively includes mining higher grade sections of the Guadalupe ore body, earlier in the mine life, that require approximately 40% less development compared to the original mine plan for Guadalupe".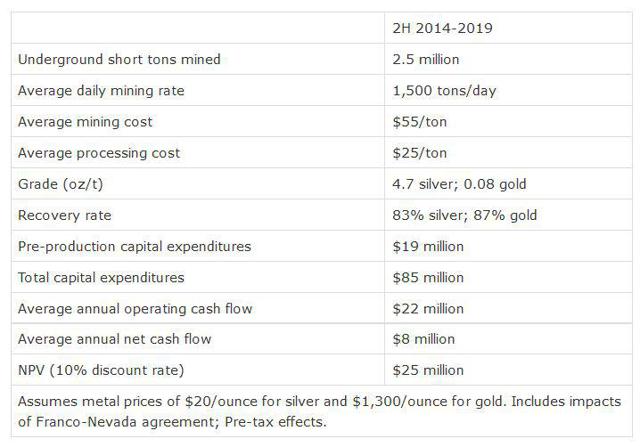 It should be noted that the company's project profile for the Guadalupe underground mine includes a number of important figures all potential investors should be made aware of. For example, the company is expected to mine 1,500 tons per day, which includes an estimated cost of $80/ton ($55/ton in terms of mining costs, and an additional $25/ton in terms of processing costs), and generate an average of $22 million per year in cash flows.
If, on one hand, CDE can maintain a mining rate of 1,500 tons per day, while keeping costs at or below $80/ton, there's a very good chance that both the company's annualized cash flows and overall revenues could see a positive impact. If, on the other hand, CDE fails to maintain a mining rate of 1,500 tons per day, while potentially seeing its costs exceed $90/ton or more, there's a very good chance that both the company's annualized cash flows and overall revenues could suffer as a result of the company's miscalculations.
Conclusion:
For those of you who may be considering a position in Coeur Mining, Inc., I strongly recommend keeping a close eye on continued development of the company's operations at the Guadalupe underground mine located at Palmerejo. If the project meets the company's production-related expectations, there's a good chance shareholders could see the company's share price surpass $10/share and full-year revenues exceed the $700 million by the end of 2015.
Disclosure: The author has no positions in any stocks mentioned, but may initiate a long position in CDE, SIL over the next 72 hours. The author wrote this article themselves, and it expresses their own opinions. The author is not receiving compensation for it (other than from Seeking Alpha). The author has no business relationship with any company whose stock is mentioned in this article.