As a contrarian investor, I like to find out of favor stocks that are deeply undervalued, and offer significant upside potential. Buying stocks when other investors are disinterested could have led you into buying Bank of America (NYSE:BAC) or Genworth (NYSE:GNW) shares for just about $5. Now those stocks are worth more than triple that amount. I have been looking for bargains in the silver mining sector because I believe silver has bottomed out and will inevitably trend higher, as industrial demand rises along with the global economy. This research for silver stock bargains led me into Revett Mining (NYSEMKT:RVM) which I wrote about when it was recently trading for just around 80 cents per share. It now trades for about $1.12 per share which is a gain of about 40%, in just a short time, and there is plenty of future upside potential left. Fortunately, there is another very undervalued silver stock with similar characteristics and significant upside potential, so let's take a closer look:
Silver Bull Resources, Inc. (NYSEMKT:SVBL) is a little-known play on silver and zinc, but it has one of the largest silver projects currently under development. This stock has drifted down due to the low price of silver, but there are plenty of reasons why it could deliver big gains, especially for investors who buy the stock at the currently depressed levels. Silver Bull is developing one of North America's largest silver projects, the "Sierra Mojada". This project has very favorable economics and the infrastructure such as roads, water, labor, and rail are in place which lowers expenses and de-risks the project. This company received water permits earlier this year which further de-risks the project. This project has a cash cost of $6.58 per ounce of silver and an annual production estimate of 7 million ounces of silver for the first 5 years. That means this project is highly profitable even with silver trading at depressed prices.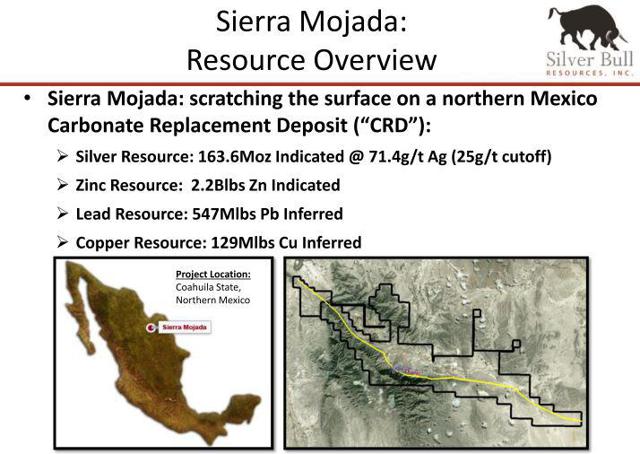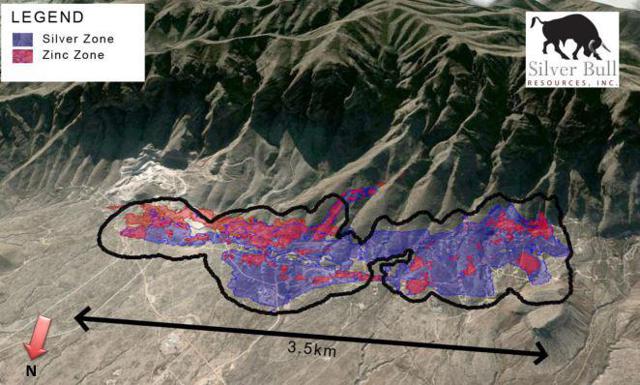 Source: Silver Bull Resources
The "Smart Money" Has Invested In Silver Bull Resources:
The smart money is betting big on Silver Bull as an investment. Investing in "penny stocks" which is typically defined as a stock that trades for less than $5 per share, or mining stocks in general can be higher risk, especially when compared to blue chips stocks. However, when you see a number of highly experienced investors investing in a little-known silver stock, other investors should take note as it might be a "hidden gem". That appears to be exactly the case with Silver Bull since silver industry giant, Coeur d'Alene Mines Corporation (NYSE:CDE) owns about 11%. Lazarus Investment Partners owns about 9%, directors and officers own about 5.4%, and a few other "smart money" investors also own meaningful stakes. When you see Silver Bull shares being bought by a silver industry giant, hedge funds, and directors and officers, this shows that a very diverse group of highly experienced investors must be seeing very significant upside potential. It's also worth noting that Coeur d'Alene bought about $10 million dollars worth of Silver Bull shares at much higher prices, at both 68 cents per share and 50 cents per share. That means investors can now buy for about half the price paid by a silver mining giant. It also probably means the market is grossly undervaluing the stock right now. Coeur d'Alene knows the silver business inside and out and what the potential upside is for a project like the Sierra Mojado. If it were willing to pay 50 to 68 cents per share for a minority stake not that long ago, just imagine what it might pay for the entire company or what type of upside it sees in the share price as an investment. Silver mining is a cyclical business so investors who buy at the bottom of the cycle can reap significant rewards.
The Sierra Mojado Project Could Turn This Stock Into A "Multi-Bagger":
Silver Bull Resources has a current market capitalization of just about $40 million. That is way too cheap based on the potential this project appears to have. The "Sierra Mojada" has significant indicated resources which includes nearly 164 million ounces of silver, 2.2 billion pounds of zinc, 129 million pounds of copper (inferred), and 547 million pounds of lead (inferred). The chart below (source: Silver Bull Resources) shows just how much upside this stock could have, especially if silver prices rise in the coming years. For example, with silver at about $20 per ounce, the Sierra Mojado project has an after-tax net present value of roughly $312 million, which is nearly eight times the current market capitalization of the company. If silver rises to $30 per ounce, the project has net present value of about $745 million, or nearly 20 times the current share price! The stock could have even more upside that goes far beyond the Sierra Mojado project as it also has two high-potential exploration targets that are outside the main zone of mineralization.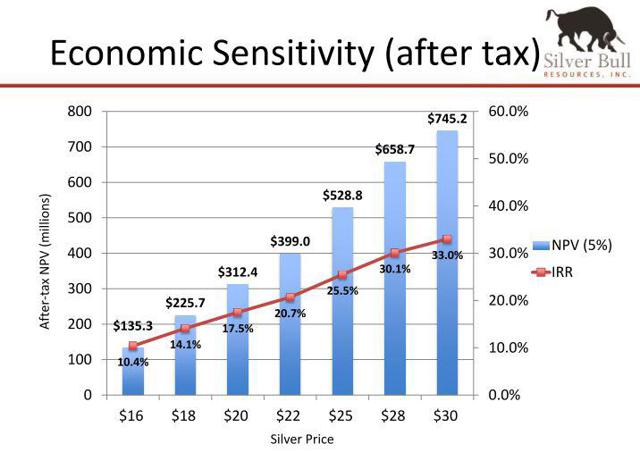 The Price Of Silver Appears Poised To Rise With The Global Economy, But It Remains A Potential Downside Risk:
The biggest potential downside risk for any stock in this sector might be the price of silver. Other potential risks include problems that can arise with any mining operation, but with an experienced management team, these risks seem mitigated. A debt-free balance sheet also greatly reduces risks for shareholders. Many investors bought gold as a hedge against some type of disaster or another financial crisis but as that has not occurred, there seems to be less demand for gold. Since gold often trades in correlation to silver, the weakness in gold has put pressure on silver, but these two metals might decouple soon. At some point, silver should see a strong bounce even if gold remains weak because if the global economy strengthens further, industrial demand for silver should increase. Furthermore, the potential downside risk from silver prices seems limited, especially since the Sierra Mojado project has very low cash costs of just around $6.58 per ounce of silver. That means this project is very profitable even at today's silver prices. A Bloomberg article details why silver prices could be on the rise later this year thanks to increasing demand from a number of industries, including electronics. This article also notes that silver prices could benefit from a drop in production. The article states:
"This year demand from the electronics industry will drive growth, Krebs said. Industrial uses for silver, including electronics and photography, represent about half of total demand. The silver market will receive a boost as larger mines such as BHP Billiton Ltd.'s Cannington mine in Australia, the world's largest silver mine, end production, Krebs said. Scrap availability is also falling, he said."
There Are Also Technical Signs That Silver Has Bottomed Out And Could Now Be Poised To Rise: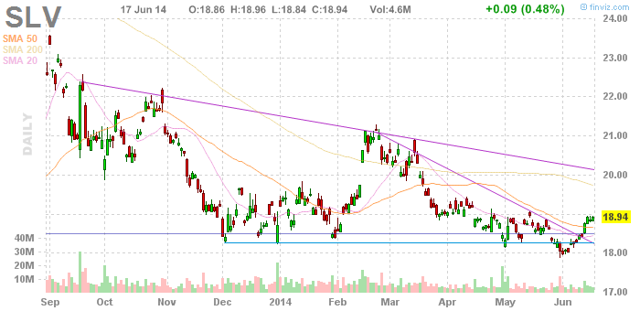 As the chart above shows, silver has bottomed out a number of times at around $18 per ounce. The fact that it has put in a "multiple bottom" around this level since December shows that it has very strong support at this price and it also means the potential downside risk is probably very limited around these levels. It also means that silver might be poised to finally head higher. In fact, silver could be in the early stages of a potential breakout past the recent trading range as it has suddenly been showing new strength. This could soon start to take many silver stocks higher, especially if this trend continues. At $18.92 per ounce, silver is currently trading above the 50-day moving average, which is $18.68 per ounce. The next stop could be for silver to take out the 200-day moving average of $19.79 per ounce. If this occurs, it could create a breakout move that leads to much higher prices.
Takeover Potential:
Silver Bull Resources could be a very attractive takeover target due to the fact it has already attracted a significant ownership stake by Coeur d'Alene. That company could decide to buy the rest of Silver Bull Resources. The management team at Silver Bull Resources also increases the potential for a buyout, especially since the current Chairman of the Board, Brian Edgar, oversaw a major buyout deal. Mr. Edgar was the lead director of Red Back Mining when it was sold to Kinross for $9 billion in 2010. A "Mining Fields" article states that Silver Bull Resources has a very low burn rate of just about $180,000 per month which means that it is well-positioned to develop the Sierra Mojado project with its current cash resources, especially since the company has a debt free balance sheet. The article also details why Silver Bull Resources is such an ideal takeover target, it states:
"Sierra Mojada falls in the top quartile for cash costs per ounce and production volume, according to Barry. "[Silver producers] are going to have to replace [mined] ounces, and that's where a project like Sierra Mojada has tremendous value-any company wants to buy a big asset and there are not many out there."
Zinc Could Add Significant Upside Potential:
While Silver Bull Resources is mostly thought of as a play on silver, the 2.2 billion pounds of zinc indicated at its Sierra Mojado project could add tremendous value as well. At the current share price, it does not appear that the market is giving any value to the zinc indicated at this project. Furthermore, zinc prices have been on the rise (see chart below) and currently trade for almost $1 per pound. Doing the math on 2.2 billion pounds of zinc when priced at almost $1 per pounds leads to a potential value of roughly $2.2 billion. If zinc prices continue to rise (as shown in the chart below), the potential value for Silver Bull could be much higher.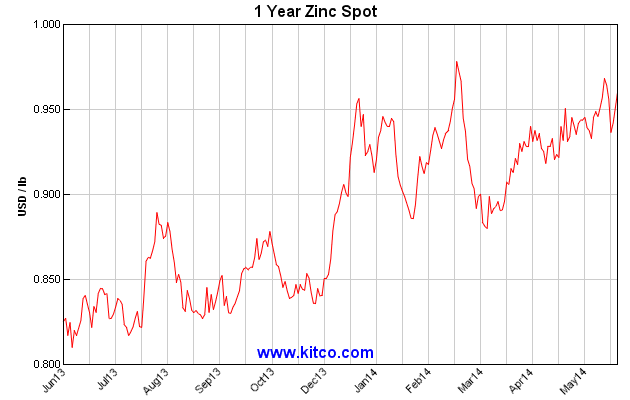 Analysts Are Bullish And Open Pit Mining Could Start In Early 2016:
Analysts at PI Financial see the upside in this stock and have set a 95 cent price target for Silver Bull shares. An article by Proactive Investors details why analysts are bullish on this company since it owns one of the largest undeveloped silver projects in Mexico and it goes on to say that open pit mining could begin at the Sierra Mojado project in early 2016.
In Conclusion:
As with many things in life, timing is everything and this now appears to be a classic "buy low" opportunity. When investors are excited about an industry or a particular stock, overly optimistic views can push an asset price way above fair value. By contrast, when investors lose interest (as is the case with silver stocks now), values can drift down and go way below fair value, thereby creating a major buying opportunity. This seems to be the case with the shares of Silver Bull Resources right now which is giving investors what appears to be a classic "buy low" opportunity. In fact, according to one estimate in an interview with management (conducted by Lazarus Investment Partners), Silver Bull is now trading for about 30 cents per ounce of silver it has in the ground. That is a sign the stock is very undervalued, especially considering that one of the last takeovers (which was completed by Coeur d'Alene when it bought the La Preciosa Project owned by Orko Silver) valued that project at about $1.70 per ounce of silver in the ground. It is this kind of potential upside that led Lazarus Investment Partners into buying a major stake in this company and why it sees 10-bagger gains as a possibility for this stock. With a proven management team, and with silver showing major signs of having bottomed out, the risk to reward ratio is very attractive now. The Sierra Mojado Project clearly has significant value, and this company has a debt free balance sheet (which greatly reduces risks for investors). This means the chances of this stock going to zero are very, very remote. In a worst case scenario whereby silver prices drop significantly and perhaps there is some delay in production, maybe this stock could see 10 or 15 cents worth of downside potential. However, in a best case scenario, perhaps silver prices rise back to $28 per ounce or so and Silver Bull Resources starts production in 2016. This means the stock could be worth $3 to $4 per share which is between 10 to 14 times the current share price. I will gladly accept 10 to 15 cents worth of downside for what could be up to $3.70 worth or upside. This stock traded between $4 to $5 per share before the financial crisis, and even for around $1.50 per share in 2011 (when silver prices were higher). Silver prices will have another run-up and the time to buy cheap silver stocks appears to be right now.
Here are some key points for Silver Bull Resources:
Current share price: about 28 cents per share
The 52-week range is 22 cents to 44 cents per share
Annual dividend: n/a
Data is sourced from Yahoo Finance. No guarantees or representations are made. Hawkinvest is not a registered investment advisor and does not provide specific investment advice. The information is for informational purposes only. You should always consult a financial advisor.
Disclosure: The author is long SVBL. The author wrote this article themselves, and it expresses their own opinions. The author is not receiving compensation for it (other than from Seeking Alpha). The author has no business relationship with any company whose stock is mentioned in this article.
Editor's Note: This article covers one or more stocks trading at less than $1 per share and/or with less than a $100 million market cap. Please be aware of the risks associated with these stocks.