It's been a wild ride this year, as the S&P 500 posted a 8.9% gain in September after falling 4.5% the previous year.
My model portfolio returned to positive territory and is still beating the market overall. Check out my current holdings.
Stock Positions
I added one new stock to the model portfolio this month, in Alpha Pro Tech (NYSEMKT:APT). The company experienced a record year in 2009 due to a strong tailwind in the company's core industry. Management has done a great job of preserving APT's balance sheet, and the stock remains undervalued despite several upcoming catalysts.
The rest of my positions remain stable – the big winner for September was Servotronics (NYSEMKT:SVT), posting a 18% gain for the month.
Watch Lists
I also wrote about another stock that I plan to keep on the watch list going forward. Jewett-Cameron (NASDAQ:JCTCF) is a micro-cap company that has grown book value by almost 12% per year.
I'll be adding a new section to the website in order to track stocks I've written about but haven't purchased (such as JCTCF, Sifco Inds (NYSEMKT:SIF), Vicon Industries (NYSEMKT:VII), & Food Technology Service (NASDAQ:VIFL)). For many, I'm waiting for a better entry point to ensure a strong margin of safety.
Special Situations
It was definitely an up-and-down month for the special situations investments.
I added a new position in NexCen Brands (NEXC), my first liquidation play. The transaction should play out over the coming months but I think there is strong incentive for the consulting firm to pay-out on the higher end of the distribution range.
AHOM wrapped up its going private transaction – a bit behind schedule, but a transaction that still offered 72% annualized returns.
The big hit came after the cancellation of the Emmis Communications (NASDAQ:EMMS) going private transaction. After a long, drawn-out negotiation process, the financier behind the transaction finally walked away despite management's best efforts to finalize the deal.
Lawsuits have followed and the stock languishes now under $1/shr, far below the original buyout price of $2.40. It was a rough investment, costing the portfolio almost 2%, but offered many lessons going forward.
Performance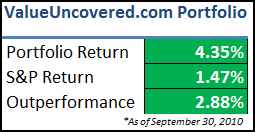 I will probably start updating my performance on a quarterly basis, if only to reinforce the fact that value investing should be focused on the long-term perspective vs. short-term fluctuations in the market.
Disclosure: Long APT, SVT, NEXC