Winmark Corporation (NASDAQ:WINA) is a fascinating small company. On one hand it has a diversified franchising business with five retail store concepts that buys, sells, trades and consigns used apparel and merchandise. On the other hand it is a large ticket equipment leasing business to medium and large-sized businesses. Looking deeper into the company's history we get an idea why the company has transformed into what it is today and how it is poised to continue winning. There's a common theme with John Morgan's companies: they all start with "Win" and they sure do follow through with the win.
Winmark History
The company can trace its roots back to Martha Morris back in the early 80s when she wanted to sell a used sports backpack. She created Play it Again Sports in 1983 and was quite successful pioneering the "Ultra-High-Value" retailing niche selling lightly used sports equipment alongside new goods in a traditional retail store format. She acquired the help of a franchise consulting firm run by K. Jeffrey Dahlberg and Ronald Olson who helped her expand through franchising; however, the two gentlemen purchased the operations from Morris in 1990.
Dahlberg and Olson grew the Play It Again Sports franchise and rapidly and acquired/developed other franchise businesses based on the same concept with other goods. The company was growing significantly and changed its name to Grow Biz, going public in August 1993. Growth was getting too fast as franchises were awarded to anyone with the money to purchase the rights. By 2000 the company had a $350,000 loss and things were not looking good for Grow Biz. The tech bubble was bursting and their Computer Renaissance franchise was having trouble as well as their main franchise Play It Now Sports. Closings of the franchise stores were growing significantly.
Then an unusual gentleman acquired control of the company in 2000. John Morgan was his name. He was a businessman coming out of retirement because it didn't suit him and needed a new challenge. His history as well as director Kirk Mackenzie is important but we'll highlight that later. After gaining majority share in the company, Morgan was appointed CEO in March of 2000. The fortunes of the company quickly turned as new management and a new board was appointed. Morgan sold off poor performing franchises where the future was not as predictable as the merchandise/apparel-focused franchises. In hindsight this seems like an obvious move as technology changed dramatically and those franchises would most likely have fared poorly. He also changed the company's name to Winmark Corp.
Morgan stuck with the company's circle of competence in apparel. Excess capital was allocated to purchasing a small Columbus, Ohio-based company called Plato's Closet that focused on selling name brand gently used apparel to teen and young adults. Since then, the company has grown Plato's Closet from a few stores to 397 as of the last quarter making it the largest franchise of the company.
Morgan & co. also created significant shareholder value during their tenure by allocating capital opportunistically. Below we see Winmark's astonishing record of share price increases of 24% compounded annually (without dividends) over more than 14 years. Compare that to the S&P 500 in red which grew at roughly 2% annually over the same period.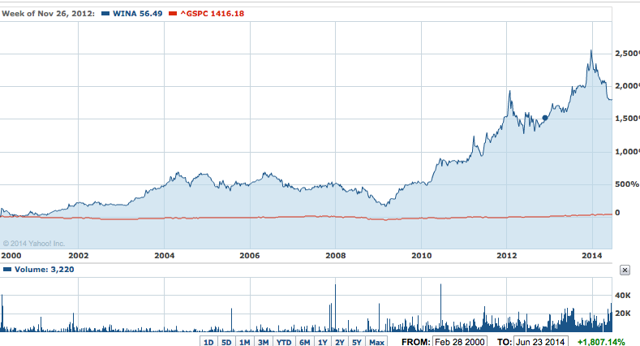 (Source: Yahoo Finance)
This impressive record was actually not through significant share repurchases or acquisitions. A majority of it has been through organic growth and investment in the leasing business.
What really stands out is John Morgan's personal purchases of shares on the open market. Unlike most CEOs, Morgan has only received one stock option grant as CEO which was when he initially took the position (600,000 options at $5). The rest of shares have been purchased on the open market when he felt WINA's shares were undervalued. He has increased his ownership in the company from 10.5% in May 2000 to more than 33.4% today.
When WINA shares were extremely undervalued during the financial crisis, Morgan personally purchased large blocks of shares. As the company has company's share price rose, share repurchases decreased and a small dividend was initiated and a special dividend of $5 has been issued twice in the past two years. What we really like to see is that at the end of 2013 when shares were near $90 the company didn't repurchase a share and handed out excess cash as a special $5 dividend. Morgan didn't purchase shares on the open market, either. However, since shares have fallen to the mid-$60s Morgan has been repurchasing shares for himself and the company continues to have a repurchase plan. Further repurchases by both Morgan and the company provide both downside protection as well as a catalyst for value. Recently the company repurchased 14,066 shares at $76.43 and has the ability to repurchase another 6.2% of shares outstanding.
Another capital allocation decision by Morgan was to invest excess cash into the equipment leasing business. At first, one might question why Morgan would go in a radically different direction with the company; however, looking into Morgan and director Kirk MacKenzie's history, we understand why this was a very smart decision for the company.
Circle Of Competence Equipment Leasing
In the early 80s John Morgan along with Kirk MacKenzie and another partner founded Winthrop Resources. The company was an equipment leasing business and the founders were able to grow it from scratch into a leasing portfolio of $348 million by 1997. Surely it was a win when the company was sold to TCF Bank in 1997 for nearly 1x their leasing portfolio at $340 million. John Morgan, as well as the other partners, were each 15% owners of Winthrop. Morgan said later that "the single best decision of my career was to take all stock. I had looked at that stock over and over again, and said it was undervalued [at the time of the deal.]" Clearly, Morgan understood how to value companies and his track record shows it. TCF stock grew significantly as long as Morgan owned it, before he sold it to purchase a controlling stake in Winmark Corp.
It makes sense why John Morgan chose Winmark as a company to control since the franchising business is not capital intensive and access capital can be used to acquire quality assets. The capital could be used as dry powder to fund a leasing business. After Morgan's five-year non-compete contract expired, Winmark quickly began diverting cash created from the franchising business to equipment leasing.
Winmark Growth And Moat
We feel that there is a large runway for growth in the equipment leasing business. Currently, the leasing portfolio of Winmark is only $40 million which is only 11% of the size of the leasing portfolio that Winthrop Resources had before it sold. We feel that John Morgan has the skill set to continue to significantly grow the leasing business up to par with his previous success at Winthrop.
Additionally, Winmark's new retailing franchise concept Style Encore has potential for significant growth as well. There is no other mass gently used retailer focused on the mid-20 to mid-50 female demographic that we know of. Neither the Salvation Army nor Goodwill focus on the upscale gently used apparel/merchandise market. They tend to cater to all walks of life and generally get the lower end of the market.
Plato's Closet, Style Encore and Once Upon A Child allow individuals to sell their clothes which can be used to repurchase other slightly used clothes or merchandise. Women in the mid-20 to mid-50 bracket tend to be the largest purchasers of clothing, allowing them to recycle unused clothes for other highly desirable slightly used clothing is an untapped.
As of the last quarter there were only 7 Style Encore stores open, but according to the franchise location page there are nearly 30 more stores coming soon. We see sustainable demand for the Style Encores model and Winmark can leverage their current franchise relationships to grow Style Encore quickly. We see the relationships with quality franchisees as a barrier to entry as it would take significant time for competitors to create similar relationships.
Stable Revenues
Since John Morgan has taken over Winmark Corporation, the company has made it known that they are interested in working with franchisees that have the best chance at being successful. Contrast this with the previous methodology of accepting anyone who could pay the franchise fee. By focusing less on growth at all costs, Winmark has fewer store closings and stickier revenues. The most recent quarter had 0 closings while the last four years has closed, on average, 2.46% of its stores annually. From 1997 to the end of 2000, Winmark closed an average of 11.5% of its stores, excluding the sales of Disk Go Round and Computer Renaissance.
Valuation
Winmark has two distinct businesses that it operates and we separate them when valuing them. The franchising business is rather simple to value with a discounted cash flow model since the business has rather stable cash flows and somewhat stable growth. We anticipate that the business will not grow as quickly as it has in the past but a 15% annual rate for the next 5 years slowing down significantly in the 10th year and beyond would value the franchise company around $55 a share. We feel this rate is achievable if Style Encore is only moderately successful compared to Plato's Closet's past growth, from only a handful of stores in the early 2000s to the nearly 400 today. Also, we expect high single-digit growth from the established franchises.
Winmark's leasing business has roughly $7 a share in its leasing portfolio. If we take the current leasing portfolio and a conservative value of the franchise business we would get $62 a share which is only an 8% discount to today's price. That would assume that there will be very little growth if any in the leasing business. We, on the other hand, believe that John Morgan has only just begun to build the leasing business and significant growth potential is still possible. Remember the Winthrop Resources leasing portfolio was $348 million after 15 years - starting from scratch - and this time John Morgan has plenty of experience. If we assume conservative growth of the leasing portfolio growing to $120 million in five years and ultimately to $235 million 10 years from now, then the leasing business could be worth approximately $30 a share discounted back to today.
Adding the two components together our estimate of fair value is $85 a share. Today's price is roughly 20% lower than our fair value and provides enough margin of safety for an investment. We can sleep well at night that John Morgan is aligned with shareholders and has shown a very strong preference for accreting value over the long term.
Risks
An investment in Winmark is heavily reliant on John Morgan and his age becomes a concern. At 72 years old he is not exactly a spring chicken and he could have unforeseen health problems that could impact the functions of the company. While Morgan is older, we feel that he has hired highly talented individuals to build Winmark into what it is today. Morgan admires Warren Buffett and has chosen more of a decentralized operating model, which means that the company will not be severely impacted. Another mitigating factor would be the asset light and stickiness of the revenues of both the franchise and leasing businesses.
We also believe that the culture of the company has been consistent since 2000 and will likely not change much even when Morgan is not around. Specifically, the base and bonus pay of all top 5 executives is the same. Let us repeat again, the same. A flat structure of pay in the C Suite is unheard of in any industry and psychologically provides plenty of goodwill between co-workers. We do not see this changing anytime soon, even with John Morgan not around - although we hope he is around for much longer.
Conclusion
Winmark Corporation is an underfollowed small-cap company that has a quality business model and quality management team led by a skilled owner/operator. We can currently buy the franchising business and the current leasing portfolio for a fair price and get growth in the leasing business for free. The company share repurchase program and open market purchases by CEO John Morgan provide downside protection and act as catalysts to realize share value.
Disclosure: The author is long WINA. The author wrote this article themselves, and it expresses their own opinions. The author is not receiving compensation for it (other than from Seeking Alpha). The author has no business relationship with any company whose stock is mentioned in this article.
Additional disclosure: This article is meant for instructional purposes and not meant as a recommendation to buy or sell. The only kind of intelligent investing is through your own due diligence.