By way of introduction: This is my first article to be submitted on this forum, having waited to try and correctly time this article. Readers will note that the article is not accompanied by any hedged or face-saving paragraphs. I will be either right or wrong. (refreshing change?)
Since mid-February, when we first came to this magnificent forum, we have made 53 trading recommendations, all with appropriate and updated protective stop orders, in the commentary section of various stock articles. Turns out, we've been on a "hot streak" in that all 53 short and long recommendations produced profits, with no losses, some profits as large as 85 points, others returned better than 30%.
A picture is worth a thousand words: A perfect and curious overlay of the chart of 1929
I am not implying a "crash" is immediately ahead, just the fact that the patterns are remarkably similar in their bearish implications. This same pattern and overlay occurred in 1987, when the market dropped over 500 points in one day and 24 percent in a Monday and Tuesday period in October.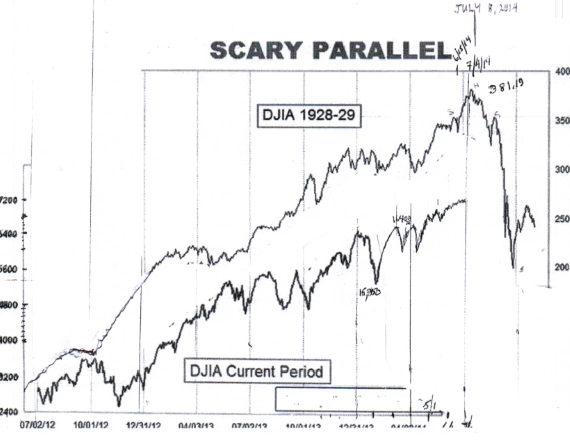 Current sentiment and statistical facts
Activity of the past five years closely resembles that of 1924 through 1929.
Bullish sentiment is at a record 62 percent.
Market complacency abounds everywhere, and the "wall of worry" which bull markets climb has vanished.
Margin debt is at an all-time high, despite the 50% requirement.
Stock market indices are overbought.
The fear index (VIX) is at a seven-year low and below 11 to 10.6. Average norm for the VIX is between 17 and 25 for the past five years.
Hedge funds are playing "catch-up" due to underperformance.
The advance decline ratio continues to deteriorate, with new highs becoming less with each new high in the averages. This occurs within one year to 18 months

before a major top.

The market average is exactly ten times the low of 1987 (1630) and ten times the total 1987 valuation or market cap ($2 trillion) to today's $20 trillion. (This last statistic is not to be taken too seriously… but is of interest, as was the S&P low reached in March 2009… 666.66).
No market correction of at least 10 percent has occurred in the past three years.
Valuations are at five-year highs.
Repurchase of companies' own stocks is artificially lifting this market.
The Fed's 5-year support with artificially low interest rates has created a bubble involving the amounts of the inflated numbers being carried on their balance sheets, and is causing a now very delicate and precarious attempt to return us to a semblance of normality. We are in unchartered waters.
Other more obvious bubbles exist today, i.e., classic cars; NYC, Hampton homes and San Francisco apartments; antiquities (see: Norman Rockwell paintings at $79 million).
History has a way of repeating itself, but differently
The market will always move in a fashion least expected. This has proved out over the past one hundred years, and is the reason it is so difficult to trade markets on a short-term basis. I am predicting a decline starting between June 25 and July 8 of this year.
History will only repeat itself if all participants from the previous and similar action by the market are no longer living. This is the primary reason the recent advanced values in this market will not repeat the very highly inflated levels of the dot com bubble of 2000. There are too many former participants that would recognize the insane valuations.
Therefore, the bear is at Peter's door now, and his crying wolf (or bear) is indeed appropriate.
The decline will take one of two forms (outlined here to help you recognize the patterns coming):
A violent and quick decline a la 1987 - doubtful, since a trigger like that of 1929... the 10% margin and the 1987 insurance selling of the S&P (NYSEARCA:SPY) is missing.
(The more likely scenario) A modest decline from the highs will be followed by an immediate rally to a near double-top (called an AB move). This will be followed by 5 waves (see Elliott Wave Theory). This will be the likely pattern. The first wave will be a decline of perhaps 1-3%, followed by a shallow advance (wave two) that can either be of short or long ( protracted) duration (short is called "simple" and protracted is called "complex"). This is important in that the rally wave four will be of opposite size and duration of that of wave two. Wave three will be the "killer" wave, and should be 3 to 5 times the size and distance down as that of wave one. Rally wave four will then follow (as described above), and a final wave five, approximately the depth of wave one, will end the decline. Volume of wave five will be less than that of wave three.
Once the decline has spent itself, a lower volume test of the bottom of wave five should occur (i.e., March 2008) and a new advance will begin. During wave five, the purchase of stocks that have outperformed the market during the last and final wave five decline can be accumulated (as in March 2009, i.e., Apple (AAPL), Priceline (PCLN), Baidu (BIDU), Google (GOOG, GOOGL), etc., for the next market advance).
Summary
Doc's Trading strongly recommends the raising of cash prior to a Wave B return rally, which will be the first return of the initial decline expected to begin in early July. We recommend selling short or buying put protection of any current positions. This decline is not expected to ever be labeled a crash anymore than that which occurred in 1987. However, the sentiment, statistics and re-inflated current values leads us to make this bold and unhedged prediction of an imminent correction.
"Sell in July and fly"
The market tends to repeat patterns no longer recognizable due to those who participated in the similarity being now dead and buried… it is the way human emotional weaknesses and incorrect actions are allowed to repeat themselves over and over.
A crash will occur, but many years from now, when all who witnessed 2008-2009 are no longer with us.
Additional Disclosure: The author is currently hedged short and intends to increase his market short position within the next seven days as bearish patterns continue to emerge.
Disclaimer: This article is for information purposes only. There are many risks involved in investing including loss of principal. Doc's Trading or Doc make no guarantee with regard to any recommendations, implied or made herein, with regard to performance or projections. There is also no guarantee that the predictions, goals or estimates of either past or predicted performance will be met or repeated.
Disclosure: The author is short SPY. The author wrote this article themselves, and it expresses their own opinions. The author is not receiving compensation for it (other than from Seeking Alpha). The author has no business relationship with any company whose stock is mentioned in this article.