History has revealed that the best-performing stocks during the previous decades have been those that shelled out ever-increasing cash to shareholders in the form of dividends. This makes a lot of sense, as the strongest dividend growers are often the strongest generators of increasing cash flow. Genuine Parts (NYSE:GPC) is one such gem. Let's evaluate the dividend growth prospects of the auto parts distributor in this article.
But first, let's start with framing this analysis for readers. Most dividend assessments tend to be backward-looking--meaning the evaluation rests more on what the company has done in the past: how long it has raised its dividend, for example. Don't misunderstand. We think analyzing historical trends is important, but investors should understand that for a cash-rich, growing company to raise its dividend by a reasonable amount in each of the past 20, 30 or more years isn't much to write home about.
Imagine, for example, giving your grandson $1 for his age on each consecutive birthday. Though you'll effectively be raising his "dividend" each year, the payout isn't necessarily tied to your income stream, nor is it very taxing on your lifestyle (even if he lives to 100 years or older). In a similar manner, a dividend payment is not explicitly tied to a firm's earnings stream nor is it very taxing on a firm to raise its dividend each year. For one, firms with substantial earnings don't have to pay a dividend, and companies can report declining earnings and still raise their dividend in the same earnings release.
Over the long haul, earnings growth will have to support dividend growth, but in instances where the payout ratio is low, earnings don't necessarily have to expand for the company to raise its dividend for years and years. A company can double its payout ratio by raising its dividend for 50 consecutive years, for example, but the payout ratio at the end of the period could still only be 50% of earnings at the beginning of the 50-year period. Fascinating, no?
With all of this said, it becomes obvious that assessing the future capacity of growth of the dividend is really what matters most for dividend growth investors. After all, dividend growth investors are investing for the next 5, 10, 20 years, not the past 5, 10, 20. And they want their dividends to increase by a material amount. This forward-looking perspective that assesses the potential magnitude of future dividend growth is all the difference in the world. That is why we created a forward-looking assessment of dividend growth through the innovative Valuentum Dividend Cushion methodology.
For those that may not be familiar with our boutique research firm, we generate a discounted cash-flow analysis for all firms in our coverage. We use these future forecasts of free cash flow (cash flow from operations less capital expenditures) and expected cash dividend payments and consider the company's net cash position to evaluate just how much capacity a firm has to keep raising its dividends long into the future.
The Dividend Cushion is a forward-looking ratio (with a numerator and a denominator). It tells investors how many times future free cash flow (cash from operations less capital spending) will cover future dividend payments after considering the net cash on the balance sheet, which is also a key source of dividend strength. It is purely fundamentally-based and driven from items taken directly off the financial statements.
Let's take a look at Genuine Parts' investment highlights and then its dividend report to see how all of the analysis comes together.
Genuine Parts' Investment Highlights
• Genuine Parts' business quality (an evaluation of our ValueCreation™ and ValueRisk™ ratings) ranks among the best of the firms in our coverage universe. The firm has been generating economic value for shareholders with relatively stable operating results for the past few years, a combination we view very positively.
• The company distributes auto parts and accessory items. It operates under a widely-recognized brand (NAPA), but the auto parts distribution business is highly competitive, and we don't expect weakening competition in any of its four business segments. Its 'Automotive Group' accounts for ~50% of sales.
• Genuine Parts is an amazing success story. The company has grown to its current state from a mere $75k in net sales in 1928. Investors should be cognizant that acquisitions remain an integral part of the company's overall revenue growth trajectory, however. This strategy comes with increased selection and overpayment risk, and challenges in its 'Motion' (industrial) segment should not be overlooked.
• Genuine Parts has an excellent combination of strong free cash flow generation and low financial leverage. We expect the firm's free cash flow margin to average about 4.8% in coming years. Total debt-to-EBITDA was 0.6 last year, while debt-to-book capitalization
stood at 18.6%.
• The firm has paid a cash dividend every year since going public in 1948. 2014 marks its 58th consecutive year that it has increased dividends paid to shareholders. Very few other companies have this solid of a track record.
Genuine Parts' Dividend Report
Genuine Parts' dividend yield is nice, offering more than a 2.5% annual payout at current price levels. The bottom right of the table below reveals our expectations for Genuine Parts' future pace of dividend growth (~8% per annum). Please have a look.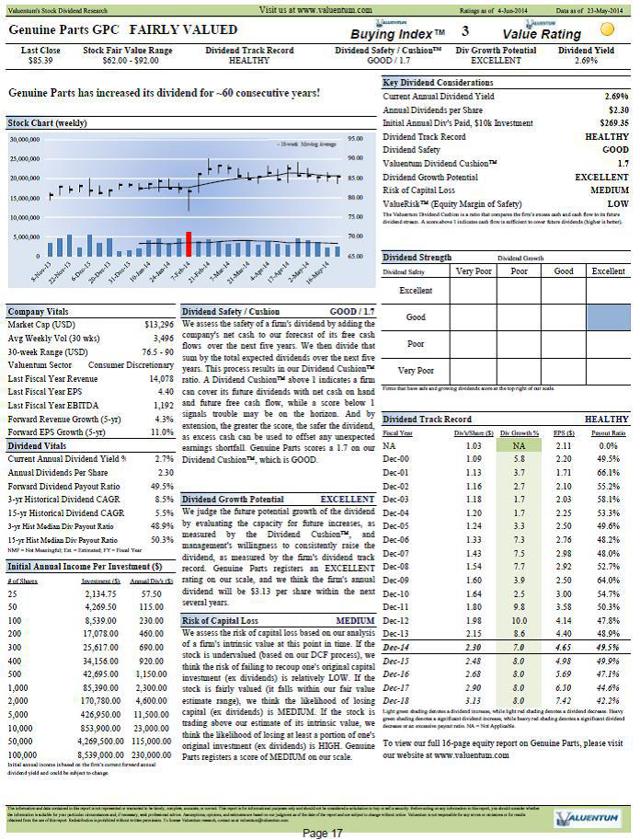 Image Source: Valuentum
Let's now dig into Genuine Parts' qualitative ratings for dividend safety, dividend growth potential and risk of capital loss. The Dividend Cushion ratio not only informs our opinion of the safety of the dividend but also its capacity for future growth.
Dividend Safety / Cushion GOOD / 1.7
We assess the safety of a firm's dividend by adding the company's net cash to our forecast of its free cash flows over the next five years. We then divide that sum by the total expected dividends over the next five years. This process results in our Dividend Cushion
ratio. A Dividend Cushion above 1 indicates a firm can cover its future dividends with net cash on hand and future free cash flow, while a score below 1 signals trouble may be on the horizon. And by extension, the greater the score, the safer the dividend, as excess cash can be used to offset any unexpected earnings shortfall. Genuine Parts scores a 1.7 on our Dividend Cushion, which is GOOD.
Dividend Growth Potential - EXCELLENT
We judge the future potential growth of the dividend by evaluating the capacity for future increases, as measured by the Dividend Cushion, and management's willingness to consistently raise the dividend, as measured by the firm's dividend track record. Genuine Parts registers an EXCELLENT rating on our scale, and we think the firm's annual dividend will be $3.13 per share within the next several years (by the end of 2018). This forecast is driven by our expectations of the dividend to expand at an ~8% compound annual growth rate.
We assign the actual dividend growth rates to firms on the basis of their qualitative Dividend Growth rating. For example, because Genuine Parts has EXCELLENT dividend growth potential, we think its dividend will grow at a rate of ~8%, roughly in line with the pace it has expanded in the past. For those interested in dividend growth forecasts for other companies, we have dividend growth forecasts for every company in our 1,000+ firm coverage universe. The scale we use is shown below.
Dividend Growth Potential Scale
Excellent: 8% or higher
Good: 4%-8%
Poor: 2%-4%
Very Poor: 0%-2%
Risk of Capital Loss - MEDIUM
We assess the risk of capital loss based on our analysis of a firm's intrinsic value at this point in time. If the stock is undervalued (based on our DCF process), we think the risk of failing to recoup one's original capital investment (ex dividends) is relatively LOW. If the stock is fairly valued (it falls within our fair value estimate range), we think the likelihood of losing capital (ex dividends) is MEDIUM. If the stock is trading above our estimate of its intrinsic value, we think the likelihood of losing at least a portion of one's
original investment (ex dividends) is HIGH. Genuine Parts registers a score of MEDIUM on our scale. Though we generally prefer firms that are underpriced, or have a LOW risk of capital loss, in this market environment, very few dividend growth firms are in this situation.
Wrapping It Up
Genuine Parts has raised its dividend for ~60 years, and it looks poised to continue that trend. The firm has a solid Economic Castle, and we don't think its ability to generate economic profit will change anytime soon. Though we don't currently hold the company in the Dividend Growth portfolio (we can't hold every great dividend growth idea but only the best of the best), the firm's dividend growth potential remains as strong as ever.
The following provides the definitions of the terms you may have read in the dividend report (image) above. Thank you for reading!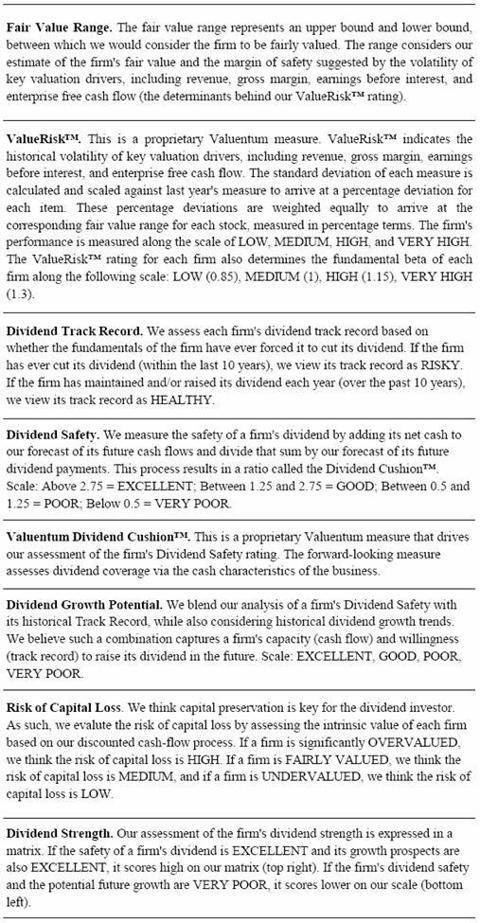 Disclosure: The author has no positions in any stocks mentioned, and no plans to initiate any positions within the next 72 hours. The author wrote this article themselves, and it expresses their own opinions. The author is not receiving compensation for it (other than from Seeking Alpha). The author has no business relationship with any company whose stock is mentioned in this article.