Almost three months ago I opined that IMS Health Holdings, Inc. (IMS) had core position potential and I meant it, I still do. I liked just about everything I understood about the company and thought it was on the verge of a special year and a special run into the next half decade or so. Again, I still do. That being said, I definitely was not prepared for the company's first earnings report as a public company. There's much to be confused about, some to dislike, and if you're not careful the quarter could look outright ugly. On paper, it appears as if IMS dropped the ball for the first time in a long time but after an intimate look at the financials the problems appear to be all directly connected to the IPO or directly tethered to the growth strategy at IMS, which I'm ok with (barely). This article will make the argument that with the IPO behind it IMS should be able to get back to producing positive quarterly and yearly net income and that net of a few one-time non-recurring items the most recent quarter showed positive trend growth.
Recent Developments
Since its IPO IMS has steadily moved higher establishing higher lows on its way to a most recent close of $23.33 for an IPO to date performance of 16.6%. The shares have traded as high as $25.55 and have received the attention and admiration of quite a few houses on The Street with an average price target of $28.12, or 20.5% higher from its close today:
Analyst and Industry Coverage:
Goldman Sachs: Neutral - $25
Leerink: Outperform - $29
Deutsche Bank: Buy - $28
Mizuho: Buy - $29
Stifel: Buy - $29
Piper Jaffray: Overweight - $28
JP Morgan: Overweight - $28
Wells Fargo: Outperform - $29
Obviously the sell side likes the business at IMS and believes in the long-term viability of the model, and they should because the business is good and so is the market potential. If you are unfamiliar with the business at IMS, and it's fairly complicated, I would recommend reading any number of the articles listed under the ticker at SA. For the purpose of this article I won't be providing an in-depth explanation of the operations outside of the financials they generate and how that should effect the future of the company.
Q1/14 highlights (SOURCE: IMS.com Investor Relations Q1/14 results):
Revenue for the quarter increased 5.2% to $645 million, up 6.6% on a constant currency basis
Adjusted EBITDA for the quarter increased 7.2% to $217 million, up 9.5% on a constant currency basis
Adjusted EBITDA as a percentage of revenue for the quarter improved 60 basis points to 33.7%
11.9% increase in technology services, or 12.5% on a constant currency basis
Information offerings revenue grew 1.0%, or 2.8% on a constant currency basis
So, if the sell side is so bulled up and the share price has continued to move higher what am I complaining about? The most recent quarter exposed a few of the underlying problems that existed (and still exist as carrying legacy issues) four years ago before the most recent ownership took control of the company in a LBO. Namely, debt service that was eating into cash flow, currency volatility and a lack of competent hedging practices, and stock-based compensation that was out of control and on the verge of being gross. All of these issues have since been remedied, thanks in large part to the IPO, and shouldn't weigh as heavily on results going forward but Q1/14 was an eye opener to say the least.
The sickening dividend recap, the IPO antidote, and the bread crumbs left by The Financials.
If IMS had just a few paragraphs to describe its history, relevant recent history, it would start with its LBO by the heavy hitters that currently run the show (TPG Global, LLC, CPP Investment Board Private Holdings, Inc., and Leonard Green & Partners, L.P.), run into the dividend recap prior to the IPO, and end with the recent quarter. Those three events set forth the operating parameters that IMS, for better or worse, has to deal with.
The dividend recap is a gut-wrenching tale of how the company took on ~$2 billion in debt to reward ownership for righting the IMS ship prior to the IPO, specifically $1.2 billion in 2012 and $750 million in 2013. That recap furthered the company's already concerning leverage profile and forced IMS to "fight from behind" up to, including, and post IPO - a fact that's reflected in the historic cash flow statements and the current quarter.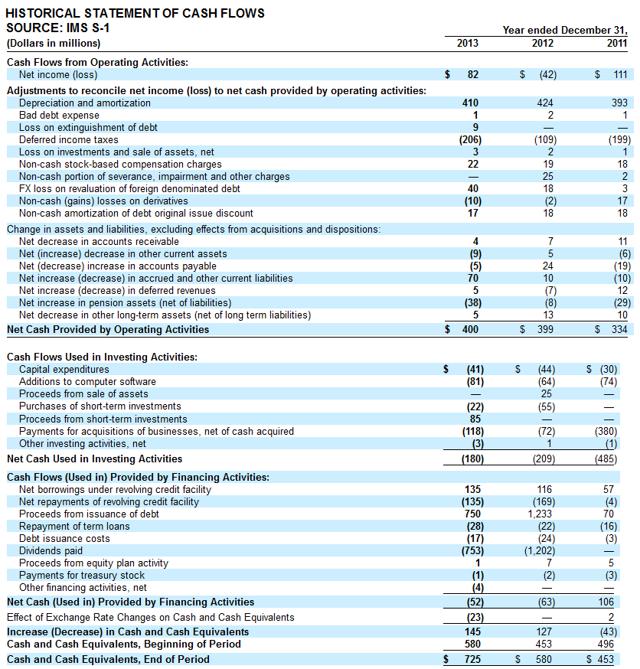 The recap is visible under the dividends paid line under the Financing Activities heading. Sure, it looks ugly sitting there like a neon sign but with the outflow being largely offset by the inflow from debt, the C&CE at IMS actually grew two of the last three years. This is still true even when you consider the net borrowings from the company's credit facilities, which were offsetting or negative in FY12 and FY13 - which is indicative of the high profitability of the underlying business at IMS. Take a moment to really let that sink in, that IMS had a net negative inflow or a net cash outflow from financing activities and was still cash flow positive the last two years. Sure, the aggregate debt increased greatly and so did the leverage but neither of those have to do with the actual business going on at IMS - which is printing cash.
Take a look at net cash provided by operations. The figure is pretty impressive considering the net income line listed above it (I consider the cash flow statement to be much more of a true indication of the health of the business - as long as there are no large irregularities). The actual cash flow at IMS historically has been great and it's been great in spite of some impolite usage of debt by ownership which has caused the debt maintenance we talked about above to grow Y/Y/Y. You'll also notice that the excellent cash flow generated by operations would have driven the company positive in 2011, the lone year that operated at a negative FY change to C&CE, and significantly greater positive across the board without large amounts of CAPEX. The CAPEX is fine, it's to be expected, and it's completely looked at as a positive because right now CAPEX is powering the top-line growth at IMS, so that's not even worth mentioning other than it's a large outflow that must be offset. I mention it here simply to underline the amount of overhead the operating cash flow covers, which matters greatly.
Ok, now that we're up to speed on the dividend recap, how it was completely unnecessary, and why it hasn't buried the company, take note of the increased non-cash stock-based compensation and the effects it had on weighing down the Adjusted EBITDA and to a much greater degree the Q1 net income: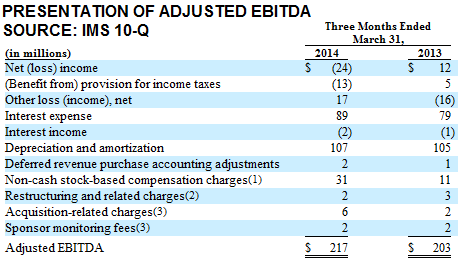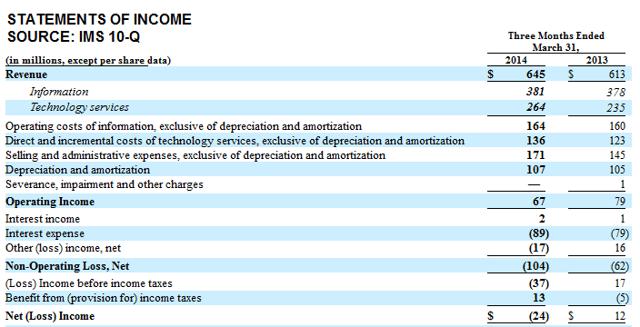 Starting with the top graphic displaying Adjusted EBITDA, which removed the items in question to form the sum at the bottom, make note of the $20 million increase (200% Y/Y) in comp. That alone, when dispersed across the income statement, accounted for a large part of the net loss Y/Y. Between it and the three non-recurring, highly unusual charges below it accounts for a drop of $30 million in aggregate. The total drop in net income was $36 million Y/Y. So when looking at Q1, even on a net income basis, the numbers don't seem to be all that bad.
Taking what we've just outlined into account, use these same graphics to note the increase in the "other loss, net" line. What that line item is composed of is the FX gain or loss and any debt-related costs, including retirement of debt. The Other Loss line item created a loss itself of $17 million on the quarter which when paired with the above talked about, not relevant to the underlying business losses, encompasses the entire net loss for the quarter and then some. This directly speaks to the actual profitability of the company and to the fact that the company should have and with a few adjustments in reality could have generated a net income for the quarter. Have you taken a few steps back from the ledge? We're not done yet, think about the total net income that could have been generated if IMS had taken a quarter off (hypothetically) from its CAPEX powered growth initiative and not seen the growth in recurring, usual, operating costs. Obviously this article isn't being written to deal in hypotheticals and the CAPEX and increased operating expenses were well spent and targeted, but it matters when trying to decide if the business is healthy.
One final evaluation of the Other Loss line, the FX swing of $32 million total Y/Y from a gain of $28 million in Q1/13 to a loss of $4 million in Q1/14 is a concern and needs to be addressed by the company on an immediate basis. When we're talking about FX volatility that standing alone is greater than the aggregate net income (loss) for each quarter individually, that matters. These types of gyrations are not something the public investor is going to want to deal with going forward. FX volatility may not have been an issue in the past but it most certainly is now in a world of currency devaluations and financial engineering. The company has stated on a recent call that this is something it is addressing sooner rather than later but it remains to be seen what it can or will do in an effort to blunt the volatility. I said this was a weakness of the company that was exposed during Q1 and it most certainly is. This is something to watch going forward.
Where do we stand today? What is the current picture at IMS?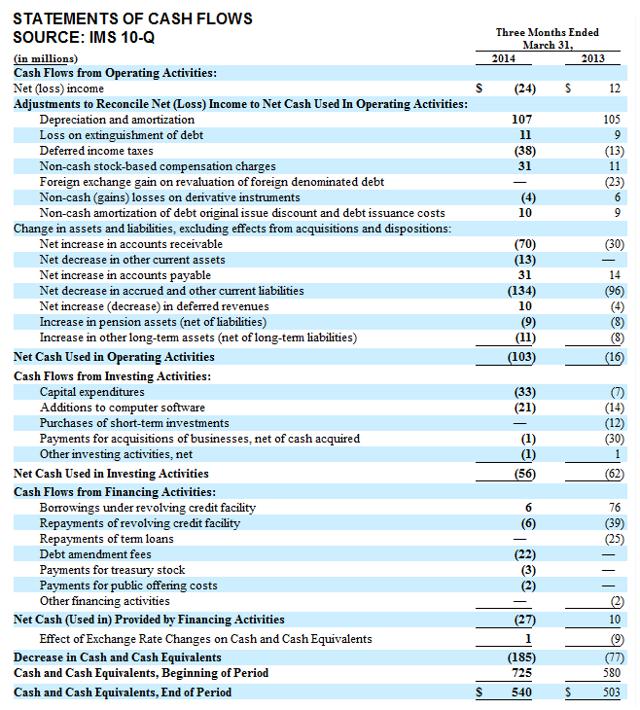 Cash flow Q1 didn't come in so hot with a significant drawdown for the quarter. This quarter's draw on C&CE reflects all the negative factors talked about above and though they are explainable and one-time it still looks bad when it's all said and done. IMS shouldn't see a cash flow on a quarterly or yearly statement like this ever again; at least history tells us it shouldn't. The Q1 cash flow is pretty self-explanatory so I won't elaborate further other than to say as an IMS investor I'm glad to have the IPO behind me and my company. It's time to get back to business as usual. I also would like to conclude a Q1 cash flow discussion by stating that on top of what has been discussed two non-recurring items that materially contributed to the draw down were the initial payments on the 7.375% PIK Notes and the 12.5% Senior Notes issued last August to help pay for the dividend recap (over $100 million in total, the notes have been paid off in full and wont recur) and a one-time $26mm payment for a new building in Bangalore, India (IMS leases all or substantially all of its buildings).
Debt restructuring and elimination, keeping in mind a large majority of that debt eliminated was created out of greed by ownership, was the best thing to come from the IPO. IMS was able to pay off the dividend debt, refinance the aggregate debt to better rates, and refinance the aggregate debt to longer durations down the road. These changes should free up overall cash flow and in total reduced the debt maintenance by ~50% and lowered the gross leverage ratio significantly:
The large majority of the issues I had with IMS have been remedied since the IPO and as I've said above I think the profitability of the underlying business can get back to doing what it has always done, drive top-line growth, drive cash flow, and eventually organically pay down the debt (as opposed to raising funds to do so in an equity offering or refinancing).
During a natural quarterly and full-year cycle IMS has been able to increase margins and lower expenses as a percentage of revenue - two things that are not easy to do.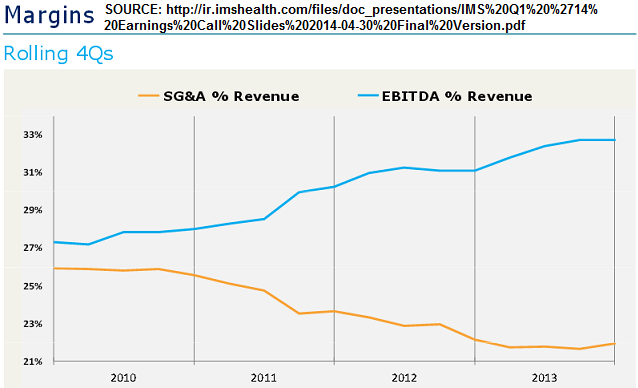 I don't see any current or new IMS investors in any immediate risk or dilution by equity and don't see the company taking on much more debt in the near term.
I'm looking for slightly higher full-year results than have been guided by management as a result of less FX volatility (read: losses) and as a result of less contractual cancellation via M&A activity in the spaces that IMS services. For clarity, IMS has factored in an unspecified percentage of lost growth in top line for the projected cancellation of duplicate services that would take place in the instance that two of its clients merged. The company has based its projections on a "worst-case scenario" (SOURCE: Q1 EPS CC) and factored that into full-year guidance. FY guidance is the following:
Revenue growth between 5-6%
Adjusted EBITDA growth between 7.5-9.0%
Adjusted Net Income growth between 15-20%
I really think that even factoring in the cost to FX hedge that the losses avoided will contribute materially to the bottom line, starting as early as next quarter if the program is implemented that quickly. I also anticipate a hot start out of the India office as IMS brings an expertise to the country that isn't currently available (this is an opinion based on an industry insider that would not like to be named and is his opinion only). I also don't anticipate the worst-case scenario outlined by IMS' CEO on the Q1 EPS CC coming to fruition. The end of the IMS world, worst-case scenario is great by the way and I highly recommend a person considering a long position listen to the call. Ari Bousbib was incredibly candid with his remarks and was very clear in the perfect storm that would have to take place for IMS to underperform.
Where's the trade?
An ugly quarter behind it, I continue to be bullish IMS. I like the business, management, and the prospects for the company on all durations. I reiterate that I think the majority of the issues have been resolved or are in process of resolution.
I expect the firms with ratings on IMS to get incrementally more positive as the company can show a return to norms and as the company puts distance between itself and the IPO. Those upgrades will help drive the stock and should act as a catalyst on a full-year basis.
I would recommend buying IMS on a dollar cost average basis as it's not the type of stock that's going to run away overnight. I would also recommend adding prior to earnings announcements, even if it is slightly ahead of a scheduled DCA purchase, because I believe the earnings periods will also act as catalysts on a full-year basis.
Good luck to all.
Disclosure: The author is long IMS. The author wrote this article themselves, and it expresses their own opinions. The author is not receiving compensation for it (other than from Seeking Alpha). The author has no business relationship with any company whose stock is mentioned in this article.