The news is that the Obama administration is allowing for crude exports, which had been forbidden for more than 40 years. Previously, only refined products were allowed to be exported.
This has some very visible consequences, the main ones are:
The Brent/WTIC spread is likely to narrow;
Crack spreads in the U.S. are also likely to narrow.
The Brent/WTIC spread
Historically, Brent (NYSEARCA:BNO) traded at a slightly lower price than WTIC crude (NYSEARCA:USO). This was so because Brent could be used to settle WTIC futures contracts, but had an added transportation cost (Source for chart: Stockcharts.com).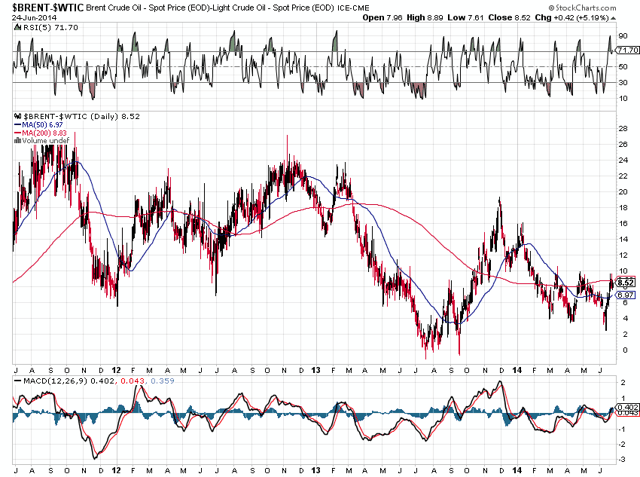 In the last couple of years, with the shale boom in the U.S., however, this situation changed. WTIC started selling at a significant discount to Brent.
This happened both because of a glut in Cushing, the settlement point for WTIC crude futures, and because of a WTIC glut in general. Part of this imbalance was solved over time with the building and reversion of pipelines flowing into Cushing, but the overall glut is still somewhat present. Another part of the glut was eliminated through lower imports, and now with the possibility of exporting some of the light crude, the rest of the spread should be in danger.
Crack spreads in the U.S.
An interesting phenomenon hit crack spreads in the U.S.: While crude was land locked and not able to be exported, refined products were still exportable.
This meant that refined product pricing was established in a World market, and hence was more consistent with Brent pricing than with WTIC pricing. This, in turn, led to much higher refining margins for U.S. refiners, because they were able to sell refined products at the higher "World price," while buying crude at the lower WTIC price.
As the WTIC and Brent prices converge, however, this added refining margin is likely to go away. In its place, we'll see crack spreads more in line with Europe, which are still 18-40% lower than those prevailing on the Gulf Coast and West Coast today (Source: "Weekly Refining Indicators Report," Howard Weil).
In short, this development is negative for the U.S. refiners including Valero Energy (NYSE:VLO), Western Refining (NYSE:WNR) and Tesoro (TSO).
Conclusion
The move by the Obama administration to allow crude exports will lead to a tighter WTIC/Brent spread and to lower U.S. crack spreads. The former is positive for WTIC crude and negative for Brent, the latter is negative for refiners.
Also, generally speaking, this development is positive for crude producers in the U.S., which are too many to mention. These producers will be getting a higher price for their up-until-here discounted production. The same volume will translate into higher revenues and profits.
Disclosure: The author has no positions in any stocks mentioned, and no plans to initiate any positions within the next 72 hours. The author wrote this article themselves, and it expresses their own opinions. The author is not receiving compensation for it (other than from Seeking Alpha). The author has no business relationship with any company whose stock is mentioned in this article.