Inspiration often comes from unexpected places. Recently I watched Michael Moore's "Capitalism: A Love Story". I found the film thought provoking and entertaining, but there were many points on which I disagreed. Moore seems to think in simple categories of good and bad and attributes obviously the bad to capitalism. Most of the cases that he presented were examples for corruption, though, and the implicit assumption that capitalistic societies are more corrupt than others must strike all who have ever taken a look at Transparency International's corruption perceptions index as brave.
Whilst being reluctant to sing "The Internationale" along with Mr. Moore, he caught my attention by presenting cooperatives such as Isthmus Engineering & Manufacturing, Wisconsin, as good examples of how a business should be run. Cooperatives are not open to external equity investors, but the idea that there could be a link between the level of employee ownership in a business and its operational and financial performance made a lot of sense to me.
Common sense
Shareholders like to see that a company's management is incentivized to deliver outperformance. Having been a director in the bus and railway industry myself, I appreciate that. At the same time, it has been clear to me that the buses and trains could run on any given day without me, but not without the drivers. I believe employee share ownership can help to strengthen the employees' commitment to the business and provide an incentive to make the extra effort that it takes to make a good service great.
Further, it is commonly accepted among investors that insider transactions on director level can give some clues about a company's prospects. Company employees are also insiders and their views on their business can be relevant for investment decisions as well. The attention that a website like glassdoor.com is getting from investors proves the point. It may be time to take the next step and include employee stock ownership in these considerations, since employees who believe in the prospects of the business they are working for should be much more likely to take shares in it.
Employee ownership can be encouraged through a number of measures such as 401k or stock option plans. The probably most common way is an employee stock ownership plan (ESOP). As part of an ESOP a company issues or acquires shares in order to put them into a trust where they are allocated to individual employee accounts. Employees do not have to use their own money for the stock purchases and gain ownership over a vesting period of three to six years. More information on how an ESOP works can be found for example on The National Center For Employee Ownership's (NCEO) website.
Enron and United Airlines
Before we proceed, let us get the negative examples out of the way. Among the companies that were known for employee ownership are names like Enron and United Airlines. The latter was actually once the world's largest majority employee-owned corporation. Unsurprisingly, a high level of employee ownership does not protect companies from fraud, bankruptcy or business risks in general. Well, neither do management incentive plans. The question then becomes, if among the non-fraudulent and financially healthy companies the ones with a high level of employee ownership have a competitive edge.
Academic research
What does academic research have to say on shared capitalism and ESOPs?
The [..] large volume of research on ESOPs and employee ownership is overwhelmingly positive and largely credible.
[Steven F. Freeman, University of Pennsylvania: Effects of ESOP Adoption and Employee Ownership: Thirty years of Research and Experience]
Workers with more shared capital ownership and capital income are less likely to want to leave the company where they work, they are more loyal, they are more willing to work harder for the corporation, they are more likely to work with an irresponsible coworker in order to help that worker improve their performance. They make more suggestions and they are also more capable of coming up with innovative ideas. These workers are simply better organizational citizens.
[Joseph R. Blasi et al.: Broad-based Worker Ownership and Profit Sharing: Can These Ideas Work in the Entire Economy?]
That all sounds nice and one gets the idea that this can be relevant for investment decisions. How about the financials, though?
[…] companies that apply for this designation are better performing, with a return on equity estimated to be 3.9 percent higher than the industry-year average for firms of the same size.
[Joseph R. Blasi et al.: Does Linking Worker Pay to Firm Performance Help the Best Firms Do Even Better?]
As far as proof for the positive effects of employee ownership on corporate performance is concerned, the NCEO considers the case as being closed. However, they also point out that shared ownership would have to be combined with participative management in order to unlock the potential gains.
Investing in this universe
In the United States there are a number of stocks that allow investments alongside employees. According to the NCEO there are 7,000 companies in the U.S. offering ESOPs, of which some 350 are publicly traded. Among the larger companies that are well known for encouraging employee stock ownership are for example Costco (NASDAQ:COST), Goldman Sachs (NYSE:GS), Google (NASDAQ:GOOG), Intel (NASDAQ:INTC), Microsoft (NASDAQ:MSFT), Morgan Stanley (NYSE:MS) and Procter & Gamble (NYSE:PG).
Despite this quite promising angle on stock selection, shared capitalism has been anything but a love story among investors. I had difficulties to find mutual funds or ETFs that would provide investors with one-stop plays on this universe of stocks. American Capital (NASDAQ:ACAS) started off as an investment bank with strong and successful focus on employee-owned companies. They even calculated an index consisting of companies committed to employee ownership, but their subsequent rapid growth required a much broader diversification of their investments. ESOP strategies have remained one of their core offers, though. In January 2002 Capstone Asset Management launched a fund called Capstone Employee Stock Ownership Fund only to close it after just 10 months. Apparently, the fund was closed for a variety of reasons, although the concept showed promising results in back-tests and real life (cf. John Hoffmire: Presentation to 6th European Employee Ownership Conference, December 2006).
The UK Employee Ownership Index
On the other side of the Atlantic Ocean the UK-based investment firm Capital Strategies created the UK Employee Ownership Index back in 1995. Since 2013 the index is maintained by the London Stock Exchange and FTSE International with help from Capital Strategies. The index consists of companies that are listed on the London Stock Exchange or AIM and are to at least 3% owned by the employees, either directly or for their benefit through a trust. There are currently 70 companies meeting these criteria. Since Capital Strategies is working on the launch of a new fund that will track the performance of these companies, Director Nigel Mason wished to protect their intellectual property at this stage and could not disclose the constituents, yet. Still, Capital Strategies is sharing some interesting data on the aggregate performance of their index. The graph below shows how the EO index has performed compared against the FTSE All Share Index: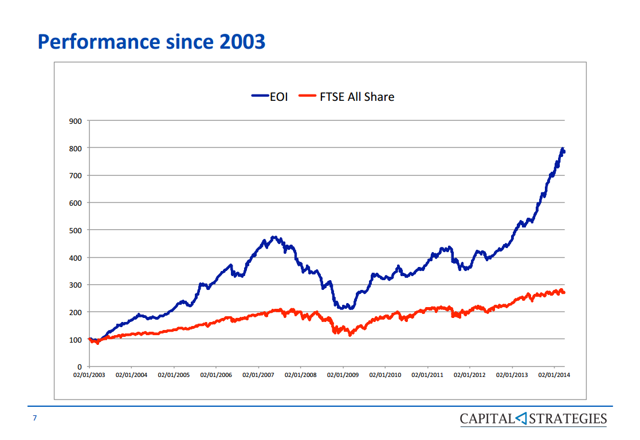 As the EO Index differs in a number of points from the FTSE All Share Index, Capital Strategies also compared the index against
The equal weighted FTSE All Share Index (the EO Index is equally weighted)
Sector indices representing the sectors that have the biggest share in the EO Index which is Support Services and Financial Services
The FTSE Small Cap index as the EO index consists to roughly two thirds of small cap companies
in order to narrow down the effect of employee stock ownership on performance. Again, the results look promising and are shown below: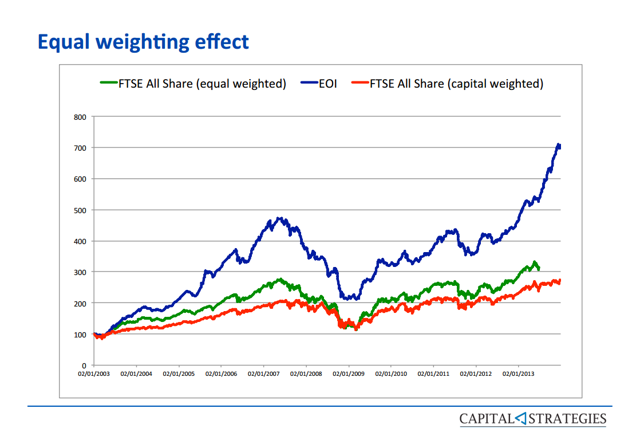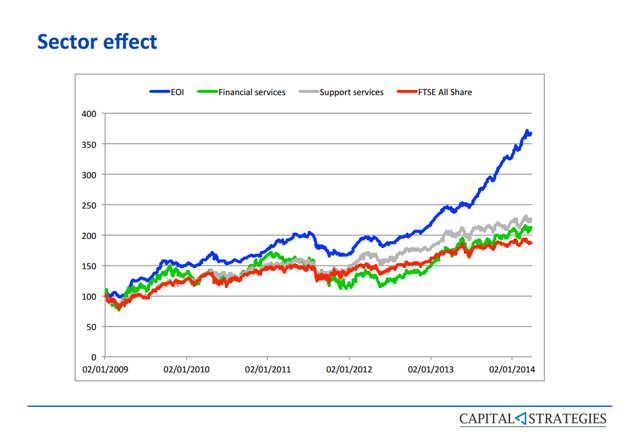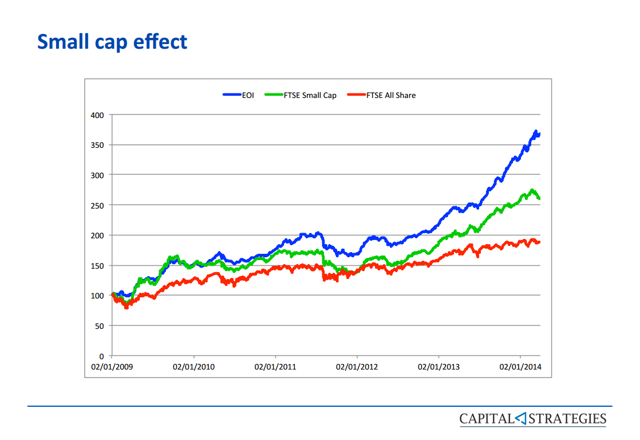 No magic, but tailwind
On the occasion of the launch of Capstone's Employee Stock Ownership Fund, Douglas L. Kruse, economist at Rutgers University and (co-) author to a number of studies on shared capitalism, said, "there is nothing magical here" underlining the importance of combining employee stock ownership with participatory corporate culture. When trying to achieve better than average returns, investors would be ill-advised to count on magic anyway. Paying attention to the level of employee ownership and corporate culture may provide some tailwind, though, and for me that is reason enough to add another check to the next due diligence.
Also, I do believe that the concept has its merits beyond the quest for alpha. "Capitalism needs more capitalists" they say at Capital Strategies and I concur with that.
Disclosure: The author has no positions in any stocks mentioned, and no plans to initiate any positions within the next 72 hours. The author wrote this article themselves, and it expresses their own opinions. The author is not receiving compensation for it (other than from Seeking Alpha). The author has no business relationship with any company whose stock is mentioned in this article.