A wave of consolidation is sweeping the U.S. meat industry. The trend is a relatively new phenomenon in food retailing but well advanced in meat processing and livestock production. The result is an industry of fewer and larger businesses.
The meat processing industry began its trend to fewer but larger processors more than a half century ago. Some consolidation occurred among poultry processing plants in the 1950s, but rapid gains in poultry consumption have supported an almost steady number of poultry plants since the 1960s. In contrast, a much more rapid consolidation has recently swept beef and pork processing.
Two powerful economic forces are at the root of the meat industry's transformation to a more compact structure: food demand and technology. Consumer food demand is shifting toward food products that are easy to prepare while also promising safe eating, improved nutrition, and greater consistency. The food industry's efforts to fulfill consumers' changing food needs have shifted competitive balances among food companies, triggering broad efforts to maintain or gain a competitive edge by trimming costs. The result is a sweeping trend toward consolidation in food retailing, meat processing, and livestock production.
Shifts in consumer demand and efforts to trim costs are driving consolidation in the meat processing industry. Both factors drove the poultry business to a tightly consolidated structure in the mid-1990s. At the same time, the poultry industry's success in the retail marketplace triggered additional competition for the beef and pork industries.
The poultry industry was the clear leader in developing products that promised consumers both nutrition and convenience at attractive prices and in shifting to a "conception to consumer" supply chain structure that ensured consistent, high quality of its new consumer-oriented poultry products. These efforts paid off with a surge in poultry's share of the market, largely at the expense of the beef industry.
For a long time meat companies were focused on increasing capacity. This strategy lost its shine over the last few years, because companies faced disappointing margins after a surge of takeovers. The acquired parties were often unsound and since virtually all major competitors grew considerably, competitive advantages and increased power in the market were not guaranteed.
Two mega-acquisitions might indicate that large-scale production still has some believers: the acquisition of poultry company Seara by JBS (OTC:JBSAF) and the acquisition of the U.S. pork slaughter Smithfield by Shuanghui, also known as Shineway. These last two in combination produce 4.6 million tons of pork. The acquisition seems to be prompted by the desire to get Chinese food safety under control and to learn to produce efficiently. At the same time, Smithfield Foods will benefit from entering the market in Beijing. That is important, because this immense market is growing fast, as Rabobank states.
Experiences with making large acquisitions have not only been positive for the Brazilian meat giants JBS and Brasil Foods (NYSE:BRFS). JBS invested billions in acquisitions in the U.S. - including Swift & Co and Pilgrim's Pride (NYSE:PPC) - South America and Australia. Between 2005 and 2012 the revenues grew from almost €1.3 billion to €22 billion. In order to raise the necessary funds, the company listed on the stock exchange in 2007. Nevertheless, the high interest charges started to weigh down on the results of the company.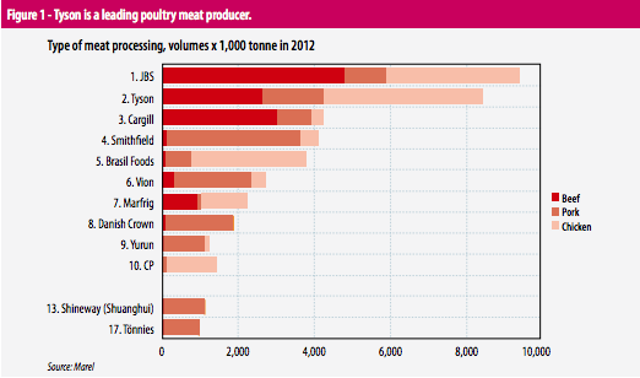 Rabobank analyst Nan-Dirk Mulder says, "Global poultry fundamentals for 2014 look positive, with cost relief coming from lower feed costs, high prices of competing proteins and recently improved export volumes, but supply growth discipline will be the key element between profitable and not-profitable industries under these bullish market fundamentals".
According to The Wall Street Journal, "The battle between Tyson Foods Inc. (NYSE:TSN) and JBS SA to acquire Hillshire Brands Co. (NYSE:HSH) is the latest and biggest round in decades of consolidation that already has left most of the U.S. meat production in the hands of a small number of companies." In the same article, the WSJ states, "Tyson and Pilgrim's Pride are among five companies that control roughly 60% of chicken processing in the U.S. Tyson and JBS-along with three others-process 70% of the nation's pork, and the two are among four companies that control more than 80% of U.S. beef packing."
JBS has been interested in making additional acquisitions for some time now. In 2009, JBS took a majority stake in Pilgrim's Pride. In the past, it also expressed interest in acquiring Smithfield Foods and Pinnacle. In regards to Hillshire, JBS was using Pilgrim's Pride as its vehicle.
The slew of acquisitions have narrowed the field of possibilities dramatically and has also driven premiums to all-time highs. Hillshire had offered $6.6 billion for Pinnacle. This offer, now withdrawn, was equivalent to 2.6X Pinnacle sales or 63X net earnings.
Pilgrim's Pride originally offered $5.5 billion or 1.4X sales (24X earnings.) They then sweetened the deal to $55 per share. Tyson's offer was even richer at $63 per share. They valued the deal at $7.7 billion or 2X sales or 34X earnings. According to Bloomberg, "Tyson's offer was about 70 percent higher than Hillshire's average share price in the 20 days before the Jimmy Dean sausage maker drew acquisition interest. No other food industry deal of more than $5 billion has drawn such a high premium, according to data compiled by Bloomberg."
These are nosebleed valuations. To make deals like these work, the synergies the acquirers talk about must be real and operational savings substantial.
The clear winners in this debacle are the shareholders of Hillshire Brands who are being overpaid for their shares and the shareholders of Pilgrim's Pride who were spared the excessive costs associated with this acquisition.
There are now fewer potential acquisition targets available. The Bloomberg article talks about Hormel being too large a company for Pilgrim's Pride even with help from JBS. This leaves a smaller company such as Sanderson Farms as a possibility.
My thesis is that potential acquirers should focus their attention on the better performing, cash generating businesses. For the reasons stated below, Sanderson Farms is the obvious choice. It trades at low valuation levels and generates free cash.
The market is looking for the next acquisition target. The schedule that appears below compares and contrasts several meat processing companies. If I am reading the market correctly, the most likely targets are the least profitable and worst performing companies. It would seem that acquirers expect to perform miracles and through synergies, real or imagined, make a silk purse from a sow's ear. Potential buyers would do better to look closely at the better run companies.

These companies are ordered by market capitalization with Hormel Foods (NYSE:HRL) being the largest and Sanderson Farms (NASDAQ:SAFM) the smallest.
I begin by presenting four valuation metrics. Based on the Forward PE for 2014, SAFM, with a Forward PE of 10.3X would be the least expensive prospect and HSH is selling at a whopping 35.9X multiple. Both TSN and PPC appear to be valued at a reasonable level.
When using the Enterprise Value to EBITDA method, we find that SAFM is once again the lowest value of the bunch and is closely followed by TSN and PPC. Both HSH and PF trade at a substantial premium.
A less used metric, but one that I favor, is Free Cash Flow to Enterprise Value. In this instance, the higher the FCF to EV, the better. PPC is the clear winner here with a ratio of 13.24. Big losers are HSH and PF.
My final valuation metric is Free Cash Flow to Price. PPC offers a very attractive yield of 13.63% followed by a very respectable yield of 9.53% from SAFM. Both HSH and HRL are particularly overvalued.
No less important than valuation is how well a company is managed. In my opinion, a well-managed company converts at least 80% of its operating income to free cash. Currently, free cash is greater than operating income at PPC.
Debt can have a negative impact at any company. The problem is not having debt, but not having sufficient free cash to comfortably cover the debt. SAFM generates 20 times more free cash than it has long-term debt on its balance sheet. Three companies, TSN, HSH and PF, generate, in my opinion, a grossly inadequate amount of free cash relative to their long-term debt loads.
I prefer to measure profitability by looking at free cash to return on invested capital. PPC has a cash return of more than 43% and SAFM has a return of 26%. These are very solid returns. PF's return of 4.9% is less than its cost of capital.
In this acquisition frenzy, a buyer such as JBS ought to be looking at SAFM rather than HSH. They would be adding to shareholder value.
Disclosure: The author is long PPC, SAFM. The author wrote this article themselves, and it expresses their own opinions. The author is not receiving compensation for it (other than from Seeking Alpha). The author has no business relationship with any company whose stock is mentioned in this article.
Editor's Note: This article discusses one or more securities that do not trade on a major U.S. exchange. Please be aware of the risks associated with these stocks.